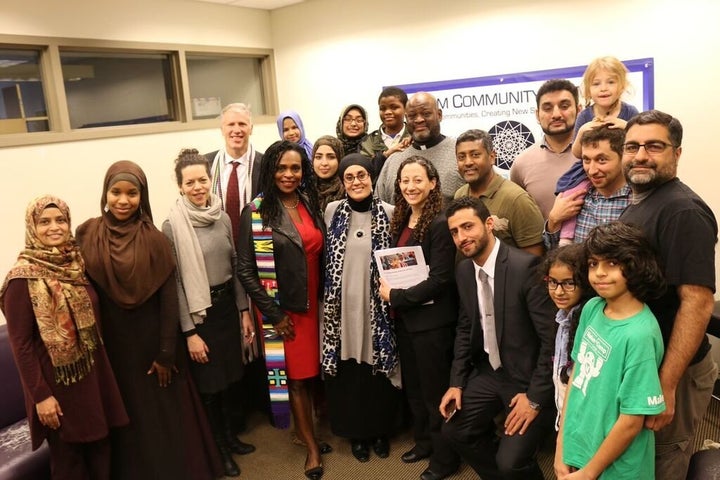 More than 24,000 people have signed a letter of support for America's Muslim communities, promising to build a "circle of protection" to defend them from hate and violence.
The "radical love letter," which includes 7,000 signatures from clergy members, was hand-delivered on Thursday to Muslim leaders at the Muslim Community Network in New York City.
"God is not Muslim, God is not Christian, God is not Jewish; God is love. Love compels us to stand with our Muslim family, to have their backs. When they come for our Muslim family, they come for all of us," said the Rev. Jacqui Lewis, Senior Minister of New York's Middle Collegiate Church, while delivering the letter.
"This is a singular moment in time," she continued. "Massacres and mayhem, vitriol and violence like I have never witnessed in my lifetime, all in the name of God. This is a singular moment in time, when good people of every faith join their voices in one freedom song: We will not stand by while our Muslim brothers and sisters -- our policewomen, doctors, teachers and neighbors -- are targeted with hatred because of the violent actions of a few."
The letter, which was organized by the Presbyterian Church (USA)-affiliated Auburn Seminary, comes amid increasing violence and threats against Muslims across the country. Since the Nov. 13 attacks in Paris, The Huffington Post has documented at least 73 incidents targeted at Muslims in the U.S. and Canada that have ranged from armed protests outside mosques to attacks on Muslim families' homes. In one incident, a woman wearing a hijab in Florida was shot at and nearly run off the road while leaving her local mosque.
The date of delivery has a special significance for Christians and some Muslims -- the Prophet Muhammad's birthday, which follows the lunar Islamic calendar, falls on Christmas Eve this year.
"This is confirmation that we are not alone in the struggle to reclaim our country, to bring it back to the country that it has always been -- loving and warm -- and that the Statue of Liberty stands out there to welcome all," said Debbie Almontaser, president of the Muslim Community Network, when she received the letter. "I want to thank you very much on behalf of the American Muslim community, who will see this as a gesture of love and respect and admiration."
Read the letter, which will also be distributed to Muslim communities in Los Angeles, Denver, Atlanta, Detroit, Orlando and San Francisco, below.
Editor's note: Former HuffPost Executive Editor of Global Spirituality and Religion helped organized the letter campaign, and is the Senior Vice President for Public Engagement at Auburn Seminary.
Related
Popular in the Community