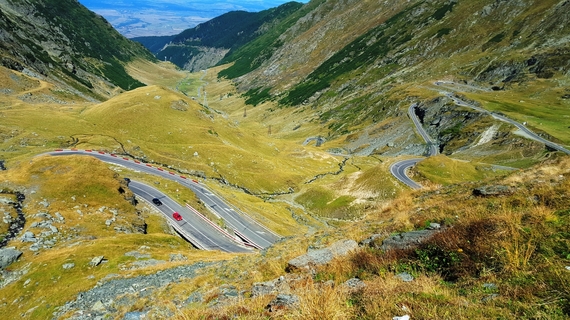 Text and photos by Razvan Zamfir
"Look... That's the most amazing road I've ever seen," said Jeremy Clarkson, the despicably funny, ex Top Gear host. But he was wrong. Romania's Transfagarasan is not only the most amazing road he'd ever seen, it's purely the most amazing road in the world. And to prove it, I went there. Not by car -- I hate driving -- but by foot.
And they were the hardest five days of my life.
90 kilometers long, up to 2.034 meters between the highest peaks of Romanian's mountains, Moldoveanu (2.544 meters) and Negoiu (2.537 meters) and then down to the first capital of old romanian provinces, Curtea de Arges, where 1.000 years of history press hard on one's thougths. This is The Transfagarasan, the road built as an answer to the 1968 soviet attack in Czechoslovakia, to help bring the army faster at the northern and western borders.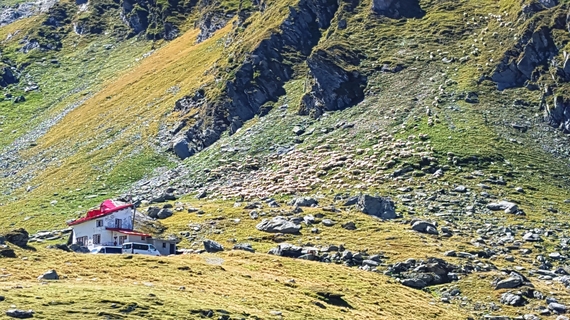 The gateway to Transfagarasan is guarded by a small village, Cartisoara, known before the road was build. From there, more than 100 years ago, this guy, Gheorghe Cartan, left on foot, like us, but to Rome. Yes, in Italy.
He went to Rome to see Trajan's Column which tells the story of the wars between romans and dacians, 2,000 years ago. Cartan wanted to prove that romanians and their ancestors, the dacians, have lived here since forever, he brought books from Valahia (Tara Romaneasca) and fought for Transilvania's independence from the Austro-Hungarian Empire.
But enough history, you can find this on Wikipedia.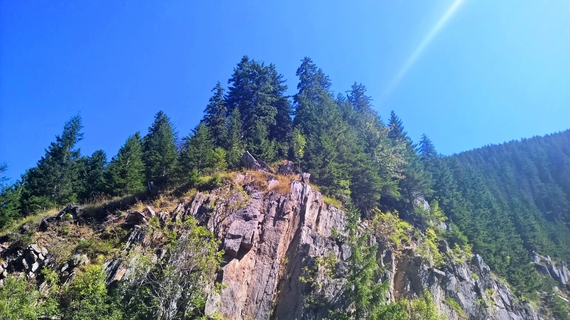 The small heaven before we met the monster
The road starts easy, the terrain is flat, we walk chating and after 30 minutes we see a road making left on something that looks like a forest path. Should we?
Of course we did, and went on for five kilometers between trees and weird bracken fields we have never seen before. Finally, we got on a sunny plateau, where a small piece of heaven stands. A trout farm with a motel, with children playing, parents fishing or enjoying the last sunshine of the fall.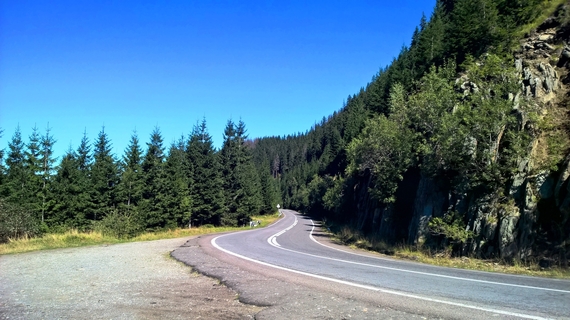 Our trip took a break, for a coffee and some water. "Where are you going?", asks one of the tourists there, a german if I got the accent correctly. To Transfagarasan. "By foot?" Yes. "You are insane boys. It's hard enough by car, I just arrived from there."
Fortunately, we are no germans and we don't do only what we're suppose to do, so after two hours, we took back the path and went to meet our trials.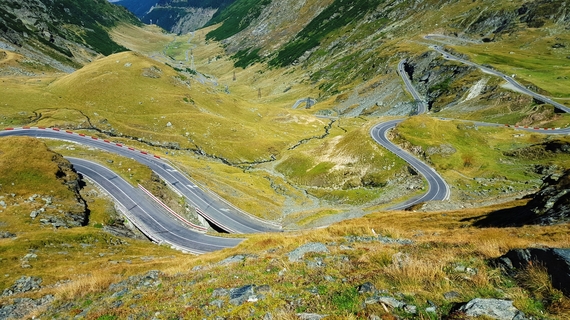 And the contact was fast and brutal. The road with spinning curves takes all the energy you can manage to squeeze from you body and after a few kilometers you must stop. No, you must fall down on the side of the road, catching your breath and trying to overcome the pain in your legs.
We walked like this for 30 kilometers, with tortured feet pushed forward by the amazed eyes. Every time the road broke loose from the prison of mountain and trees, the view was almost unimaginable. The light reflected by the rocks explodes on the top of the forest, the valley we are coming from is painted in many colors and out first stop, Balea Falls Lodge appears just a few hairpin turns away.
There, after almost eight hours of walking and with trembling hands, we've put down the +20 kilo backpacks, took a room and slept deeper than the mountain 'till morning.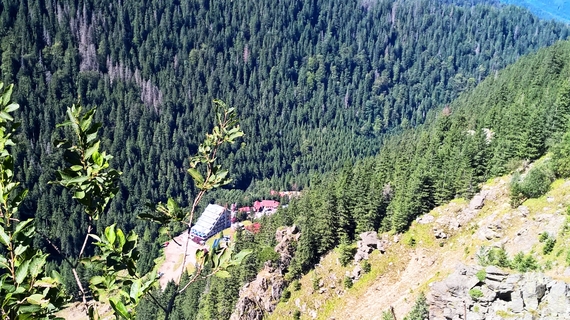 Try someday to walk the mountains. To get as far away as possible from civilization and its gifts that imprisoned us. You will find freedom. Let it be for a day or for a week, it does not matter, you'll feel like nothing can touch you and that you can solve every problem life throws at you.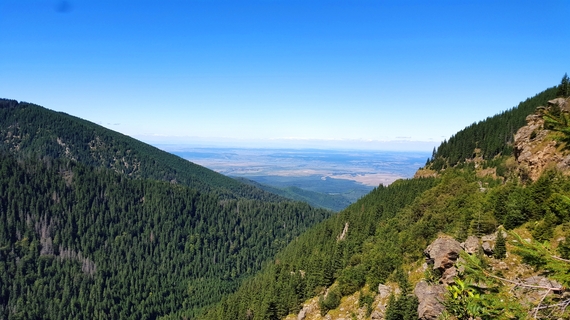 That's the way we felt on the second part of the journey, in the top height of Transfagarasan, at Balea Lake, where Balea Lodge was waiting and where in the winter a hotel of ice is built for tourists coming by cable car.
In a straight line, the distance between the two points is a joke, 4 kilometers, but the road that took the life of 40 people when it was built, between 1970 and 1974, won't let you go so easy.
It looks like an old hawser dumped by an astray sailor and to follow those curves is, the manic drivers say, wonderful. We tried to take it slowly, laughing at the people who were trying to go up on bicycle. That is courage, but they were looking down with red faces and lost the reason to be there.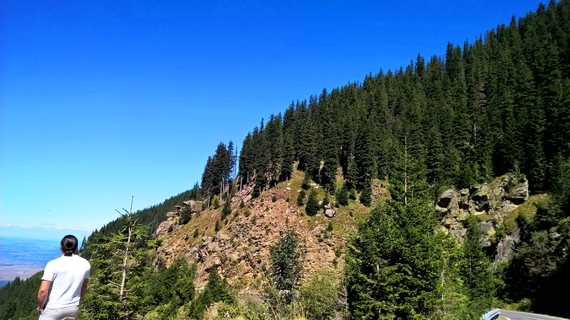 We walked more than 18 kilometers to go up only 1,000 meters and didn't felt drained like the day before, then we spent the night at Balea Lake Lodge in a babilony of people. Romanians, Germans, Czechs, Polish, all here to see the view above Romania, to put their hands in the crystal clear and cold waters of the lake, to watch the sheep going down from the mountain, following their millennial habit of transhumance.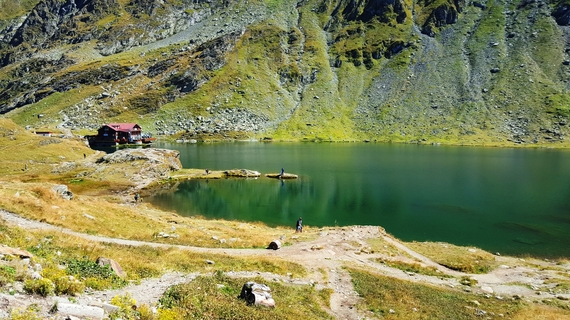 Back along Dracula's keep
The way down was much easier and with muscles not under pressure, we literally walked, enjoying the view and managing to see a few mountain goats, and from a far and secure distance a bear looking for forest fruits.
The target was the 166 meters Vidraru Dam and the huge Vidraru Lake and its blue waters. After that, the sinuous road between the mountains continues under Poienari Castle, the place from where Vlad the Third, whom you know as The Impaler or Dracula, protected the country against turks attacks, some 550 years ago. Long before Bram Stocker made a vampire out of him.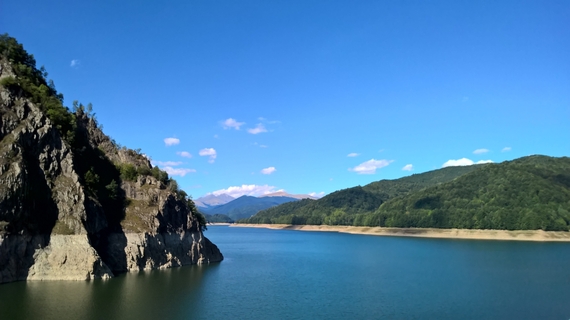 With Vlad in mind we left to Curtea de Arges, the first Capital of the Romanian Principate Valachia, with its historical wonders. First Romanian Kings lived and died there and their shadows seem to be everywhere.
It was, as I said, the hardest days of my life, but one cannot imagine what we have seen. So if you visit Romania, do not forget the Transfagarasan. Take a day or two and a fast car and go see it.
You'll leave more alive than you have ever been.