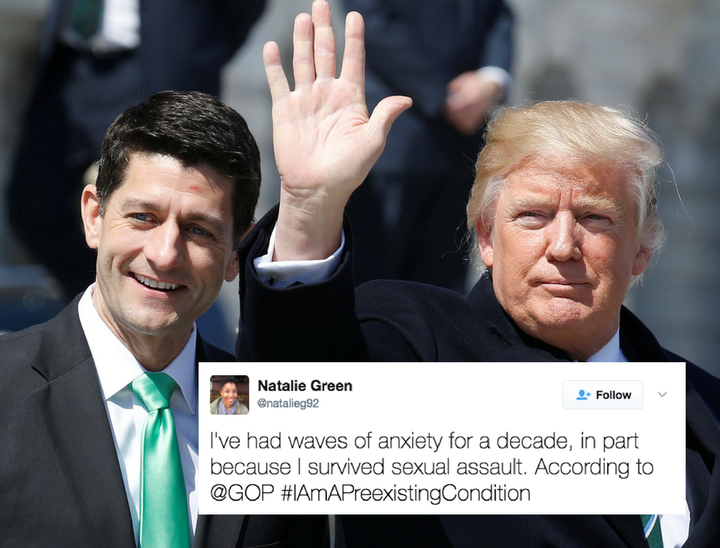 On Thursday afternoon, the American Health Care Act passed in the House by a slim margin ― and the effect it will have on women specifically could be devastating.
Simply put, the bill would allow states to discriminate against women. Before Obamacare, insurers could consider the following pre-existing conditions: being pregnant, having had postpartum depression, being a survivor of sexual assault, having had a C-section or being a survivor of domestic violence.
Under the AHCA, states are allowed to waive the requirement that insurers cover people with pre-existing conditions, meaning if you're deemed to have one, your insurance company could effectively charge you more.
"This is the worst bill for women's health in a generation," Planned Parenthood President Cecile Richards said of the AHCA in a press release. "This disastrous legislation once again makes being a woman a pre-existing condition... Alarm bells should be ringing in every house across America."
Using the hashtag #IAmAPreexistingCondition, HuffPost asked women on Twitter to share how the bill could affect them.
The responses to our callout were overwhelming and heartbreaking, with many Tweeters pointing out that simply being a woman makes us vulnerable.
As one woman wrote: "#IAmAPreexistingCondition because I'm a woman with a pulse."
Other users joined in on the conversation with personal medical issues and traumatic experiences that could now be considered a pre-existing condition.
Some women revealed they are survivors of sexual and domestic violence, while others talked about depression, anxiety, cancer, their trans identity, endometriosis, heart conditions and more.
Scroll through the #IAmAPreexistingCondition tweets below to see just how harmful the AHCA bill would be to women.
Popular in the Community