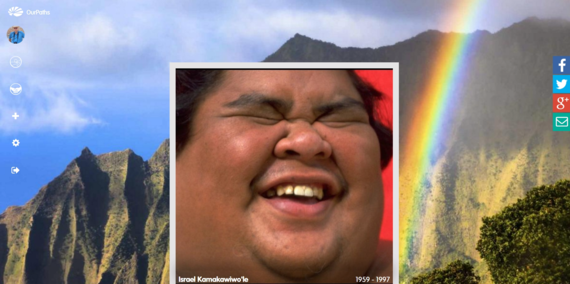 Visit a tribute to Hawaiian legend Israel Kamakawiwo'le. Click here.
EDITOR'S NOTE - His tragic death at 38 cut short the life of a Hawai'ian legend whose songs and crystal clear voice spread his hymns to peace and justice around the world a quarter century ago.
OURPATHS.COM
He was singing and strumming the ukulele by the age of 10 in a bar where his father was the bouncer and his mother was manager. Friends remember that as a teen, in one of his first performances, he raised his voice to sing at a graduation party and the room fell completely silent.
When he died, more than 10,000 people paid homage to the giant of a man who lifted them "Over the Rainbow" with his soothing but eerie song of hope and compassion.
Israel Kamakawiwo'ole, better known as 'Brudda Iz,' was born in Kuakini Hospital in Honolulu. He was raised in a musical family in Kamuki, a suburb of Honolulu where ostriches once roamed the mountainside when the land belonged to King Kalākaua.
He attended the University of Hawai'i at Hilo and, at the beach one day, he met another student who shared his passion for music and Hawai'ian sovereignty, John Koko. The two, along with Louis "Moon" Kauakahi, Sam Gray and Iz's brother Skippy, formed a band called "The Makaha Sons of Ni'ihau."
Hawai'ian music would never be the same.
The group's goal was to celebrate Hawai'ian culture. At the time, what passed for "Hawai'ian" music was generated for the pleasure of tourists, a genre referred to by Hawai'ians as "hapa haole." 
Usually it had nothing to do with traditional sounds and lyrics and often included patronizing, sexually suggestive, and even racist overtones.
Touring the islands with music that was a blend of traditional and contemporary styles, "The Sons" helped fuel a renaissance in Hawai'ian music and culture.
Hawai'ian music tends toward peaceful and wistful. "Over the Rainbow," though a cover of a song from the 1939 musical "The Wizard of Oz" and allegedly recorded in a single take at 4 in the morning, manages to convey the spiritual aspect of that renaissance.
Critics argue that "Somewhere" is not one of his best songs despite its popularity. More representative may be a song "Hawai'i '78," his first song to hit the Hawai'ian airwaves.
"Cry for the gods, cry for the people
Cry for the land that was taken away
And then yet you'll find, Hawai'i...
All the fighting the king had done

To conquer all these islands - now there's condominiums
How would he feel if he saw Hawai'i nei?
How, would he feel?
Would his smile be content, then cry?"
The protest song was written a couple years before the high point of the Hawaiian Renaissance, when political activism coalesced in a revised state constitution.
The 1978 constitution, among other reforms, returned the Hawaiian language to official status alongside English. For generations, the territorial government of Hawaii banned the language from schools and tried to fully Americanize the islands.
The depth of cultural repression nearly destroyed the culture of a people who had already been decimated by foreign disease, unequal trade, and loss of sovereignty.
Brudda Iz's version of "Hawai'i '78" on the album "Facing Future" coincided with a major political victory for Hawaiian activists: President Clinton signed the Apology Resolution passed by Congress acknowledging that the 1893 overthrow of Hawai'is monarchy was undertaken without democratic consent.
In 1990, after 21 albums with "The Makaha Sons of Ni'ihau," he went out on his own and recorded an album called "Ka 'Ano'i." It  became the most popular Hawaiian album of the year.
Though he continued his solo career, by 1991 he was recording again with the band, and that year's "Makaha Bash 3" set still more records in Hawaii, thanks in part to the hit single "Broken Promise."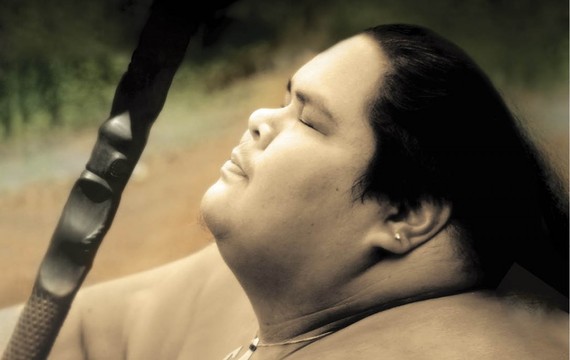 Ukelele Magazine photo
Complications from his ballooning weight took his life at the age of 38. Weighing nearly 750 pounds at one point, he endured several hospitalizations for respiratory, heart, and other medical problems. 
The Hawaii state flag flew at half-staff on July 10, 1997, the day of Kamakawiwo'ole's funeral. His coffin made of native koa wood lay in state at the capitol building in Honolulu.
Thousand gathered again after the funeral as his ashes were scattered into the Pacific Ocean at Makua Beach on July 12, 1997.  Scenes from the funeral and the surfers' "paddle out" to form a circle in the ocean were featured in a music video of "Over the Rainbow," released posthumously by Mountain Apple Company.
His music lives. The "Over the Rainbow" video has logged over 200 million views on YouTube. The movies "Meet Joe Black," " Finding Forrester," " Pineapple Express" and "50 First Dates" used Brudda Iz's music, as did the TV shows "Hawai'i Five-0," "ER" and "Scrubs," among numerous others.
In 2005, his album "Facing Future" became the first certified platinum album by a Hawai'ian artist, selling more than a million CDs in the United States, according to the Recording Industry Association of America.
A bronze bust of "Bruddah Iz" was unveiled at the Waianae Neighborhood Community Center on Oahu. His wife, Marlene Kamakawiwo'ole was present for the dedication ceremony.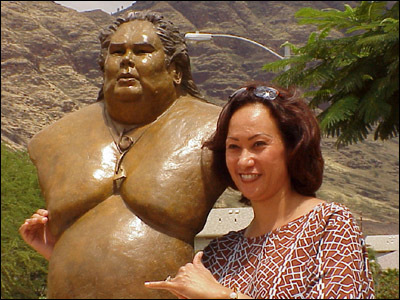 Marlene Kamakawiwo'ole. Jan-Michelle Sawyer/Around Hawaii photo

"Island people come together as one
For future generations under the sun
Singing songs of freedom
Singing songs of love
Living in a sovereign land"

- From album "N Dis Life," 1996
REAL LIFE. REAL NEWS. REAL VOICES.
Help us tell more of the stories that matter from voices that too often remain unheard.