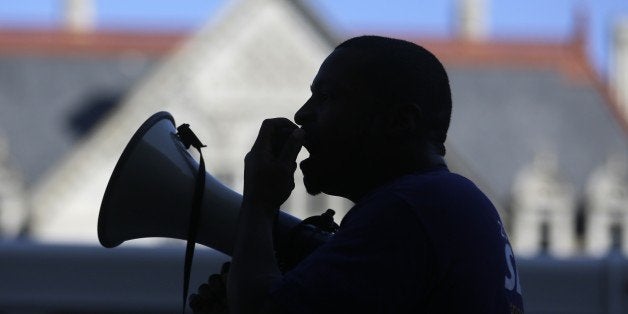 Today is the 25th anniversary of "Justice for Janitors Day," which commemorates an event that sparked one the most successful underpaid-worker campaigns in recent history: Justice for Janitors.
On June 15, 1990, janitors who were paid as little as $4.25 an hour were marching peacefully in L.A.'s uber-wealthy Century City district. When they linked arms to cross the street, police -- wielding their batons -- began to indiscriminately pound the marchers, injuring more than three dozen.
Images of the brutality circled the globe, triggering a public uproar in support of the janitors.
The next day the janitors returned -- in greater numbers and with greater resolve. They quickly won their first union contract. In the years following, "Justice for Janitors" -- a term coined a few years earlier in Pittsburgh -- became a way for 133,000 janitors in 33 cities across the country to win higher wages and a union.
I have no doubt that were it not for their union, cleaners would be paid minimum wage or below. But by sticking together, they have made real gains: $19.45 in San Francisco, $15.75 in Seattle, $16.35 in Chicago, $16.32 in Pittsburgh, $23.92 in New York.
And because they have a union, janitors have also negotiated for necessities like full-family health coverage, sick days, paid vacation, pensions and a way to solve problems on the job.
These gains reduce turnover, improve services, and benefit everybody -- our workplaces, families, neighborhoods, and local businesses.
But perhaps the most important contribution by janitors to our country has been how they have shaped today's broad and growing workers' movement.
The movement faces many of the same challenges that L.A. janitors faced 25 years ago. These include stagnating wages; huge power imbalances between ordinary people and elites; spread-out workplaces that make unity difficult; business models (such as franchising and outsourcing) that try to shield big corporations from taking social responsibility; and controversial, militarized police tactics aimed at people of color.
These are huge challenges. But while a lot of people thought the janitors couldn't win, janitors found a way. To solve big problems, you have to think -- and act -- big.
Instead of trying to form unions at each individual worksite, janitors came together on a citywide basis, uniting workers from multiple employers. They engaged in creative and bold confrontation with the rich and powerful. They mobilized thousands. They built strong community alliances. They participated in MLK-style civil disobedience -- and earned broad public support.
The janitors have never fought for just themselves. Over the years they have shared their experience and knowledge with security officers, who work in the same buildings as they do. To date, 42,000 officers have formed unions with SEIU. Janitors are also the inspiration for thousands of airport workers -- including terminal cleaners, cabin cleaners, skycaps, wheelchair agents, customer-service agents, terminal security officers, ramp workers, and baggage handlers -- to form unions in major airports across the country.
All of this should sound familiar. It is the approach of the Fight for $15, which unites airport workers, laundry workers, security officers, home-care workers, childcare workers, adjunct professors, fast-food workers and others into one big movement that is transforming the workplaces and the politics of our country.
And janitors are playing a big role in the movement. Consider Aminta Gonnell, a cleaner from New York. On April 15, when fast-food workers across the country went on strike, Aminta planned and led a protest with more than 100 people demonstrating in front of a McDonald's in midtown Manhattan. "I wish everybody in the world had a union," Aminta says. "It would be a better world."
Over the next 19 months, union janitors will negotiate new contracts with their employers. This will affect the lives of nearly half a million men, women, and children.
Janitors are proud of their own history over the last 25 years. So today we celebrate. But with 42 percent of Americans now paid less than $15 an hour, janitors know the future of our country is more important than the past.
That's why janitors are marching under a new banner: "Raise America." Their contract fight is about raising standards not just for janitors but for all workers. They won't stop until every worker has won $15 and a union. They won't stop until America has been raised up through good jobs.