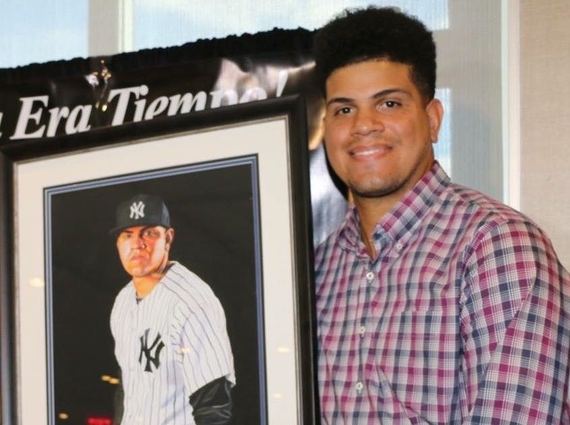 The 25th annual LatinoMVP Awards, the most prestigious awards given to Latino baseball players continues strong as the latest recipient was Dellin Betances at Yankee stadium. The event was a testament of the will and support from many levels of a community that is clamoring for better understanding. Julio Pabón, president of Latino Sports was the principal organizer of these awards and was very happy with the great event that took place at the FedEx Hospitality Suite at Yankee stadium.
The New York Yankees were proud to host the event as part of their Hispanic Heritage Month celebrations and welcome the many community members that attended, from leftist progressives who opposed the construction of the new stadium to ardent NY Mets fans, elected officials, judges and many community activist and leaders and others who had never been to the stadium. The event demonstrated the growing maturity of a community that is willing to work together, even among differences for the betterment of a borough that is building itself up.
Dellin Betances, the main honoree was pleasantly surprised and felt super honored to have received this, his first major award for his professional career. Dellin was the first player in the 25-year history of the awards to bring his immediate family, in this case his parents and his wife. The look on Dellin's eyes when he received his awards said it all.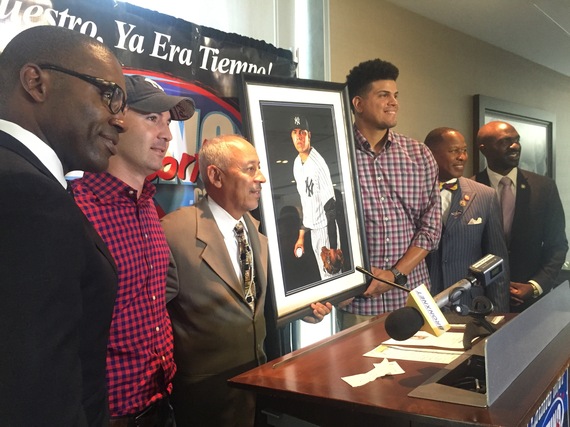 His first award, AKA the appetizer, a caricature rendition by popular artist, John Pinissi of Dellin receiving a baseball from Mariano Rivera was the perfect gift to give to a young player already filling the void left by the retirement of the legendary Rivera.
If that first award caused a kool-aide smile from Betances, his next and principal award, a watercolor painting by nationally respected sports artist, James Fiorentino took his emotions to a heightened level.
Dellin spoke and was very grateful for receiving the awards. He told everyone how proud he was to be Latino and thanked his parents for everything they had done for helping him; become the person who he is today. He also thanked everyone for attending and Julio Pabón and Latino Sports for their work and efforts in having these awards and for honoring him.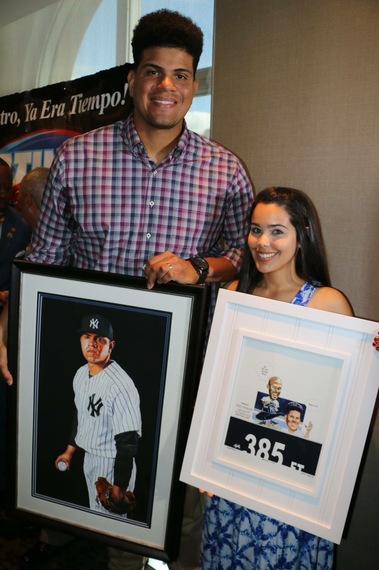 Betances' parents and wife were equally impressed and proud of the awards Dellin had received and by the looks of his 2015 performance he might have to make room for additional paintings on his wall. Mariano Rivera had won 6 LatinoMVP awards and this young player is already demonstrating that he too is on that track.
-----------------------------------------------------------------------------------
Our next award luncheon ceremony will be held at Fenway Park for David Ortíz on September 24, 2015. Call 718-402-9310 for additional information.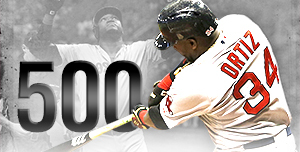 Calling all HuffPost superfans!
Sign up for membership to become a founding member and help shape HuffPost's next chapter