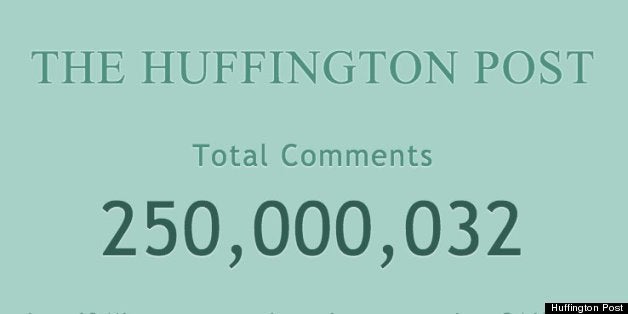 Today, the Huffington Post community posted its 250 millionth comment. The conversation is not only alive and well on HuffPost.com but thriving on HuffPost Live, on our international editions and on our iPhone, iPad, and Android applications.
When Arianna co-founded the Huffington Post back in May 2005, our community was born. The HuffPost community isn't something we've tacked on as an option; it's a core characteristic of who we are and what we do.
Our community members have always been candid and unafraid to share their opinions:
"With all due respect to the other commenters, here's an actual comment on the story in question..."

One of the first comments posted on the Huffington Post
Right from the beginning, the conversations inspired by HuffPost stories were intense and informed. College kids mixed it up with parents and political pundits and discussed everything from the issues to what was going in and out of fashion. We handle over 250 thousand comments on a slow news day. Those numbers soar when events around the world heat up. It's not unusual for an important news story to get 20 or 30 thousand comments. Our story about Mitt Romney 47 percent video attracted over 23 thousand people engaged in a conversation with over 171 thousand comments - as a small town, like Augusta, Maine or Los Gatos, California, had jumped online and engaged in an all-inclusive town hall meeting.
Processing comments at this Olympian scale requires some pretty nifty technology and talented people. We do it all with a staff of 40 moderators: 39 human and 1 machine. We're proud of our human moderators, who work hard to keep the conversation civil and spam free. But with over 200 thousand comments piling up every day we need help from our homegrown JuLiA, a collection of machine learning algorithms and distributed data processing systems that pre-moderate every comment. JuLiA enables her human co-workers to focus on the ambiguous cases while she filters out abuse. JuLiA is smart but the human touch is required to keep a community from feeling sterile.
Today, the Huffington Post wants to thank our community members for all their ideas, opinions, and fact checks, all 250 million of them. We love hearing what you have to say.
Related
Popular in the Community