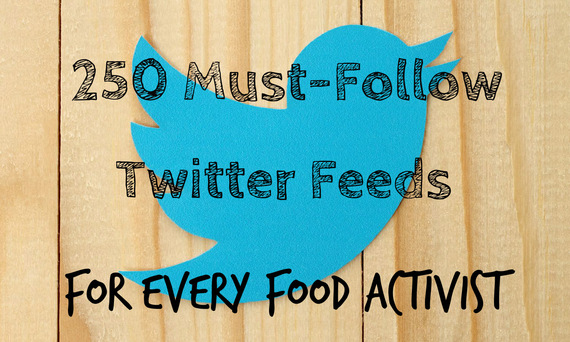 Whether you have found a chef that speaks to your soul or want to learn more about organic agriculture, Twitter has proven to be a powerful platform for those looking to get involved in the food movement. From the comfort of your home, you can instantly connect with farmers, chefs, researchers, activists, and policymakers around the world working to improve our global food system.
With over 236 million monthly active users, deciding who to follow can become overwhelming. To make it easy, Food Tank has selected 250 of the coolest Twitter accounts we follow in the food movement for you to check out. It doesn't matter if you're a Twitter pro or just started tweeting, check this list daily for the latest food and agriculture news from around the globe.
Food Tank presents 250 Twitter accounts that every Food Activist should follow.
350 - @350 350.org is on the forefront of climate justice and organizing. Follow their Twitter for online campaigns and grassroots action occurring all over the world.
Action for Healthy Kids - @Act4Hlthykids Action for Healthy Kids works in schools to help provide each child with a healthier life. Their Twitter feed provides great activities, projects, and cooking tips that children will love at home too.
Ag Innovations Network - @AgInnovations Ag Innovations Network cultivates ideas and innovations to build healthy farms, communities, and ecosystems.
AgChat Foundation - @agchatfound The AgChat Foundation is led by farmers and ranchers who bring together and empower agriculture advocates.
AGree - @AGreeAgPolicy AGree seeks to elevate food and agriculture as a national priority, and brings people together to develop strategies for policy change.
Alice Waters - @AliceWaters As the Vice President of Slow Food International, founder of the Yale Sustainable Food Project, and owner of Chez Panisse in Berkeley, C.A., there is nothing that this queen of California cuisine can't do.
Alliance for a Healthier Generation - @HealthierGen Alliance for a Healthier Generation empowers children to build life-long healthy habits and eliminate childhood obesity.
Alliance for Fair Food - @alliance4ff Just Harvest USA, Interfaith Action, and the Student/Farmworker Alliance have rallied together to create the Alliance for Fair Food in partnership with the Coalition of Immokalee Workers to fight for farmworker justice.
Allison Aubrey - @AubreyNPRFood National Public Radio food and nutrition correspondent, Allison Aubrey is a testament to healthy living. Aubrey and her colleagues won the James Beard best food blog award for The Salt in 2012.
Allafrica.com - @allafrica AllAfrica.com and its Twitter feed are the premier news source for African news and information related to development and agriculture across 54 countries.
AmpleHarvest.org - @AmpleHarvest AmpleHarvest.org empowers growers to donate their harvest surplus to members of the community in the fight against food waste and malnutrition.
Anna Lappe - @annalappe You may know Anna Lappe as the founder of Food Mythbusters, which spotlights the dangers of fast food and the rest of the food industry. Follow this food hero, mom, and author as she navigates the world of sustainable food for you.
Anthony Bourdain - @Bourdain Any world traveler or food lover will love Bourdain's Tweets as he tells stories and offers unabashed opinions.
Andrew Zimmern - @andrewzimmern A James Beard Award winner and the host of Travel Channel's Bizarre Foods, Andrew Zimmern shows his followers food's unique power to bring people together.
Ashoka Innovators for the Public - @Ashoka Since 1980, Ashoka has brought together the largest network of changemakers and social entrepreneurs worldwide to cultivate and support solutions to social issues.
Aspen Institute - @AspenInstitute The Aspen Institute is an educational organization dedicated to sharing ideas, shaping policies, and teaching young leaders how to deal with the world's critical issues.
AVRDC The World Vegetable Center - @go_vegetables AVRDC is a nonprofit research and development institute dedicated to alleviating poverty and malnutrition through the increased consumption of vegetables.
Barilla Center for Food & Nutrition (BCFN) - @BarillaCFN BCFN is an Italian research institute working to build a sustainable and healthy food system. Follow their Twitter feed for pasta, their latest reports, and projects.
Beth Hoffman - @BethFoodAg Follow Beth Hoffman, a freelance reporter focusing on food, agriculture, and sustainability, for the real stories about the food industry.
Beyond Pesticides - @bpncamp Beyond Pesticides' mission is to reduce the use of unnecessary pesticides, protecting public health and the environment. Their Twitter produces the most up-to-date information about pesticide news and policy.
Bioneers- @bioneers A multi-media platform for advancing sustainable solutions, Bioneers focuses on restorative food systems. Tweets highlight some of the most interesting reform happening in the food system today.
Bioversity International - @BioversityInt A global research-for-development organization, Bioversity International supports agricultural biodiversity to support a healthy, sustainable planet.
Bread for the World - @bread4theworld Bread for the World uses a Christian voice to confront the issues of world hunger and poverty. Bread for the World gives individuals the means to play their part and build political momentum to make a difference.
Brian Halweil - @BrianHalweil Brian Halweil is the editor-in-chief of Edible Brooklyn, Edible East End, Edible Manhattan, and Edible Long Island and can most recently be found paving the way at the Food Lab at Stony Brook Southampton.
Calacea Farm, Not for Sale - @NFS Not for Sale is leading the fight against modern day slavery. Since its founding in 2007, Not for Sale seeks to end the cycle of exploitation and provide survivors with safety, education, and economic opportunity.
Carey Gillam - @careygillam A Reuters journalist specializing in food and agriculture, Carey Gillam has all the recent news about GMOs, large-scale agriculture, and Washington DC policies.
Campus Kitchens - @CampusKitchens Campus Kitchens partners with high schools, colleges, and universities to share campus kitchen space, recover cafeteria food, and work with student volunteers to combat hunger in their communities.
Center for Ecoliteracy - @Ecoliteracy The Center for Ecoliteracy supports ecological education for students in grades K-12 to promote sustainable living.
Center for Environmental Health - @4EnviroHealth The Center for Environmental Health seeks to build a world where everyone lives, works, and plays free from dangerous and toxic chemicals.
Center for Health and the Global Environment (CHGE) - @CHGEHarvard CHGE was founded to research and communicate the connections between human health and global environmental change.
Center for Food Safety - @TrueFoodNow Dedicated to ending harmful food production technologies and supporting sustainable agriculture, the Center for Food Safety's Tweets will educate you about America's food safety issues.
Center for International Forestry Research (CIFOR) - @CIFOR CIFOR conducts research surrounding issues in forest and landscape management to advance environmental conservation, equity, and human livelihoods.
Center for a Livable Future - @livablefuture In the pursuit of a more sustainable future, the Center for a Liveable Future investigates the relationship between public health, food production, and the environment.
Cambodian Center for Study and Development in Agriculture (CEDAC)- @cedacorg CEDAC works to improve the livelihoods of small-scale farms across Cambodia through sustainable agriculture.
Change Food - @changeourfood Change Food connects food leaders to raise awareness about food system issues and to educate consumers about sustainable eating.
ChangeLab Solutions - @ChangeLabWorks ChangeLab Solutions takes on an interdisciplinary approach to law and policy innovations to solve public health issues.
Chef Action Network - @ChefAction The Chef Action Network aims to give back and support chefs that advocate and work to create a healthy and sustainable food system.
Chef Ann Foundation - @chefannfnd Through grant programs and training tools, the Chef Ann Foundation works in school districts nationwide to promote changes in school foods.
Chefs Collaborative - @chefscollab At Chefs Collaborative, chefs and food professionals work together to cook good food, inspire a better food system, and change the way America eats.
Chellie Pingree - @chelliepingree From her Maine farm to inside Washington meetings, follow Congresswoman Chellie Pingree as she supports sustainable, healthy, and organic food for all.
Chicago Botanic Garden - @chicagobotanic Keep up to date with your gardening skills and all the new life growing in the Chicago Botanical Garden through their official Twitter page.
The Chicago Council on Global Affairs - @ChicagoCouncil The Chicago Council brings together world leaders and policymakers to educate the public about the most important global issues of today.
Chipotle - @ChipotleTweets One half burrito royalty and one half guacamole educators, Chipotle is leading the restaurant industry in their use of sustainable, local food products.
Civil Eats - @CivilEats Civil Eats is one of the leading news sources for food politics and confronts the major issues in the American food system.
Coalition of Immokalee Workers (CIW) - @CIW If you are interested in farmworker rights and labor issues, then this Twitter is a must-follow. Founded in 1993, CIW is an internationally recognized organization advocating for socially responsible and sustainable food.
CommonHealth ACTION - @CommonHealthACT For CommonHealth ACTION, solutions to public health policies and challenge come first. They align people, strategies, and resources together to grow changes.
Common Threads - @Common_Threads Common Threads gets kids cooking through cultural activities and nutrition education in an effort to prevent childhood obesity.
Community for Zero Hunger - @ZHCommunity An initiative that supports the Zero Hunger Challenge, the Community for Zero Hunger tweets all about today's news on food security and hunger.
Consultative Group on International Agricultural Research (CGIAR)- @CGIAR The CGIAR Consortium brings together organizations working on global agriculture research. Follow this Twitter for the latest and greatest in agricultural research around the world.
Cookbook Project - @CookBookPrj The Cookbook Project is a nonprofit launching a food literacy revolution by educating leaders in nutrition and cooking education.
Cornucopia Institute - @Cornucopia_Inst The Cornucopia Institute is a leader in food and agriculture research, providing much-needed information to family farmers, consumers, and the media. Follow this Twitter for all your news about economic justice for family farmers.
Corporate Accountability International - @StopCorpAbuse Created to fight giant food corporation marketing practices, Corporate Accountability International has transformed into a powerhouse, winning campaigns to protect public health, human rights, and the environment.
CropMobster - @cropmobster CropMobster is a social media crowdsourcing platform to alert followers of premium surplus foods to help get nutritious food to those in need and to reduce food waste.
Dan Barber - @DanBarber One of America's greatest chefs and long-time supporter of the farm-to-table movement, Barber is a celebrated writer on food and agriculture. As the owner and executive chef of Blue Hill at Stone Barns, he places an emphasis on sustainable, healthy foods bred for flavor.

Dr. Martin Bloem - @mwbloem Dr. Martin Bloem is a leading world expert on public health and nutrition. He serves as the Chief for Nutrition and HIV/AIDS for the U.N. World Food Programme and is an adjunct associate professor at the Johns Hopkins Bloomberg School of Public Health and Friedman School of Nutrition Science and Policy.
D.C. Central Kitchen - @dcck America's first community kitchen, D.C. Central Kitchen provides food to those in need and job training to those looking to change their lives.
U.S. Department of Agriculture (USDA)- @USDA Get your daily information, reports, and facts on agriculture in America from the USDA's Twitter page.
Earth University - @EARTH_Uni Earth University educates young leaders in developing countries about sustainable agriculture. Follow their Twitter page to learn more about their exciting projects around the world.
Eataly - @Eataly Eataly is the largest Italian marketplace in the world. Founded by Oscar Farinetti and with locations in New York and Chicago, the marketplace includes a variety of restaurants, food and beverage counters, bakery, retail items, and a cooking school.
Eater - @Eater One of the leading websites for food and dining, Eater creates guides to the latest and greatest restaurants across the country.
EcoAgriculture Partners - @EcoAgPartners EcoAgriculture Partners seeks to manage and sustain landscapes as ecoagriculture worldwide. Their Twitter engages followers in questions and solutions to sustainable agriculture and land management.
Ecological Farming Association - @Eco_Farm EcoFarm supports ecologically sustainable food through education, advocacy, and celebration.
Edible Communities - @ediblestories Edible Communities is a publishing company that produces local food publications across the U.S. and Canada. With more than 75 unique publications, you'll find your new favorite food magazine here.
Elevation Burger - @elevationburger Elevation Burger operates with a vision to be more than just a burger restaurant. They offer authentic and sustainably prepared food that is made of only the highest quality ingredients.
Eliza Barclay - @elizabarclay Eliza Barclay is a reporter for NPR Food and Science. Follow her for your daily dose of food and agriculture innovations from around the world.
Edible D.C. - @Edible_DC Edible D.C. is a print magazine celebrating D.C. food and culture. Follow their Twitter for the latest happenings in the D.C. restaurant scene.
Edible Schoolyard Project - @edibleschoolyrd The Edible Schoolyard Project is dedicated to providing every student with a free, organic, and nutritious lunch. Follow their Twitter page to become a fan.
EndFoodWaste.org - @EndFoodWaste EndFoodWaste.org is run by food waste activist Jordan Figueiredo. The campaign's mission is to bring attention and provide easy solutions to fighting food waste.
Environmental Working Group (EWG) - @ewg EWG empowers individuals to live healthier lives. Follow their Twitter for sustainable tips to incorporate into everyday life.
Equal Exchange - @EqExCoop Equal Exchange strives to foster environmentally and ecologically sound relationships between farmers and consumers. Their Twitter provides more information about the fair trade movement, producers, and partnerships.
Fair Food Network - @FairFoodNetwork Fair Food Network provides fresh, sustainable produce to underserved communities, thereby strengthening communities and farmers.
Fair Food Fight - @fairfoodfight A project of the Equal-Exchange Co-op, Fair Food Fight is a blog and social media site that connects people who care about food and want to make a change.
Fair Trade Campaigns - @FTCampaigns Fair Trade Campaigns recognizes and celebrates towns, universities, schools, and congregations for exemplifying fair trade practices and principles.
Fair Trade USA - @fairtradeusa Fair Trade USA is the leading certifier of fair trade products in the United States. Follow their Twitter for fair trade facts and offers.
FamilyFarmed.org - @FamilyFarmed This Chicago-based organization is working tirelessly to expand the production of locally grown and responsibly produced food.
Farmers Fishers Bakers - @FarmFishBakeDC Farmers Fishers Bakers is a foodies' delight. Owned by the North Dakota Farmers Union, this farm-to-table restaurant exemplifies sustainability and honors the farmers that supply it.
Farm Aid - @FarmAid Farm Aid provides the support and services for family farms in crisis, not only keeping them on their land, but also giving them the resources to transition to sustainable and profitable farming practices.
Farm Labor Organizing Committee (FLOC) - @SupportFLOC Since 1967, FLOC has been fighting problems within large-scale food supply chains. This innovative organization has also fought to give migrant workers bargaining powers in the labor market.
Farm-to-Consumer Labor Defense Fund - @FTCLDF The Farm-to-Consumer Labor Defense Fund protects the rights and freedoms of family farmers. Follow their feed for news on food rights and policies across the country.
Farmer Veteran Coalition - @Farm_Vet_Co The Farmer Veteran Coalition supports returning veterans by helping them start careers in the agriculture industry.
Farmworker Justice - @FarmwrkrJustice Since 1981, Farmworker Justice has been empowering migrant and seasonal workers to improve their living and working conditions and their access to justice.
Fazenda da Toca - @fazendadatoca Fazenda da Toca is a Brazilian company dedicated to producing wholesome organic products that support ecological sustainability and healthy lives.
Federation of Southern Cooperatives Land Assistance Fund - @Federation1967 The Federation is dedicated to supporting community development and assisting family farms, with a special emphasis on African American farmers.
Feeding America - @FeedingAmerica Feeding America is a hunger relief charity that feeds millions of Americans every year. Check out Feeding America's Twitter page to learn more about their many campaigns occurring nationwide.
First Peoples Worldwide - @FirstPeoples An indigenous-led organization, First Peoples Worldwide supports native communities around the world and uses their traditional values and knowledge to solve today's challenges.
Food and Environment Reporting Network - @FERNnews For quality food related investigative journalism, follow the Food and Environment Reporting Network and be captured by their complex stories about agriculture and environmental health.
Food & Water Watch - @foodandwater The watchdogs for healthy food and water, Food & Water Watch stands up to corporations to put people and the environment first.
Food + Tech Connect - @foodtechconnect At Food + Tech Connect, innovators turn crazy ideas into reality, exploring how data and technology can improve the food system.
Food Chain Workers Alliance - @foodchainworker Since 2009, the Food Chain Workers Alliance has been uniting over a dozen organizations to fight for worker's rights for a more sustainable food system.
FoodCorps - @FoodCorps FoodCorps empowers the next generation of leaders by placing them in underserved communities to educate youth about healthy and nutritious food. Follow their Tweets to learn more about FoodCorps projects and their volunteers.
Food Day - @FoodDay2015 This year, Food Day falls on October 2nd! Celebrate with us to honor this year's efforts to build a more sustainable food system. Follow their Twitter page for more information and Food Day events.
Food Democracy - @food_democracy Members of Food Democracy have the shared vision of a healthy food system with equal access to food for all. Together they organize grassroots campaigns to promote a sustainable food system that protects our environment.
Food Ethics Council - @FoodEthicsNews Based in the UK, the Food Ethics Council strives to build a sustainable and resilient food system by addressing the ethical issues in food businesses, government, and society.
Food First - @foodfirstorg As the operators of Food Sovereignty Tours, Food First arms global citizens with the information to engage institutions and policies in food system issues.
Food Lab - @TheFoodLabUT New food system solutions and innovations are always bubbling up at The Food Lab. Tweets regularly feature creative solutions to the world's most important issues.
Food MythBusters - @FoodMythBusters Food MythBusters works to expose the real stories behind the food we eat and dispel myths about the food system.
Food Recovery Network - @foodrecovery Students nationwide are making a change with the Food Recovery Network. Together, they recover extra food from cafeterias to feed the hungry.
Food Revolution - @foodrev This Jamie Oliver organization is looking to put a stop to diet-related diseases. Join them every May 15th on Food Revolution Day to fight for childhood food education.
Food Policy Action - @FPAction Working to hold legislators accountable, Food Policy Action enables citizens to learn where their representatives stand on food policy issues.
Food Safety News - @foodsafetynews This online news organization covers everything related to food safety. Check their Tweets daily for your dose of food safety news.
Food Trade - @foodtradeHQ Connecting people together, Food Trade allows people to buy and sell local food around the U.K. Tweets give tips and tricks for business success.
The Food Trust - @thefoodtrust The Food Trust works in local communities to provide improved food access and nutrition education so that everyone has the ability to make informed and healthy food choices.
Food-X - @foodXhealth Food-X partners with entrepreneurs to take their businesses to the next level. Tweets shine a light on some of their success stories and opportunities for funding.
Forum for the Future - @Forum4TheFuture Join #theBIGshift campaign with Forum for the Future as they work with businesses and governments to solve sustainability challenges.
Frances Moore Lappe - @fmlappe Frances Moore Lappe is the author of Diet for a Small Planet and is the co-founder of the Small Planet Institute. Tweets feature sustainability and food related information.
Global Alliance for the Future of Food - @futureoffoodorg The Global Alliance for the Future of Food aims to leverage Earth's resources to create food system reform that prizes the relationship between food, health, and the community.
Global Alliance for Improved Nutrition (GAIN) - @GAINalliance GAIN is an independent nonprofit foundation that works to increase access to essential nutrients by building partnerships around the world.
The Global FoodBanking Network (GFN)- @foodbanking In the battle against hunger and food waste, GFN creates and strengthens food banks around the world, in countries outside the US. GFN currently works in 34 countries.
Global Crop Diversity Trust - @Croptrust Global Crop Diversity Trust ensures the accessibility and conservation of crop diversity that protects food security.
Global Forum on Agricultural Research (GFAR)- @GFARforum GFAR brings together voices from around the world to address agricultural development needs and enacts rapid change.
Global Partnerships for Afghanistan (GPFA) - @_GPFA With the help of GPFA, rural Afghans are building sustainable livelihoods through their own farm businesses.
GoodPlanet Foundation - @GoodPlanet_ Based in Paris, the GoodPlanet Foundation takes sustainability to heart, inspiring greener ways of living for global citizens.
GRACE Communications Foundation - @EcoCentered Follow GRACE Communications bloggers as they tweet about the intersection of food, water, and energy.
Grassroots International - @GrassrootsIntl Working with organizations on local and national levels, Grassroots International advocates for land, food, and water rights for individuals around the world. Tweets highlight news on issues Grassroots is passionate about.
Groundswell International - @Groundswellint Working from the bottom up, Groundswell International has been developing agroecological farming practices and farming innovations with rural farmers from around the world.
Growing Power - @GrowingPower Starting with just a farmer and a plot of land, Growing Power support urban farms in Milwaukee, WI and Chicago, IL to provide equal access to cheap and healthy food.
Healthy Child Healthy World - @Healthy_Child Tweets from Healthy Child Healthy World provide facts and tips to help parents protect their children from toxic chemicals.
Health Fare 4 Kids - @healthyfare4kids Join Healthy Fare for Kids as they fight to get healthier meals for kids in restaurants and food retailers across the country.
Health Food Action - @HFAction Health Food Action is the combined effort of health care workers acting to prevent further negative health effects in food system. Tweets feature news about health related food and farming issues.
Heifer International - @Heifer To alleviate poverty, Heifer International provides individuals with the tools to succeed through gifts of seeds, livestock, and training. Tweets highlight the organization's many projects and success stories.
Helena B. Evich - @hbottemiller Helena B. Evich may hail from Washington State, but she is a pro at D.C. food and agriculture politics and policy. This Politico reporter's Tweets feature food and agriculture policy news.
Humanitas Global - @humanitasglobal Humanitas Global is a global development group that initiates progress in the most underserved parts of the world.
Imperfect - @imperfectfruit At Imperfect, love is given to every single fruit and vegetable, no matter how ugly. To encourage consumers to purchase ugly produce, this organization offers 30 to 50 percent discounts on imperfect food.
Institute for Agriculture and Trade Policy (IATP) - @IATP Learn more IATP's work at the intersection of sustainable, food, farm, and trade through their news stories and articles featured in their Tweets.
International Food Policy Research Institute (IFPRI) - @ifpri For the past 40 years, IFPRI has been leading the way in sustainable solutions to end hunger and poverty.
International Fund for Agricultural Development (IFAD) - @IFADnews IFAD's work to combat rural poverty will inspire you. Follow their Twitter for project highlights around the world and more food security and poverty news.
James Beard Foundation - @beardfoundation The James Beard Foundation celebrates America's culinary community and traditions. Follow their Twitter as they feature chefs and recipes making waves across America's food scene.
Jamie Oliver - @jamieoliver A dedicated food activist and world-renowned chef, Jamie Oliver is leading the fight to end childhood malnutrition, starting with his campaign to overhaul Britain's school lunch program.
Jamie Oliver Food Foundation - @jamiesfoodfdn The Jamie Oliver Food Foundation is the brainchild of nutrition education advocate and chef, Jamie Oliver. The Foundation works to bring food education programs to communities and schools to promote healthier lives.
Jane Lear - @janelear A former editor at Gourmet, Jane Lear is a seasoned food and travel writer who tweets about everything food from home to abroad.
Jose Andres - @chefjoseandres Jose Andres is the president of ThinkFoodGroup, the founder of World Central Kitchen, and a critically acclaimed chef. Follow his mission to end global hunger one plate at a time.
Jose Garces - @chefjosegarces Jose Garces is the owner of a 40-acre sustainable, organic farm and is a James Beard award winner. Tweets feature plenty of fun food facts and food culture tidbits.
Just Label it - @JustLabelIt Want to know what you're eating? Just Label It is a national campaign to get the U.S. Federal Drug Administration to label GMOs in all foods.
Kathleen Merrigan - @katmerrigan Former Deputy Secretary of the U.S. Department of Agriculture, Kathleen Merrigan currently services as the Executive Director of The George Washington University's Office of Sustainability.
Kim O'Donnel- @kimodonnel O'Donnel is the author of many sustainable food advocacy books and publications, including the Meat Lover's Meatless cookbooks. Tweets cover everything food from the kitchen to policy.
Landesa Rural Development Institute - @Landesa_Global Landesa Rural Development Institute promotes social justice by securing land for millions of world citizens.
Land Stewardship Project (LSP) - @LSPnow Dedicated to transforming food and farming systems, LSP focuses on promoting sustainable agriculture and developing sustainable communities. Tweets regularly feature opportunities to engage with land rights activists.
La Via Campesina - @via_campesina Serving as the voice for international peasants, La Via Campesina defends small-scale sustainable agriculture from large corporations and transnational companies.
Livestock Conservancy - @LConservancy The Livestock Conservancy does more than tweet pictures of cute critters; they protect around 200 breeds of livestock from extinction.
Mark Bittman - @bittman He's what TIME Magazine calls "Twitter's most-followable food wonk." Mark Bittman is a renowned writer of food and agriculture issues, a New York Times columnist, and author of How to Cook Everything.
Maria Godoy - @mgodoyh Maria Godoy is the senior editor and host of the award-winning blog The Salt. She is a correspondent for numerous other NPR publications and tweets the latest innovations in food and agriculture.
Mario Batali - @mariobatali You may recognize this celebrity chef from his appearances on the Food Network or from his many award-winning restaurants. However, when he's not transforming classic Italian recipes into modern delights, he works to ensure all children are well-fed through the Mario Batali Foundation and the Lunchbox Fund.
Mary Beth Albright - @MaryBeth Mary Beth Albright is passionate about good food, and it's evident in her writing for National Geographic's The Plate.
MAZON - @StopHunger MAZON is a nonprofit with the mission to end hunger in the United States and Israel. Follow their Tweets to learn more about what you can do to help their cause.
McKnight Foundation - @McKnightFdn The McKnight Foundation aims to ensure a better life for present and future generations. Based in Minnesota, the foundation supports economic and community development throughout the U.S., Latin America, Southeast Asia, and Africa.
Meatless Monday - @MeatlessMonday An initiative to get all Americans to cut meat out of their diet at least one day a week, Meatless Monday tweets creative meals and encouragement.
Michael R. Dimock - @MichaelRDimock After more than 20 years defending food and agriculture, Michael R. Dimock is a demonstrated food hero. His most recent venture is his work as the president of Roots of Change, a think tank dedicated to building a healthier and more resilient food system.
Michael Pollan - @michaelpollan Michael Pollan is a champion for a sustainable food system, and voices this in his best-selling books The Omnivore's Dilemma and most recently, Cooked.

Michele Simon - @MicheleRSimon Michele Simon is a leader in developing food and alcohol policy. She is not only the author of Appetite for Profit, but she is also a public health lawyer and runs the website EatDrinkPolitics.com.
Michael Voltaggio - @MVoltaggio Michael Voltaggio demanded the food world's attention with his Top Chef win in 2009. Since then, Voltaggio has been making waves with his award-winning Los Angeles restaurant Ink.
Millennium Institute- @millenniuminst Founded when sustainability was a foreign concept, the Millennium Institute works to bring sustainable development to every corner of the globe.
Marion Nestle - @Marionnestle As the Paulette Goddard Professor of Nutrition, Food Studies, and Public Health, Marion Nestle shares her expertise and insights both in the classroom and in the Twitterverse.
Modern Farmer - @ModFarm For farming with an edge, follow Modern Farmer as their website features an array of stories about farming today, with an added stylish twist.
My Plate, My Planet - @myplatemyplanet My Plate, My Planet fights to make people's voices heard. Their Tweets aid their mission to support sustainable dietary guidelines.
Naomi Starkman - @NaomiStarkman A self-described "farmie, not a foodie," Naomi Starkman is the co-founder and editor-in-chief of Civil Eats. She regularly tweets about the food system and sustainable agriculture news.
National Black Farmers Association - @DrJohnBoyd The National Black Farmers Association was founded by Dr. John Boyd, a civil rights activist and fourth generation farmer. The association works to empower black farmers and address government discrimination.
National Cooperative Grocers Association (NCG) - @strongrtogethr NCG is a business cooperative for retail food co-ops throughout the United States. Tweets highlight the food sold in their 195 stores.
National Farmers Union - @NFUDC National Farmers Union protects the economic well-being of U.S. family farmers and rural communities through grassroots actions.
National Family Farm Coalition - @FamilyFarmCo Members of the National Family Farm Coalition face deepening economic hardships in their rural communities. Together they are working to provide, sustain, and secure food and farm systems.
National Farm to School Network (NFSN) - @FarmtoSchool NFSN is leading the way to bring locally sourced food and nutrition education into schools. Tweets feature policy news from the farm-to-school movement.
National Organic Coalition (NOC) - @NationalOrganic United together, NOC considers itself the voice for organic interests. Follow their feed for the latest in GMO and organic regulations.
National Sustainable Agriculture Coalition (NSAC) - @sustainableag Working on behalf of family farmers, NSAC highlights sustainable family farms and their advocacy projects in their Tweets.
National Women in Agriculture Association - @NWIAA The National Women in Agriculture Association is a faith-based organization that uses innovative agriculture to grow community development. Tweets feature ways to get involved in the organization and its mission.
National Young Farmers Coalition (NFYC) - @NYFCNYFC NFYC is where the next generation of farmers mobilize together to support other young farmers in sustainable, prosperous agriculture. Follow their Twitter feed for ways to support young farmers.
Natural Gourmet Institute - @naturalgourmet Natural Gourmet Institute is a health and whole foods based culinary school that tweets both traditional and modern sustainable meal ideas.
Natural Resources Defense Council (NRDC)- @NRDC As "The Earth's Best Defense", NRDC pulls together its 2 million members to protect the Earth's air, land, and water. Follow their Twitter to get daily NRDC news and articles on your feed.
Nature Conservancy - @nature_org With more than one million members, the Nature Conservancy addresses the most pressing conservation threats. Tweets feature conservation efforts across the globe.
Non-GMO Project - @NonGMOProject The Non-GMO Project works to help Americans make informed food choices. Their Twitter feed is your go-to-guide for all news about the non-GMO movement.
Nourish - @Nourish_Life Nourish's Twitter feed extends the dialog it creates in its educational initiatives to stimulate conversations about food and sustainability.
Nutrients for All - @NutrientsforAll As an Ashoka initiative, Nutrients for All is tackling the global nutrition crisis. Tweets spotlight different actions being taken across the world to provide nutritional equality.
Oakland Institute - @Oak_Institute The Oakland Institute is an investigative think tank that researches complex issues revolving around food, trade, and land. Tweets spotlight successful and failed projects in developing countries.
Oldways - @OldwaysPT Oldways is a nutrition education organization that seeks to preserve heritage and good health by promoting traditional eating and cooking techniques.
One Acre Fund - @OneAcreFund One Acre Fund's "market in a box" has been able to double the farming income of over 280,000 one-acre smallholder farms in East Africa. Tweets share the stories of the people impacted by the organization's efforts.
ONE Campaign - @ONECampaign With 3 million members, the ONE Campaign advocates for the end of extreme poverty. Tweets highlight facts, information, and news about the organization's efforts.
Organic Center - @OrganicCenter The Organic Center communicates peer-reviewed information about organic farming and its benefits to the public. Learn more about organic farming initiatives around the world from their Tweets.
Organic Consumers Association (OCA) - @OrganicConsumer OCA is a grassroots and online campaign led by socially conscious consumers to promote health, justice, and sustainability.
Organic Trade Association (OTA) - @OrganicTrade OTA is a business association, leading over 8,500 organic businesses in the United States. Find out more about OTA's ventures through their Twitter feed.
Oxfam America - @OxfamAmerica Oxfam International works to end poverty worldwide through the union of 17 organizations. Tweets highlight Oxfam's work and spread news about crises around the world.
Panera Bread - @panerabread Panera Bread has transformed their restaurants to focus on clean ingredients and transparent menus that allow consumers to make educated choices.
Partnership for a Healthier America (PHA) - @PHAnews With the support of First Lady Michelle Obama, PHA is on a mission to end childhood obesity in a single generation. Follow their Twitter for all PHA news, activities, and tips.
Permaculture Research Institute (PRI) - @PRIaustralia PRI aims to expand the knowledge and practice of permaculture design as a form of sustainable agriculture. Tweets feature daily permaculture news and education.
Pesticide Action Network - @pesticideaction The goal of Pesticide Action Network is to replace dangerous and toxic chemicals with environmentally beneficial alternatives.
Pew Charitable Trusts Food Safety Network - @pewtrusts Pew considers food safety to be a top public health priority. Follow their Twitter for public policy news and health actions.
Planet Forward - @planet_forward Planet Forward is a media organization that tells stories of innovation that help move the planet forward. Check out their Twitter to find out what students, scientists, advocates, and policymakers are saying.
PolicyLink - @policylink PolicyLink advances social and economic equity through their action efforts and research. Tweets cover PolicyLink news and activities.
Professor Tim Lang - @ProfTimLang Tim Lang is a seasoned food hero with 39 years of food system engagement and research under his belt. His Tweets focus on the food system debate both in the U.K. and abroad.
Prevention Institute - @preventioninst Focused on aligning strategy, policy, and collaboration, the Prevention Institute promotes policies and practices that improve health and solve social issues.
Rachel's Food Network - @RachelsNetwork Rachel's Food Network brings together a pioneering group of women who serve as stewards of the Earth. Stay up to date with their activities through their Twitter feed.
Rainforest Alliance - @Rnfrstalliance In an effort to conserve biodiversity, Rainforest Alliance works to transform land-use and business practices as well as consumer behavior.
Raj Patel - @_RajPatel As the author of the book Stuffed and Starved, Patel's Tweets cover a variety of contemporary issues. Raj Patel was part of the team that created the documentary, Generation Food Project, which shares the stories of people working to fix our broken food system.
Rick Bayless - @Rick_Bayless Rick Bayless has served his community not only through his delicious Mexican cuisine, but also through his support of Midwestern farmers. Bayless is the founder of the Frontera Farmer Foundation as well as the Frontera Scholarship.
Real Food Challenge - @realfoodnow The Real Food Challenge unites students to make a lasting impact on the food system, one campus at a time.
Real Food Media - @RealFoodFilms The Real Food Media Project is a collaborative organization made up of farm and food organizations led by Anna Lappe that explores stories of sustainability through online movies and an action center.
Recipe for Success - @R4SFoundation Combatting childhood obesity, Recipe for Success is a childhood learning program that promotes healthy eating.
Restaurant Nora - @restaurantnoras Nora Pouillon is the owner and chef of America's first certified organic restaurant, Restaurant Nora. Find out what the team is up to on their Twitter page.
Restaurant Opportunities Centers United - @rocunited Keep up with the fight for fair wages with Restaurant Opportunities Centers United. This organization works to improve wages and labor conditions for America's restaurant workforce.
Revolution Foods - @RevolutionFoods Revolution Foods brings over 1 million healthy and affordable meals to schools across the country. Learn more about their products and initiatives on their Twitter page.
Robyn O'Brien - @foodawakenings A lady of all trades, Robyn O'Brien, is a former financial analyst, published author, founder of Allergy Kids, and mother of four. Follow her for news and research about food corporations.
Rodale Institute - @rodaleinstitute For over 60 years, the Rodale Institute has been researching best practices in organic agriculture which they share with the public on their Twitter feed.
Rural Advancement Foundation International (RAFI-USA) - @rafius RAFI-USA supports family farmers and their right to earn a dependable and fair income through sustainable farming.
Rural Coalition - @RuralCo The Rural Coalition unites small farmers, migrant farm workers, and indigenous workers to build a sustainable food system across North America.
Save our Soils - @natureandmore Save our Soils is the latest campaign of Nature and More, which raises awareness about the importance of soil to human health, food security, and climate. Tweets feature ways people around the world are celebrating soils.
Sam Sifton - @SamSifton Sam Sifton, Food Editor for The New York Times, is a seasoned food writer. Follow his Tweets for great recipes, foodie news and of course, peas in guacamole jokes.
Savory Institute - @SavoryInstitute The Savory Institute uses innovative and holistic measures to fight land degradation and promote restoration through innovative strategies such as using livestock to mimic wild herds.
Seafood Watch - @SeafoodWatch A program of the Monterey Bay Aquarium, Seafood Watch is an advocate for sustainably sourced seafood and regularly tweets seafood policy as well as recipes.
Share Our Strength - @nohungrykid Share Our Strength is rooted in the belief that no kid should grow up hungry. Follow their campaign on Twitter to feed children healthy, wholesome meals.
ShopHouse - @ShopHouseTweets With 12 locations across the United States, ShopHouse is proud to serve responsibly raised meat and non-GMO products.
Slow Food - @SlowFoodHQ, @SlowFoodUSA Slow Food USA and Slow Food International practice building a better food system by supporting food that is nourishing for both people and the planet.
Slow Money - @SlowMoney All about bringing investments home, Slow Money is a group of investors, farmers, and donors dedicated to building local, small, and environmentally minded enterprises.
Small Planet Institute - @SmallPlanetinst At the Small Planet Institute, the idea of "Living Democracy" means citizens work toward incorporating inclusion and fairness into daily life. Tweets feature articles related to good food and agriculture.
SoFab Farm to Table Conference - @Farm2Table_Int This year's Farm to Table International Symposium will be held on August 8-10th. Follow their Twitter for registration news and event details.
Soil Association - @SoilAssociation Since the 1940s, the Soil Association has been defending healthy and sustainable food and land use. Check out their Twitter for your daily dose of organic and other campaign news.
Spoons Across America - @SpoonsAAmerica Follow Spoons Across America to find out more about what the organization is doing to improve childhood nutrition and eating habits.
Stanford's Center for Food Security and the Environment (FSE) - @FoodSecurity_SU Stanford's Center on Food Security and the Environment addresses critical global issues of hunger, poverty, and the environment by generating vital knowledge and policy-relevant solutions. FSE leads cutting-edge research, runs a robust teaching program, and directs science and policy advising.
Sustainable America - @foodfuelfuture Sustainable America's newest campaign is battling food waste. Follow their Tweets to find out more about the campaign and how to reduce your personal food waste.
Sustainable Food Trust - @SusFoodTrust Follow the Sustainable Food Trust for stories on how we can transition to a future with more sustainable food and agriculture.
Sustainable GW - @SustainableGW An initiative of The George Washington University, Sustainable GW runs the Office of Sustainability and the Institute of Sustainability. Check out their Twitter to learn what students and programs are doing to protect the planet.
Sweet Water Foundation - @SweetWaterFDN The Sweet Water Foundation grows sustainable urban agriculture practices through educational and career programs. Tweets feature urban agriculture news from around the world.
Stone Barns Center - @stonebarns The Stone Barns Center is an 80-acre educational farm just outside of New York City, NY that teaches people four-season farming and raises public awareness about sustainable food.
TakePart - @takepart Both a digital news magazine and social activism platform, follow TakePart for quick links to daily articles and ways you can help make the world a better place.
ThinkFoodGroup - @thinkfoodgroup ThinkFoodGroup is the creative mastermind behind Chef Jose Andres' hugely popular restaurants in D.C., Vegas, L.A., Miami, and Puerto Rico. Their latest venture, Beefsteak in Washington D.C., highlights vegetables as the center of the meal.
Tom Colicchio - @tomcolicchio Tom Colicchio is not only an award-winning chef, but he is also a successful and seasoned food activist and the executive producer of A Place at the Table. This chef has used his name and power to advocate for change in the food system.
Tristram Stuart - @TristramStuart Tristram Stuart's Twitter revolves around food waste and the Feeding the 5000 campaign, which is an initiative that works to feed 5000 people with food that ordinarily would have been thrown away.
The Christensen Fund - @ChristensenFund A private foundation that supports initiatives for biodiversity and sustainability, The Christensen Fund tweets updates from its various projects and programs. Tweets also link to stories related to missions from around the world.
The George Washington University - @GWtweets Located in the epicenter of Washington, D.C., this university is dedicated to conservation, waste management, and sustainability. Tweets feature university and student community news.
The Overbrook Foundation- @OverbrookFnd The Overbrook Foundation advances human rights and protects natural resources. Their Tweets feature human rights campaigns and successes.
Thought for Food Challenge - @tffchallenge In the Thought for Food Challenge, students battle to come up with the greatest and boldest ideas to solve the world's food problems. Tweets feature innovative food ideas from around the world.
UC Food Observer - @ucfoodobserver Curated by the University of California, the UC Food Observer features the hottest food news around.
UglyFruitandVeg Campaign - @UglyFruitandVeg You've never seen produce like these! The brainchild of food waste activist Jose Figueiredo and End Food Waste, UglyFruitandVeg celebrates the adorable imperfections in everyday fruits and vegetables.
Union of Concerned Scientists - @UCSUSA Science is the center of the solution for the world's most pressing issues for the Union of Concerned Scientists. Tweets cover science news and solutions.
United Farm Workers - @UFWupdates United Farm Workers serves low-income farm workers in the most remote areas of California. Tweets focus on the immigrant labor issues and farm workers' rights.
U.N. Environment Programme - @UNEP Follow the Twitter page of the U.N. Environment Programme to hear about all the latest programs and initiatives they are participating in.
U.N. Food and Agriculture Organization (FAO) - @FAOnews Follow the FAO newsroom and it efforts to eradicate hunger.
U.S. Food Sovereignty Alliance - @foodsovusa The U.S. Food Sovereignty Alliance aims to end poverty. Follow their mission as they rebuild local food economies and support land rights.
USA Pavilion at Expo - @USAPavilion2015 Follow the USA Pavilion during the World Fair from May 1st to October 31st at Expo Milano 2015 to feed the planet.
Wildlife Friendly Enterprise Network (WFEN) - @wfen WFEN's mission is to change the way the world buys and shops for a more equitable planet. Follow their feed for your daily dose of wildlife and sustainability.
Wholesome Wave - @wholesomewave Founded by chef and restaurateur Michel Nischan, Wholesome Wave makes local and healthy foods accessible and affordable.
WhyHunger - @whyhunger Follow WhyHunger and their battle to end hunger and poverty. Tweets feature campaigns to create a more self-sufficient and equitable food system.
Winrock International - @Winrockintl Winrock International empowers disadvantaged people to increase economic justice and conservation. Be inspired by the hard working people featured on their Twitter feed.
Women, Food, and Agriculture Network (WFAN) - @WomenFoodAgNet To support women in sustainable agriculture, connect with WFAN and their Twitter feed as they empower, educate, and network with women across the United States.
Women's Earth Alliance - @WomensEarthAlly Women's Earth Alliance relies on the grassroots power of women leaders to solve the problems of the Earth's most pressing ecological concerns.
World Central Kitchen - @WCKitchen The World Central Kitchen is a project by chef Jose Andres to build smarter kitchens, support businesses, and create jobs.
World Farmers' Organization (WFO) - @worldfarmersorg As advocates of farmers worldwide, WFO networks and connects producer organizations and cooperatives. Follow their Tweets for organization news.
World Food Programme - @WFP The World Food Programme is the world's largest hunger-fighting organization serving more than 90 million people through 70 projects. Follow their Twitter for insights into their work all over the world.
World Resources Institute - @WorldResources The World Resources Institute takes on climate change, food, forest, and water issues around the world through research and action.

World Rural Forum - @WorldRuralForum The World Rural Forum brings thinkers together to support sustainable agriculture and family farming. Tweets feature small-scale farmers and successful programs.
WWF - @World_Wildlife WWF is building a future where humans and nature can live as one. For your daily dose of all things wild, visit their Twitter page.
Rudd Center for Food Policy and Obesity - @UconnRuddCenter A nonprofit research and policy center dedicated to battling malnutrition, the Rudd Center advocates for sustainable diets and obesity prevention.
Young Professionals for Agricultural Development (YPARD) - @YPARD YPARD networks and empowers youth around the world to promote careers in agriculture. Follow their feed to learn more about what these young professionals are doing.
Zero Hunger Challenge - @zerohunger The U.N. Zero Hunger Challenge fights for a world where every individual has the right to food that is part of a sustainable and flourishing food system. Follow their Twitter for more stories and reports that support their mission.
By Danielle Nierenberg, Alyssa Bruns, and Sarah Small
Related
Popular in the Community