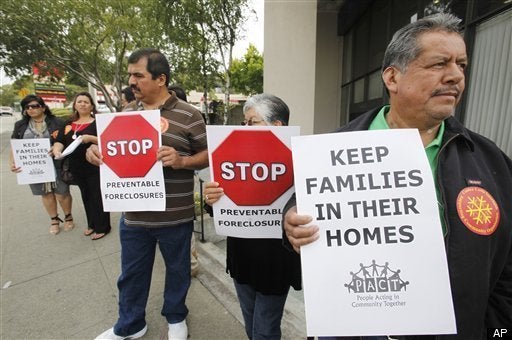 Banks have started foreclosures on more than 2,500 homeowners still in the process of applying for mortgage modifications, according to a new survey of 96 consumer attorneys.
"People every single day are being put into foreclosure while they're waiting for modifications," said Ira Rheingold, director of the National Association of Consumer Advocates, which conducted the survey in November with the National Consumer Law Center. "It's all related to the broken mortgage servicing system."
The mortgage-servicing system found itself in the spotlight this fall when employees at big banks admitted in sworn depositions to signing off on foreclosure filings without verifying any of the information. Banks and the government have insisted it's just a paperwork problem and no homeowners have been harmed.
Rheingold and other consumer attorneys argued that the unverified documentation is yet another symptom of a system that routinely seizes homes under false pretenses.
"I'm not sure whether it's incompetence or intentional venality," Rheingold said. "The fact they can't modify someone's loan and at the same time stop a foreclosure is ridiculous."
Banks are required to evaluate all delinquent borrowers for the Obama administration's Home Affordable Modification Program, its signature foreclosure-relief effort, and to solicit applications from borrowers who meet eligibility requirements. The program drastically reduces monthly payments for eligible borrowers, but more have been bounced from HAMP than have received "permanent" five-year modifications.
Homeowners are often shocked and confused when they discover that after they've been encouraged to apply for a modification, the foreclosure process has continued -- even though a directive from the Treasury department this year forbade servicers from proceeding with foreclosures on HAMP applicants. The Treasury Department has not punished any servicers for breaking the program's rules, though a watchdog report released this week said Treasury is considering witholding incentive payments for 132 modified loans. Most of the lawyers said their clients had been making payments exactly as they'd been told to by their bank.
Wednesday's report "means there's massive noncompliance with HAMP because there's no enforcement mechanism," said Diane Thompson, an expert on mortgage servicing and a lawyer for the NCLC.
The 96 attorneys said they represent more than 1,200 homeowners "who had been placed into foreclosure due to misapplication of payments, improper fees, or force-placed insurance," according to the survey.
"I was surprised at how large the numbers were in every category," Thompson said. "From not very many attorneys we get more than a thousand homeowners in every category being put into foreclosure wrongly."
Related
Popular in the Community