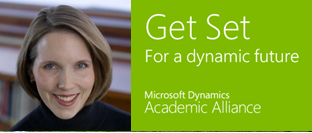 In the Microsoft Dynamics community, job opportunities are overflowing at partners and customers that compete using business processes and infrastructure built on Microsoft Dynamics ERP and CRM. To spotlight these abundant career opportunities and the importance of building interest among college students, I sit down with Katie Hasbargen, Manager of the Microsoft Dynamics Academic Alliance, to share how this invaluable program brings 250,000 college graduates annually into Microsoft Dynamics jobs around the world.
Q: Katie, what is the Microsoft Dynamics Academic Alliance?
A: The Microsoft Dynamics Academic Alliance works with university administrators and faculty to teach the Microsoft Dynamics CRM and ERP software in their curriculum. The software is provided at no cost across all Microsoft Dynamics products. We give the schools free customer service and support to maintain their tools in the classroom and facilitate the sharing of curriculum across educational institutions worldwide. And we provide free training to the educators themselves. We provide advanced networking opportunities, which is perhaps one of the most important services we provide. We connect the schools using the software with our partners and customers that are interested in hiring students with Microsoft Dynamics experience. Essentially, we are helping these students with Microsoft Dynamics experience get that all-important first job.
Q: How large is the Microsoft Dynamics Academic Alliance?
A: Currently, over 1300 schools worldwide are using Microsoft Dynamics in their curriculum. Each year, we average about 200 students who are gaining Microsoft Dynamics experience. This translates into over 250,000 students per year with, at a minimum, the introductory experience they need to be hired when they graduate by a Microsoft Dynamics partner or customer.
Q: What degree program is a student typically in?
A: For the most part, they are in business departments or business schools. Our ERP solutions are generally used in the accounting and operations courses, our CRM solution is used in the marketing and sales-related courses, and both ERP and CRM solutions are used in information systems courses as well as in some computer science courses.
Q: Who is hiring these students?
A: Microsoft partners want to hire these students into entry-level roles that have a lot of career runway. They are looking for entry-level consultants as well as inside sales resources. Customers are typically looking for end users across a wide range of roles.
Q: What is the first role a graduate can find with a partner out of school?
A: Partners usually hire graduates as entry level consultant or developers. They also may hire them for inside sales roles. Microsoft Dynamics end user companies might hire a graduate to be part of an implementation team as an analyst, to help roll-out new Microsoft Dynamics solutions. These companies might also hire graduates to be finance professionals, CRM managers, database managers, marketers, or sales people. It really depends on the company as well as how they use the Microsoft Dynamics solutions. The options are almost limitless given the large number of Microsoft Dynamics customers worldwide.
Q: Do you have a favorite case study?
A: At our recent customer conference, which is called Convergence, I talked about a student from Baylor University. Baylor uses Dynamics CRM in its curriculum. The sponsorship program works in conjunction with the MIS graduate program, which gets students ready to work in the areas of sports, sponsorship, and sales. The program offers an emphasis in CRM and its students are being hired by professional sports organizations as soon as they graduate. CRM is extremely important within the professional sports industry, so new graduates with CRM experience have a lot of opportunities.
Q: How do you make those connections?
A: From a student perspective, we facilitate the use of Microsoft Dynamics within their coursework and provide information to the students through their schools regarding the opportunities available for students with Microsoft Dynamics experience. We also offer a Microsoft Dynamics Student Certificate program that identifies students who receive a deeper level of exposure to the Microsoft Dynamics solutions within their course of study.
From a partner perspective, we connect partners with our existing member schools and work with them to recruit schools in their area that are important to their recruiting strategy into the Microsoft Dynamics Academic Alliance program. We work very much the same way with our customers. Microsoft is investing in the future of our partners and customers through the Microsoft Dynamics Academic Alliance program by helping to increase the number of new graduates learning about Microsoft Dynamics and related employment opportunities. We strive to make it easier for our partners and customers to find the people they need.
Calling all HuffPost superfans!
Sign up for membership to become a founding member and help shape HuffPost's next chapter