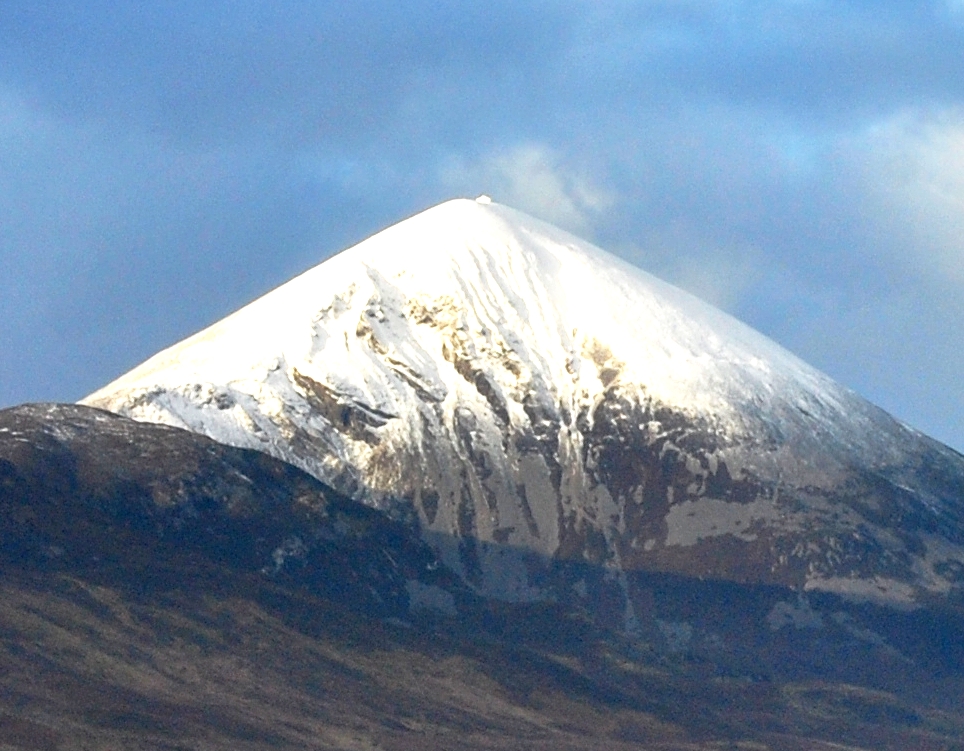 Dirty snow and chunks of wet mud wedged under my fingernails. I clawed and scrambled up the near-vertical slope on Croagh Patrick, a mountain in County Mayo, Ireland. At 2,400 feet from the ground, I climbed as much with my hands as I did with my feet. Claw. Step. Claw. Step. Claw. Step. Ocean winds whipped beads of sweat across my temples. My lungs gasped mountain air in a labored rhythm. I chanced a glance upward. I couldn't be more than 100 feet from the summit. For a terrifying second, my body lost momentum. I dug my fingernails into the mountain and fell forward into a low crouch gouging my palms on the scree--unsettled rock fragments beneath my hiking boots. I clung to the mountainside, paralyzed from the height, yet thrilled at the same time. Croagh Patrick mountain rescue teams strongly advised people not to climb on Monday due to accidents and broken bones from the snowy conditions. But, warnings couldn't stop ambitious climbers who wanted to hike in St. Patrick's footsteps, and with St. Patrick's Day on March 17, this is the week to do it.
One misstep and I wouldn't stop rolling until I hit the bottom. I'd be long dead before my body landed. This was madness. Sheer madness. 100 feet to go. A young Irish girl slid gingerly down the scree on her butt. "You're not too far from the top there now," she said. Brilliant. I bit my lip and kept moving on all fours. Claw. Step. Claw. Step. Claw. Step. 50 feet to go. The scree gave way and I slipped backwards a few feet. Holy bloody crap. 40 feet to go. I thought about the granola I ate that morning and prayed I wouldn't vomit. 30 feet to go. I wondered why over 1,000,000 pilgrims a year climb this mountain, some multiple times. Were they insane? 20 feet to go. Sweat fogged my sunglasses so I pushed them back through my blond braided hair. Within seconds, my contact lenses dried to my eyeballs. 10 feet to go. I fantasized about sledding down the mountain. Heights petrify me, so a quick decent on a plastic toboggan would be prime. Even if it seemed ridiculous. Mid-fantasy, the icy summit evened out. I crested the mountain into knee-deep snow, alone. The pink stopwatch on my wrist read 1:23:17.
Heart rate: 171. Total elevation: 2,507 feet. Blisters: millions.
But I made it.

Two men in their 60s stood eating apples and digging circles in the snow with their walking sticks. "Good girl, now. You made it just grand," one said. He jabbed at the west edge of the summit with his walking stick and I followed his gaze. Off Ireland's coast, 365 islands floated in Clew Bay, so close I could almost pluck them right out of the Atlantic, like rubber ducks from a bathtub. Yet, I stood as high as the lowest clouds. White and yellow cottages sprinkled the green Irish countryside. Miles of stone walls marked out farmers' fields. Sheep and cows weren't visible at all. I waded through snow to the summit's small church, a shrine to St. Patrick, and reflected on the thousands of miles I'd flown, bussed, trained and climbed to get here.
I celebrate St. Patrick's Day in rural Ireland not because I'm a mountain climber (obviously) and not because I'm a tourist. Rather, I returned to Mayo because I spent parts of my childhood growing up in Louisburgh, population 207, a village resting in Croagh Patrick's shadow. In 1980, the College of St. Scholastica in my hometown of Duluth, Minnesota, established a study abroad program in Louisburgh. For the last 31 years, American students and professors have lived in cottages and formed relationships with the Irish people here. When my father, an English professor, taught on the study abroad program in 2000 and 2006, my family moved to Ireland too. I attended Irish schools and made fond childhood memories in Louisburgh. This year my parents live in Louisburgh again, and I bought a return ticket for the week around St. Patrick's Day. I'm here to climb the mountain of the saint I'm named after, and have a Guinness of course.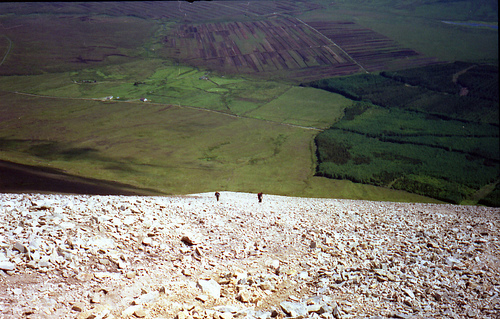 It hadn't occurred to me that I'd climb Croagh Patrick in the snow (a rarity) on the Tuesday of its busiest week of the year. This week, Mayo climbers summit the mountain every day for seven days, ending with a final climb on St. Patrick's Day, raising 421,000 euros for autism in the Croagh Patrick 7 Day in a Row Challenge. Blackie Gavin, a county councilor from Castlebar, is one such climber. I caught up with Gavin just before the saddle of the mountain. I'd been following his bright blue and purple jacket for much of the initial climb. As I passed him, I stepped wrong on a patch of ice and he threw out his walking stick to stop my fall. He then took my hand in his calloused palm and introduced himself in a booming voice that didn't match his slight frame. I told him I was staying at the Louisburgh Holiday Cottages for the week. He told me he was on the fifth of his seven-day charity climb. Today he climbed with two Americans from Chicago and grinned, gleeful to stumble upon another American. "If you've never been on the mountain, it's a site to see from the top, especially in the sun, which, you know, is a luxury now I'd say," he said. "Enjoy yourself, now. Off you go. Pleasure to meet you Patty dear."
Another Irish man, 32 year-old Matt Loughrey, climbs Croagh Patrick to raise money for the Society of St. Vincent de Paul, a multinational charity. His donations help economically suffering families in Western Ireland. Only, Loughrey started climbing on June 5, 2010 and hasn't stopped since. He lost his job as a tour guide, and in an effort to give back in a positive way, he pledged to climb the mountain everyday for 365 days. Earlier in February, the staff at Tesco, a corporate grocery store, partnered with the Irish Cancer Society and raised 650,000 euros to climb the mountain. To raise the money, over 60 Tesco stores bagged groceries beginning last December, raising 60,000 euros in the first weekend.
It's clear Croagh Patrick lures climbers all over the world to rural Ireland. Before the mountain became a Christian pilgrimage site, the Celts believed their deity Crom Dubh lived in the mountain. According to Christian tradition, St. Patrick went up the sacred mountain in 441 A.D. After fasting at the summit for 40 days, he banished all snakes from Ireland. The site quickly became an important place of Christian pilgrimage. But today I discovered that regardless of religion, race, gender, age, nationality or reason to climb, the strangers on Croagh Patrick exhibited camaraderie central to community values celebrated during St. Patrick's Day across Ireland. Perhaps Loughrey, a few months shy of his year-long climb, takes the most accurate daily temperature of the vibe between climbers on the mountain. "You meet someone new every day," he told AOL News in January." There's a chance of a conversation on the trail. You make friends. People come here from all over the world. It's a positive place."
And he's absolutely right. Not one hiker failed to greet me during my ascent or descent. And several times, with the strong grasp of a helping hand, a smile, or an encouraging wave from other climbers, I found a renewed urge to keep climbing. Even when my lower back ached. Even when the sun fried my cracked lips. Even when cloud-high heights terrified the living daylights out of me.
As I stood at summit, I asked myself what I had climbed for. I hadn't the foresight to raise money for charity. I didn't do it for a greater cause. But I realized my climb, already half over, wasn't only about me. It was about the mountain. The community of climbers ascending and descending the mountain in that pre-St. Patrick's Day moment. A togetherness found in a simple hello, a smile, a wave. The place where people turned their challenging pilgrimages into the positive place Loughrey described. So, on my descent, I determined, if nothing else, to smile larger and greet each person just as warmly as Blackie Gavin greeted me. I put my toe to the edge of the mountain. Tried not to look down. And after turning the focus from my fear of heights to the community of other climbers, Croagh Patrick brightened into a positive place indeed.

For more information on climbing Croagh Patrick visit http://www.croagh-patrick.com/centre.html, email info@croagh-patrick.com, or call (from the USA) 011 353 098 64114.