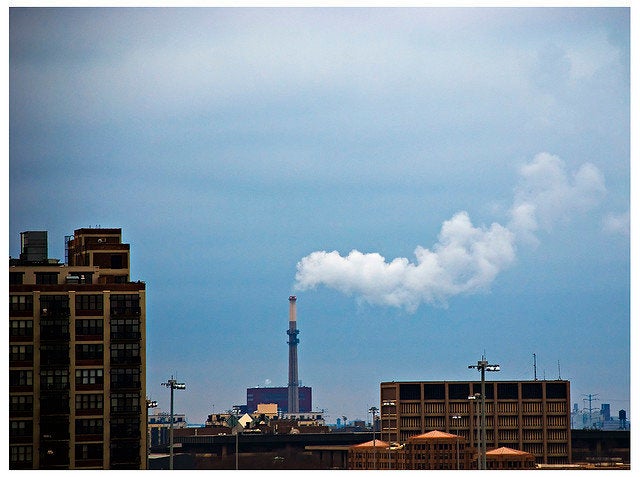 The smokestack of the Fisk Generating Station in Chicago's Pilsen neighborhood punctuates a long stretch of Cermak Road, belching grey smoke into the surrounding air.
This coal-fired power plant was built more than 100 years ago, and last rebuilt in 1958. The amount of emissions it generates would be in egregious violation of the federal Clean Air Act of 1977, except that it, like the similarly decrepit Crawford plant five miles to the west, was grandfathered in under that law.
Meanwhile, Fisk generates nearly 80,000 pounds of airborne emissions a year, including mercury, lead and hydrochloric acid. A block north of the plant is Dvorak Park, with a popular neighborhood swimming pool. A few blocks northeast sits Walsh Elementary; Perez Elementary is equally close.
For Cuahutémoc Morfin, the issue is one of life or death. "We have 41 premature deaths a year, 450 asthma cases a year. We are the highest in the nation in asthma cases," he said. "We're talking about the lives of people, the health of people."
Morfin is a candidate in the runoff election for 25th Ward Alderman, where he's challenging incumbent alderman Danny Solis. And he's been using Fisk to attack Solis -- the alderman has been reluctant to support the Chicago Clean Power Ordinance, a measure put forth in the City Council to force Fisk and Crawford to reduce their emissions, despite Fisk bellowing out emissions in the 25th Ward he represents.
Throughout his campaign, Morfin has pressed Solis on his refusal to back the ordinance, and described it as emblematic of his disconnect from the concerns of the neighborhood.
Apparently, the pressure worked: on Monday of this week, Solis announced that he would back the Clean Power ordinance in the new city council. "Resolving this issue can't wait any longer," he said in a press release.
In an interview with Huffington Post Chicago, Solis all but acknowledged that electoral politics helped fuel his decision. "Right after the election I saw how that was a key issue to people in the ward," the alderman said. He then met with leaders at the SEIU, a powerful union, and announced his support for the measure with that group.
And while Morfin has his theories about why Solis wouldn't back the bill before ("he has received $52,000 in the last 10 years from this coal-fired plant"), Solis describes his concerns with the bill as more subtle.
"The question is, does the municipality have regulatory powers over these plants?" Solis asked, in explaining his reluctance to support the legislation. "I've decided to sign on to Clean Air ordinance, to get the courts to decide on whether this is something that the city can do or not."
"I'm glad he's finally following my lead," Morfin said in response to Solis's announcement. "I've been fighting for this issue all my life, and now that the heat is on, he's finally taking a stance. It's pretty clear he's an opportunist trying to get elected."
For his part, Solis questions Morfin's community bona fides. "In his literature, he says he is the vice president of the United Merchants of Pilsen," Solis said of his opponent. "My question is, who are they and what have they done?"
Solis also touts his achievements for the ward in the fifteen years since Mayor Daley appointed him to the seat: building the first "green streets" in Chicago, installing an industrial corridor to attract jobs to the ward, building a plaza to highlight heroes of Mexico in the strongly Mexican-American Little Village neighborhood, driving down crime 25 percent in Pilsen.
And he's got some heavy hitters behind his campaign: despite supporting Gery Chico in the Chicago mayoral race, he has won the backing of mayor-elect Rahm Emanuel. His connections to Emanuel run back to 1992, when both worked on the Clinton campaign; he remained close to the White House through his sister, Patti Solis-Doyle, a longtime aide to Hillary Clinton.
He also has the support of powerful Alderman Ed Burke, whom many see as a potential rival to Emanuel.
Morfin knows all of this. "I know that I don't have those political connections or the money," he said. He's hoping to build a grass-roots campaign of volunteers and organizers, based in his new 15,000-square-foot office recently donated to his election efforts.
Regardless of who wins, though, the residents of the 25th are guaranteed of one change. Come May, they'll have an alderman who will fight to clean up Fisk.
Calling all HuffPost superfans!
Sign up for membership to become a founding member and help shape HuffPost's next chapter