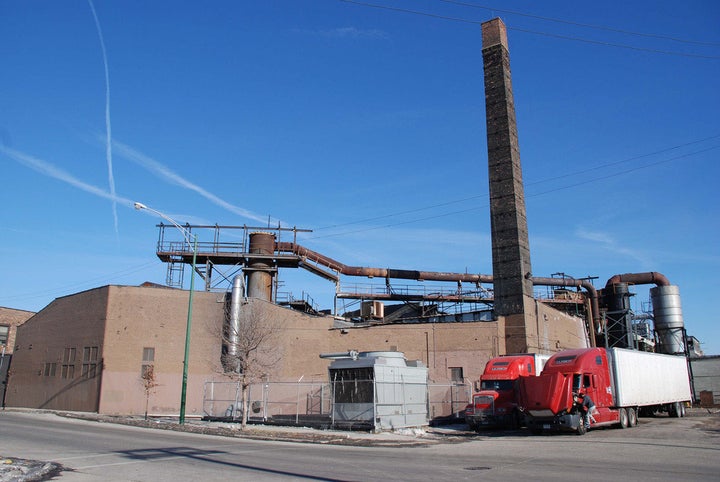 In response to Friday's Tribune story, Alderman Solis announced Monday that he would push for a new ordinance regulating lead emissions at facilities around the city.
"Until more information can be collected on these initial findings this ordinance is vitally important to protect the children and families living in communities near industrial areas," Solis said in a statement. "Therefore, I have already drafted and will present this ordinance to the City Council as soon as possible. I am committed to leading the charge in ensuring its passage."
That lead-polluted air wasn't in some factory, but rather at Perez Elementary School, a school of 500 students in Chicago's predominantly Latino Pilsen neighborhood.
"A growing number of studies show that even tiny amounts of the metal ingested or inhaled can damage the brains of young children and trigger learning disabilities, aggression and criminal behavior later in life," the Tribune reports. "Most scientists say there is no safe level of exposure."
The article identifies two main sources of the pollutant: the Fisk coal-fired power plant, four blocks southeast of the school, and the H. Kramer & Co. smelter two blocks just around the corner on 21st Street. Fisk pumped out 149 pounds of lead into the air in 2009; H. Kramer released an astonishing 242 pounds.
What the article fails to mention is that both Fisk and Kramer are frequent, generous, and very recent donors to the campaign fund of Alderman Danny Solis, in whose ward they, and the Perez School, all fall.
Regulation of Fisk has been a central issue of Solis's re-election battle with community activist Cuahutemoc Morfin. Morfin repeatedly pointed out that Solis was refusing to support a city ordinance to regulate the coal plant's emissions, which lead to staggeringly high rates of asthma and other public health risks in the neighborhood, along with the sky-high lead pollution. He also told anyone who would listen about the $53,900 donated by Fisk to Solis's 25th Ward Democratic Organization since his first aldermanic campaign in 2003.
After being forced into a runoff this year, Solis attempted to limit Morfin's leverage on the issue by reversing course, as Huffington Post Chicago reported, announcing that he would back the Clean Power Ordinance to regulate Fisk and its fellow coal-fired plant, Crawford.
Far less attention has been paid to H. Kramer, the smelting plant that released 62 percent more lead than Fisk.
"It's just outrageous that the alderman has taken this much money from polluters such as H. Kramer and the Fisk coal-fired plant that are literally killing us in the 25th Ward," said Morfin in a phone interview with HuffPost Chicago. "The most alarming thing is, the people who are mostly affected here are children."
Responding to inquiries from HuffPost, a Solis campaign spokesperson said, "Donations from these companies do not affect Alderman Solis' stance on regulation." The spokesperson also pledged that the most recent $1,000 donation from H. Kramer "will be donated to Alivio Medical Center which has worked closely with Ald. Solis to improve the health of the residents in the neighborhood."
Solis, as chairman of the Zoning Committee, is probably the most powerful alderman to be up for re-election in next Tuesday's runoff. He captured 49 percent of the vote in February, and has taken an aggressive course in attacking his opponent, releasing TV ads, radio spots, and a barrage of mailers of dubious veracity.
Calling all HuffPost superfans!
Sign up for membership to become a founding member and help shape HuffPost's next chapter