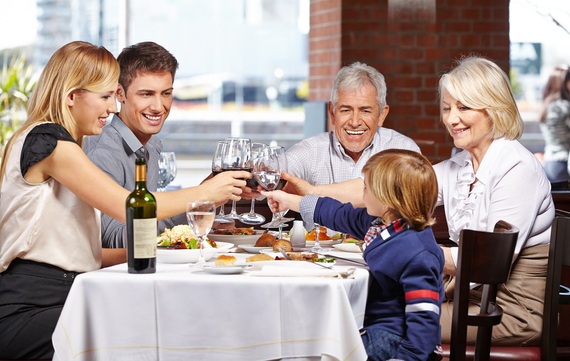 By Elyssa Kirkham, GBR Staff Writer
If you're hoping to ditch the Thanksgiving kitchen slog this year and go for the easier route of eating out, you're in luck. While many restaurants and stores are closed for Thanksgiving, others will keep their doors open to serve diners on Nov. 26.
What restaurants are open on Thanksgiving? GOBankingRates surveyed national chains' holiday hours to give you this guide to restaurants open on Thanksgiving 2015.
Restaurants Open for Thanksgiving 2015: Applebee's, Claim Jumper and More
Below is the list of 18 national chains GOBankingRates confirmed would be opening their doors on Nov. 26. Where possible, we also included these restaurants' Thanksgiving hours and prices to help you quickly choose the spot that best fits your holiday plans and budget.
In addition to these restaurants open on Thanksgiving, many local spots will also be opening their doors to diners on the holiday. Check your local newspaper for local restaurant hours or call up your favorite spot to see if it's open. Hotel restaurants are also a good bet if you're looking for a place open on Thanksgiving, as many of these will offer turkey dinners to both guests and other diners.
Applebee's: Most locations will be open on Thanksgiving but hours might vary. Check with your local restaurant.
Bob Evans Farms: Open from 8 a.m. to 8 p.m. on Thanksgiving Day.
Bonanza Steakhouses: Open for a Thanksgiving Day buffet on Nov. 26. Contact your nearest location for details.
Boston Market: This restaurant will be open and serving traditional Thanksgiving fare on Nov. 26.
Buca di Beppo: Eating in is $57 for a dinner that serves three, or $114 for six. A take-out Thanksgiving feast is $179.99 for 10 people, or $349.99 for 20.
Charlie Brown's Fresh Grill: Thanksgiving will bring you an all-you-can-eat turkey dinner at Charlie Brown's Fresh Grill for $19.99.
Chompie's: Open from 6 a.m. to 3 p.m. on Thanksgiving and serves take-out Thanksgiving dinners, like "The Traditional," which is enough food to generously feed 12 to 15 people for just $189.95.
Claim Jumper: Open from 11 a.m. to 6 p.m. this Thanksgiving, serving a menu that includes turkey, ham, rib and salmon dinners along with appetizers and desserts.
Country Cookin: Serving a Thanksgiving Day feast for $10.99 ($4.49 for kids) from 11 a.m. to 4 p.m. on Nov. 26.
Cracker Barrel: This chain will open from 6 a.m. to 10 p.m. on Thanksgiving and offer a "Turkey N Dressing" meal for $11.99.
Denny's: Open 24/7, including Thanksgiving.
Golden Corral: Hosting a Thanksgiving buffet that will cost $13.99 for adults and seniors. It will be open from 11 a.m. to 7 p.m., though prices and hours might vary by location.
Hooters: Most West Coast Hooters will be open from 11 a.m. to 9 p.m. Other locations might also open on Nov. 26 though hours will vary.
IHOP: Open 24 hours on Thanksgiving.
Ker's WingHouse: All locations are open on Thanksgiving.
Legal Sea Foods: Get a turkey or seafood dinner for $21.95 per person ($7.95 for children 12 and under). Many locations are open, but hours will vary. Reservations are recommended.
Lucille's Smokehouse Bar-b-que: Restaurants are open from 11 a.m. to 8 p.m. on Thanksgiving, and customers can also order take-home turkeys, sides and combos until Nov. 23.
Maggiano's Little Italy: Visit this restaurant on Thanksgiving to get a four-course meal on Nov. 26. Private rooms and reservations are available. Carry-out meal packages are also available.
Marie Callender's: Most restaurants are open on Thanksgiving day, and reservations can be made for parties of eight or more.
McCormick & Schmick's Seafood & Steaks: Open on Thanksgiving and serving a roasted turkey dinner for $24.99.
Mimi's Cafe: Diners can eat in at Mimi's Cafe this Thanksgiving.
Ruby Tuesday: Open from 11 a.m. to 9 p.m. on Thanksgiving.
Ruth's Chris Steak House: Most locations open at noon, and diners can eat from a special Thanksgiving menu for around $40 per person, or $12.95 for kids.
Sizzler: Open 11 a.m. to 7 p.m. and will serve regular menu items as well as a special Thanksgiving dinner.
Texas Land & Cattle: Open on Thanksgiving, this restaurant is offering a $19.99 turkey dinner ($8.99 for kids 12 and under).
Waffle House: This chain is famously open 24 hours a day, 365 days a year, including Thanksgiving.
More from GOBankingRates:
Popular in the Community