Too often, stories covering the "trend" of those in their 20s and 30s moving back in with their parents skew towards the negative. But we wonder: Is it really indicative of immaturity, which many pieces suggest? Or can it actually be a good thing for all involved? I spoke with Amanda, a 27-year-old second-year law student, who has been living at home since...well, she never left. And she wouldn't have it any other way. Here's her story.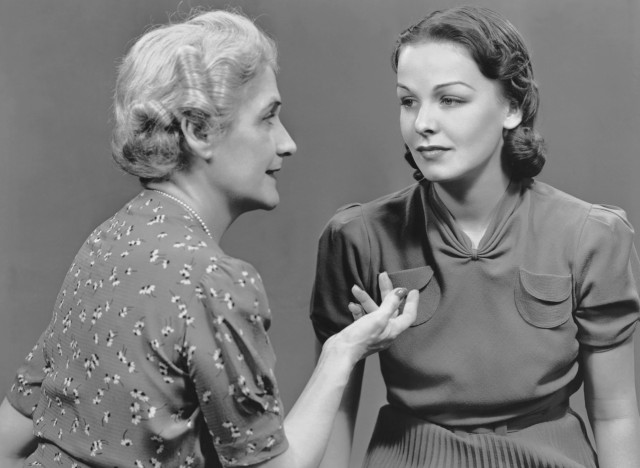 Photo courtesy of Getty
Other people may be critical of my decision to live at home at 27, but I say, "It's my choice." I never moved out: I commuted to a nearby university to get my Bachelor's degree and now to law school. I'm in my second year.
I really wouldn't have it any other way. Aside from the obvious--as a student, I don't have much income outside of summer and winter jobs--my main reason for continuing to live at home is that I feel a sense of duty to my family. We're all (including extended family) very close. And after my father suddenly passed away in 2008, I didn't feel comfortable with my mother living by herself.
My father gave my mother a sense of independence, but when he passed on, she realized that she didn't know how to do the things that he took care of. Like finances, keeping on top of bills, etc. When they married, she was young and went from being under her parents' roof to living together. So there's a lot of stuff that she didn't know how to do. And I'm happy to help her out in any way I can. When I do have jobs, I contribute financially to the bills.
That's not to say we haven't had issues, though. I was much closer with my father than I was with my mother. I'm strong-willed, I never really hide my opinions about things and well, I don't get sucked into drama. My mother is the opposite of that. My father was the buffer against that for 23 years of my life. So after he passed on, a lot of issues came to the surface. Like communication. There would be times when I'd come home and she would be really upset at me, and I would have no idea why. My natural urge was to yell back. Which didn't solve anything. In some ways, I feel like "the man of the house."
But in the four years we've spent together, I've learned how to communicate with her without it turning into a huge argument. And she knows how not to push my buttons. We understand each other more, which has brought us closer.
This will sound surprising following that, but we provide each other with emotional support. I also provide a sense of humor!
So what about a social life? Well, I've always had an active social life, so living at home hasn't changed that. But dating is a whole different story. I do have a serious boyfriend now -- but before him, I refused to bring over a guy that I knew wouldn't pass muster with my mother. And pretty much all of them wouldn't have. So we'd just go out or I would go over their apartments. I would fight tooth-and-nail not to bring guys home.
Of course, it changed when I met my current boyfriend. He also has a similar background as I do, but he works full-time. His mother passed away a few years ago and he's since lived at home to help support his family. At 31, though, he is itching to move out of the house. But, he'd still help support his family in any way he can.
When I realized that he was a good guy, I felt comfortable bringing him over to my mom's house. He stays over, but in a separate room. Let's just say that we make it a priority to take (affordable) getaways when we can. And we plan on getting engaged sometime in the near future...and when we move out, I've made it clear that wherever we go, my mother will be coming with us.
All in all, as much as my mom and I butt heads, I don't regret the decision. My mom's life has been dedicated to raising us. It's the least I can do to help her. Yes, I did occasionally think of how different things would be if I had my own place. But I can say this: It wouldn't have changed me as a person.
And I'd like to say this, to people who are critical of those who choose to live with their parents or families: Just because you've moved out doesn't mean you're independent. I can't tell you how many people I know who have moved out but their parents pay for things.
If someone magically gave me the option of doing it all over again, I'd make the same decision to remain living at home with my family.