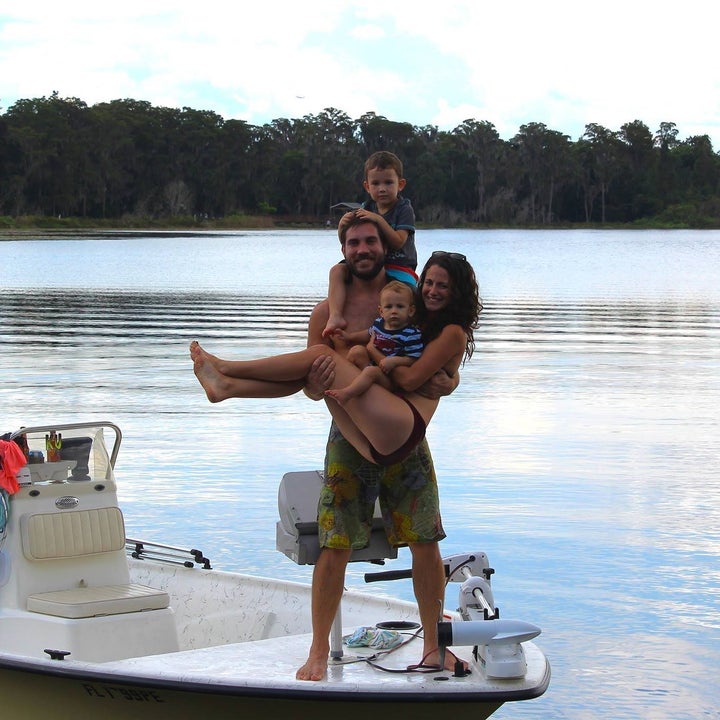 Remember when we were just friends but knew deep-down that we loved each other? At some point we had a drink or two at Sunset Grill and actually opened up about it. We went outside to call your sister who was also my good pal. When she got on the phone you said, "I'm hanging out with the future mother of my children."
It was a little soon to say, but I knew in that moment that I would be one day. I didn't know that family life would come so fast, but I'm not mad at all because sharing children with you has been the best thing ever.
Here are like 5,000 reasons I'm glad you're my baby-daddy:
1.You're good looking so when people say our children look like you, I know it's a good thing.
2. You wear the same shirt almost everyday, and I consider this generous help with the laundry.
3.You don't expect dinners to be romantic. You wisely expect kids to fuss and me to whine. When both kids want to sit on my lap, you invite one to yours.
4. You manage to stay attracted to me even through the long spells of baggy sweatpants and frizzy buns, and nights when my throat makes that weird clicking noise. (You are still attracted to me, right?!)
5. When I can't find my keys, I can sometimes find yours.
6. When the kids make your days off so very un-relaxing, and you say you're going to murder us all, I know you're joking.
7. When our 4-year-old decides that you're the favorite parent, you get the privilege of wiping his butt, and my life becomes a little easier. Luckily you've been the favorite parent for a while now.
8. When you go fishing all morning and leave me with the kids, you pretty much know you owe me at least a pedicure.
9. When you come home from work and the floors are covered with popcorn and dress up clothes and I tell you I don't have anything to make for dinner, you don't ask questions or bat an eye. You just say, "Wanna walk up to the pizza place?"
10. When our stank 4-year-old tells me he doesn't want me to be his mommy anymore because I wouldn't let him eat more than three gummy sharks, you make him apologize because you really don't like the thought of my feelings being hurt.
11. Your arms are long enough to take family selfies on the couch.
12. During nap times you like to walk and I like to write. We don't even pretend like we want to hang out with each other during the sacred hour. Except on Saturdays. You know what we do on Saturdays... (insert winky face)
13. You'll go to kid's birthday parties with us on the weekends if I tell you it's real important to me. It's hardly ever important to me, but you care, and I know it.
14. You text me during the day to see how I am, and what we are up to. Maybe you're just making sure I didn't check the kids into that daycare run out of that sketchy van that you dreamed about, but still, I appreciate it.
15. You had 6 months home after our second babe was born, so you know the real joys of being a stay-at-home parent, and you totally get me now and appreciate all I do. The simple fact that you know my struggle makes it better. When our kids wake up all during the night, and I go to console them, you tell me the next day how loving and patient I am. God knows I love to be praised.
16. When we had our first child, we were consumed with worry. You told me to be careful going down the stairs, not to walk under palm trees (falling coconuts, y'all!), and to avoid driving places if I could. Your protectiveness 10% drove me crazy, but 90% made me feel loved.
17. I'm the one with the temper and you're the one who stays cool. Yesterday when we were on the boat and our littlest guy thrashed around and sank a rod and reel, I told you not to freak out. You said, "I'm not the one who freaks out." You're right- I was projecting.
18. When our 4-year-old tells you for three hours straight how badly he wants a pocket knife, I screen-peek and see you looking for kid-friendly ones on Amazon.
19. You kiss and cuddle and talk openly about how much you love us all. I want our boys to know that even manly men are affectionate and open with their emotions.
20. You're adventurous. When we took our 5-month-old and 3-year-old to Costa Rica, you drove us through hours of dangerous mountain terrain and washed out roads. I was able to sit back and put my faith in you, which I do every single day.
21. Even when our kids are raggedy and snotty you still think they are as cute as I do.
22. When I tell our 4-year-old Daddy is about to come home from work he lights up like a Christmas tree and says, "I'm so excited!"
23. When we are on a trip without you, our son misses you so badly that he wants to go home to see you. When I tell him we aren't going home yet he says, "Well, can we facetime him?"
24. I know we're the most important people to you, and I've never felt more secure in my life.
25. Even though your sense of humor is borderline-hurtful, you're kind to everyone, and that's the most important attribute a person can have.
26. You're not just my baby daddy, you are my best friend and husband. You're not only the perfect person to love, but the perfect person for our sons to look up to.
27. I'm happy you're my baby-daddy because this was so easy to write. I could keep going on and on but I won't because I feel inclined to clean up those popcorn crumbs before the baby wakes up...
Uh oh, he just woke up...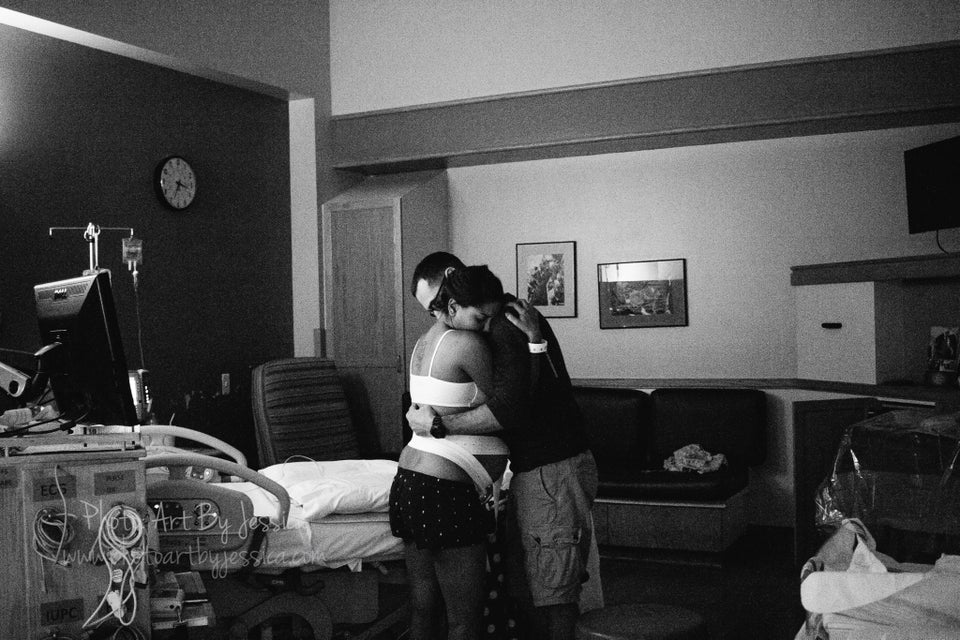 35 Gorgeous Photos Of Dads In The Delivery Room