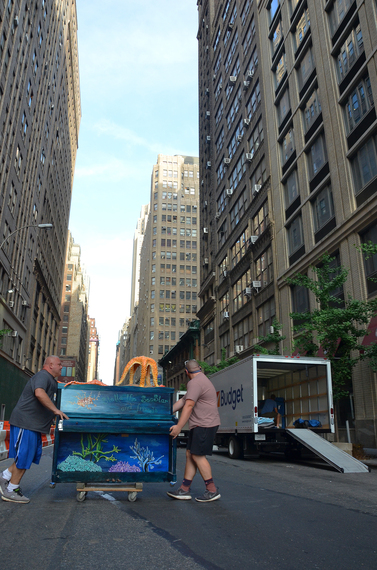 Izabel Lam's aquatic Sing for Hope Piano prepares for its journey from the studio to its summer home at Castle Clinton at the Southern tip of Manhattan (and yes, that is a giant starfish on top of it).
This evening, a fleet of moving trucks will pull up to NYC's parks and public spaces, from the Bronx to Brooklyn and beyond, and roll out pianos -- enormous grands, sturdy uprights, some decades old, some of fresher vintage, all painted with designs as diverse as our city. By sunrise tomorrow, 50 Sing for Hope Pianos will have been placed throughout the 5 boroughs, bringing to 286 the number of street pianos placed here since the project's 2010 debut, and making New York City the host of more street pianos to date than any other city in the world.
And it all started 3,000 miles away with one piano that couldn't make it up the stairs.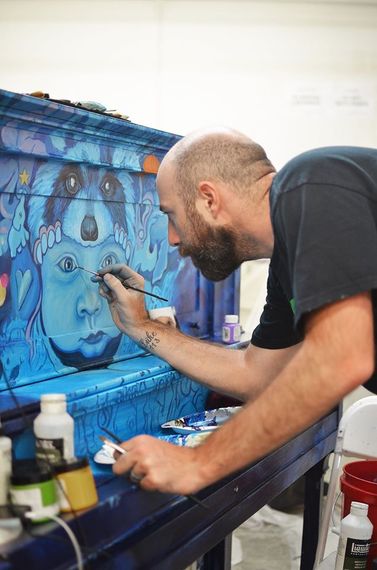 Scene from the Sing for Hope Pianos art studio in midtown: Marc Evan focuses on the final details of his piano inspired by his son Luke, whose gaze will welcome piano players at Brooklyn Bridge Park.
In 2003, in Sheffield, England, a grad student named Doug Pearman found himself unable to get his beloved secondhand piano up the stairs to his new flat on Sharrow Vale Road. Doug's cousin, Hugh Jones, a Cambridge-educated mathematician working as a cabinetmaker, suggested that they just leave the piano where it was. They tracked down a stool for it, stapled on a tarp for protection from the sudden South Yorkshire showers, and attached a sign inviting passersby to sit down and play, right there in the middle of the sidewalk.
The world's first street piano was born.
The accidental debut of the Sheffield Street Piano was a hit, and the instrument quickly became a local, then national, celebrity. Like any celeb, it had a period of thrilling ascendance, a splashy website, the occasional tussle with authorities (in the form of the Sheffield Council and its pavement obstruction laws), and a few newsworthy scandals, including being stolen in the dark of night, only to be replaced later by a group of committed volunteers.
The Sheffield Street Piano survived for five years, and when it was finally removed due to weather damage, its model for urban harmony had gone viral. Sixty miles to the south in Birmingham, an enterprising artist launched his version of Street Pianos -- 15 instruments emblazoned with "Play Me I'm Yours," which then traveled to other cities as an "internationally touring artwork." Off the coast of Southern China on Gulangyu Island, Street Pianos enlivened a biennial piano festival. In the United States, towns from Jacksonville to Orange County have produced their own Street Piano installations, each one bringing its own flavor to the mix: surfing themes in Southern California's "OC Can You Play," an adventurer spirit in Denver's "Keys to the City," a Sarah Palin/George Bush impersonator duo heralding the Street Piano launch ceremony in central Florida (admittedly, I'm not sure what to make of that one).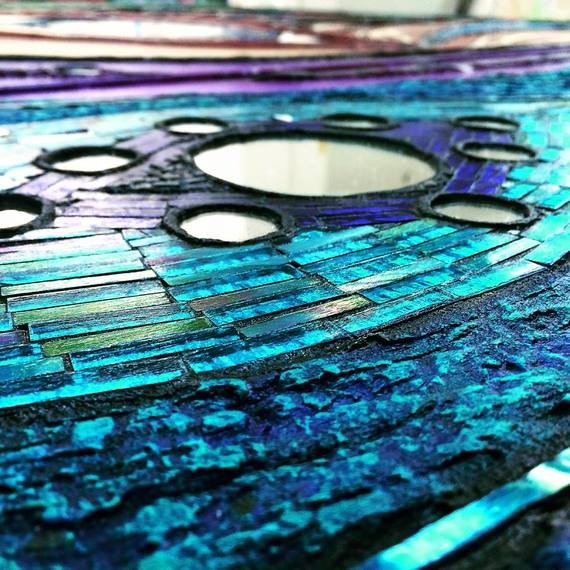 Detail from the Sing for Hope Pianos art studio: a luminous mosaic in progress on the lid of Jessica Browne-White's grand piano, which will shine under DUMBO archway in Brooklyn.
This summer, for the fourth time, New York City will play home to a truly Big-Apple-flavored street piano installation. The Sing for Hope Pianos project is the world's largest annual street piano installation in which:
each instrument is an individually credited artwork by a dedicated artist or artists' group chosen through an open application process
all artists involved volunteer their time and talent because of a shared belief in "art for all"
the pianos are part of a year-round continuum of arts outreach to communities in need, with each piano donated post-street-residency to a school, hospital, or community organization to serve as a hub for ongoing creative arts programming in under-resourced areas.
As an "artists' peace corps" powered by professional artists who volunteer their time, Sing for Hope is uniquely positioned to produce a piano project worthy of the city that never sleeps. Year-round, concurrent with our ongoing arts outreach programs, we collect abandoned pianos from donors and wholesalers. Our technicians rehab the instruments in our midtown art studio, and our team makes multiple visits to sites throughout the five boroughs, meeting with city agencies and park managers. We enlist volunteer "piano buddies" to cover the pianos with tarps in case of rain and report on missing keys and other occupational hazards, and we lay the groundwork to donate the pianos to our partner schools, healthcare facilities, and community organizations after their public tour of duty. Our deeply committed Founders' Circle -- The Arnhold Foundation in loving memory of Sissy Arnhold, The Anna-Maria & Stephen Kellen Foundation, and Ann Ziff -- amplify the project through their ongoing support, our dedicated Board of Directors steps up with additional gifts, and hundreds of grassroots donors complete the funding picture with gifts ranging from $1 to $10,000. Our volunteering piano artists work alone, in groups, and in collaboration with our students from New York City public schools. One by one, the instruments are brought to vivid new life.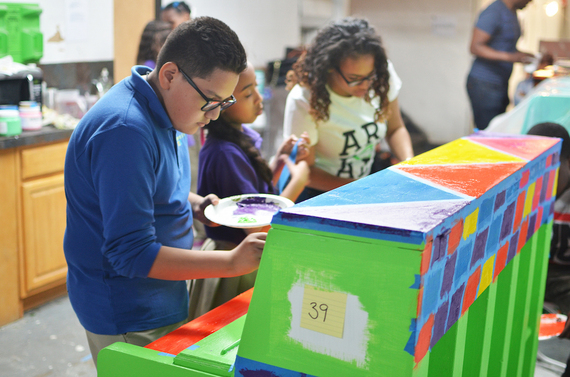 Our students from Haven Academy in The Bronx create colorful magic with their piano, reminding us of Picasso's words: "Every child is an artist. The problem is how to remain an artist once we grow up."
In final weeks before the pianos hit the streets, the Sing For Hope Piano Studio is abuzz with round-the-clock activity, the collective energy and inspiration heightened, like a modern-day atelier. Hodaya Louis makes refinements to intricate patterns on her piano with the help of neighboring artist Paul St. Savage, who introduces her to the tools that are bringing his piano's cartoons to life. Nick Stavrides incorporates iconic spots of the NYC music scene into his piano, and José Aurelio Baez découpages his piano in flyers sourced from his daily Brooklyn-Manhattan commute. Jessica Browne-White makes adjustments to optimize the sunlight that will shine on her luminous mosaic piano, and Moksha Kumar's geometrically precise grid plays counterpoint to the lyrical curves of her grand. Yuki Sakaguchi brings a phoenix to life on her piano, symbolizing the many layers of rebirth in the project, while Drue Kataoka creates a piano that resonates at the nexus of art and neuroscience, referencing her other activist work and beckoning passersby with a beautiful show of hands. The Keith Haring Foundation creates a vibrant "Radiant Baby Baby Grand" with designs made famous by the late Haring, an iconic voice for urban harmony silenced far too soon, and a powerful reminder for the Sing for Hope team of our origins in artists responding to AIDS. And poignantly, two exquisite pianos happen to stand side by side toward the front of the studio, both commemorating beautiful, brief lives: Marc Evan's homage to his late son Luke, and The Lulu & Leo Fund's communally created instrument, curated by volunteer artist Patricia Espinosa, and symbolizing the resilience, generosity, creativity, and hope at the very heart of the Pianos project.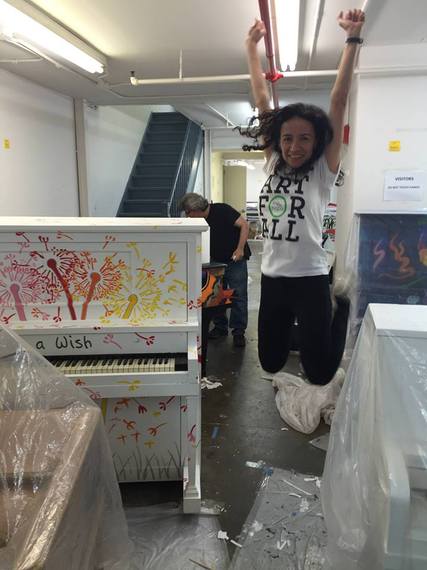 These volunteer artists, and scores of others equally gifted, work alongside groups from Sing for Hope's year-round programs. Our students from The Bronx's Haven Academy festoon their instrument with their school colors. Our partners from United Cerebral Palsy create ornate designs in colors reminiscent of fine Wedgewood. Our Sing for Hope Youth Chorus members sing while painting their piano and expressing their excitement that it will be featured in Times Square (as they exclaim, "the center of the world!").
Embarking on our fourth year of the Pianos project, we are not without our questions. As a grassroots, artist-led movement, will we be able to ensure future of this beloved, impactful program as part of our city's great annual traditions? Can we find a sustainable solution to our need for artists' studio space? Will our heroic "early believer" funders inspire new donors to join and help endow the project? The justifying numbers are there: over 2 million New Yorkers have played the SFH Pianos since their 2010 debut (thousands touching a piano for the first time in their lives), and the project has received over one billion media impressions, making it the most widely covered public art project in the country in the last decade. In terms of civic pride, touristic/economic impact, and simple, unquantifiable joy, the Pianos speak for themselves.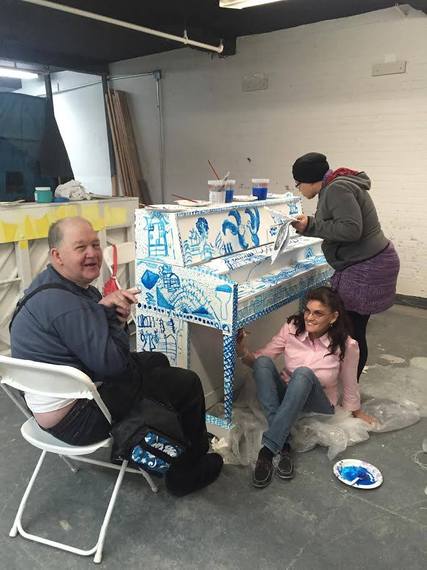 Community members from United Cerebral Palsy, with whom we work year-round in our Healing Arts program, create ornate designs in colors reminiscent of Wedgewood china. Their piano will grace the patio of the Conference House on Staten Island.
The infrastructure required to sustain the program is significant, but the return on investment -- in terms of urban harmony, civic engagement, and ignited creativity -- cannot be overstated. Admittedly, our dream of sustainability for the project is a big one. But as the piano by the high schoolers in our Sing for Hope Youth Chorus reminds us, in black-on-yellow lettering: "dream big, speak loud." Communal creativity is a worthwhile investment, and the time to support is now.
When the Sing for Hope Pianos make their debut tomorrow, from Coney Island to Central Park and from the Bronx to Staten Island and the Far Rockaways, they will inspire melodies, conversations, and random acts of musical kindness -- including, hopefully, yours. And we hope they will inspire imitators in cities around the world for years to come.
To quote Hugh Jones, who started it all on Sharrow Vale Road over a decade ago, "Perhaps one day, street pianos will be a familiar sight everywhere. Now wouldn't that just rock your world?"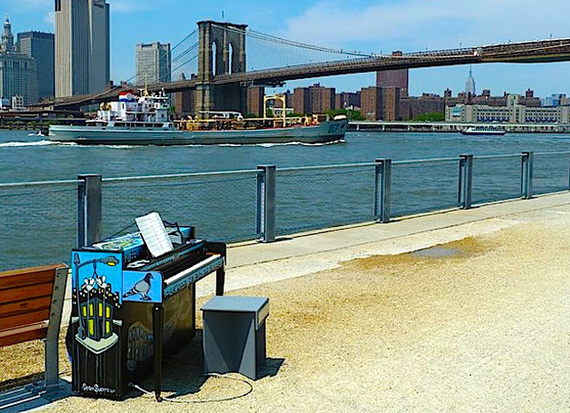 A Sing for Hope Piano by Adam Suerte overlooks the Manhattan skyline from its vantage point in Brooklyn Bridge Park.

REAL LIFE. REAL NEWS. REAL VOICES.
Help us tell more of the stories that matter from voices that too often remain unheard.