"Lord of the Rings" fans are lightweights. Marvel THIS!
AMC and Regal Cinemas announced a 29-hour Ultimate Marvel Marathon, a super test of stamina that'll end with some of the first screenings of the new "Avengers: Age of Ultron."
The marathon will begin at select theaters -- some of which haven't been announced -- at 6 p.m. on April 29, and run through all 11 Marvel movies released since "Iron Man" in 2008, The Verge reports. The cinematic binge will cost $65, which comes out to just under $6 a movie, and give fans early access to the Avengers sequel that has received a lot of hype.
6 p.m.IRON MAN
8:25 p.m.THE INCREDIBLE HULK
10:35 p.m.IRON MAN 2
1 a.m.THOR
3:10 a.m.CAPTAIN AMERICA: THE FIRST AVENGER
5:30 a.m.THE AVENGERS
8:48 a.m.IRON MAN 3
11:15 a.m.THOR: THE DARK WORLD
1:45 p.m.CAPTAIN AMERICA: THE WINTER SOLDIER
4:20 p.m.GUARDIANS OF THE GALAXY
7 p.m.AVENGERS: AGE OF ULTRON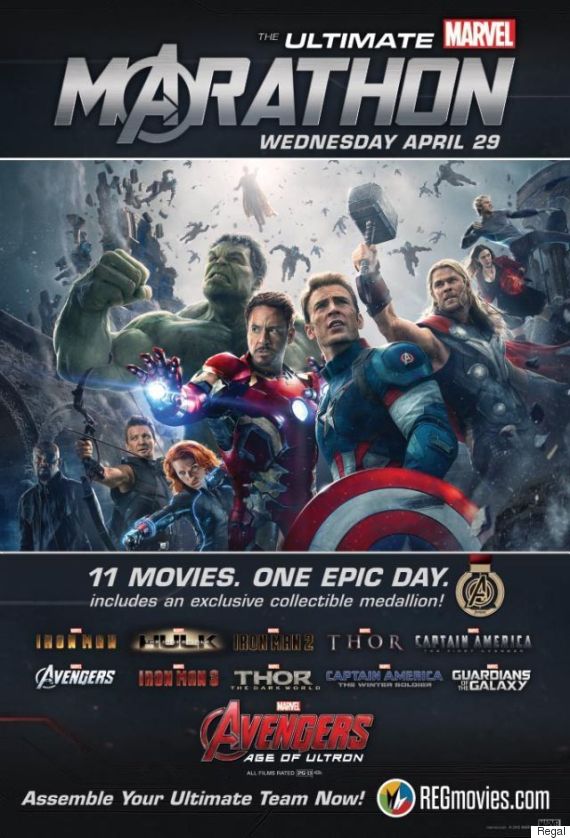 Popular in the Community