When we, the Pollan Family, make these addictive snacks, our family and friends cannot stop eating them, and that's OK -- they are so healthy and nutritious we almost don't want to call them a snack. It's particularly gratifying to see our kids scarfing them down! They each have a very short list of ingredients (three or fewer!) and are so easy to make.
Crispy Parmesan Roasted Chickpeas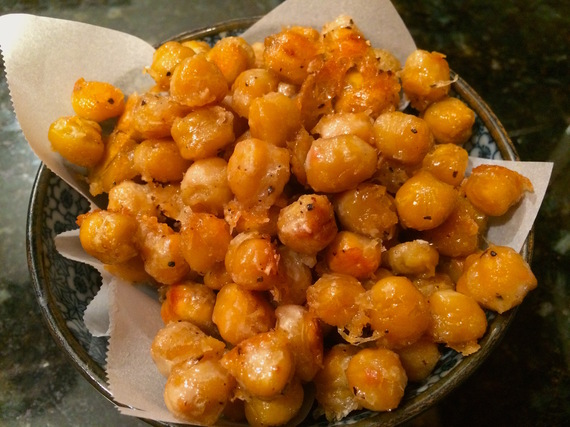 1 1/2 tablespoons plus 2 teaspoons extra virgin olive oil
Two 15-ounce cans organic chickpeas, drained, rinsed well, and patted dry (or 3 cups cooked chickpeas)
1/2 cup firmly packed, finely shredded Parmesan cheese (not pre-grated or it will not melt)
Sea Salt
Freshly ground black pepper
Preheat the oven to 425° F.
Pour 1 1/2 tablespoons of the olive oil into a large baking dish. Place it in the hot oven.
In a small mixing bowl combine the chickpeas, 2 teaspoons of extra virgin olive oil, the Parmesan cheese, 1/4 teaspoon of salt, and 1/8 teaspoon of pepper. Mix well until the chickpeas are thoroughly coated.
Carefully remove the hot baking dish from the oven and pour the chickpea mixture in. Use a wooden spoon to spread the chickpeas into a single layer. Roast for 10 minutes; stir them once with the wooden spoon. Continue to cook until crispy and golden brown, an additional 7 to 10 minutes. Season with additional salt and pepper as desired, and serve hot or at room temperature. (Do not drain on paper towel or they will lose their crispiness.)
*Once cool they also make a great salad topping.
Spiced Sweet Potato Crisps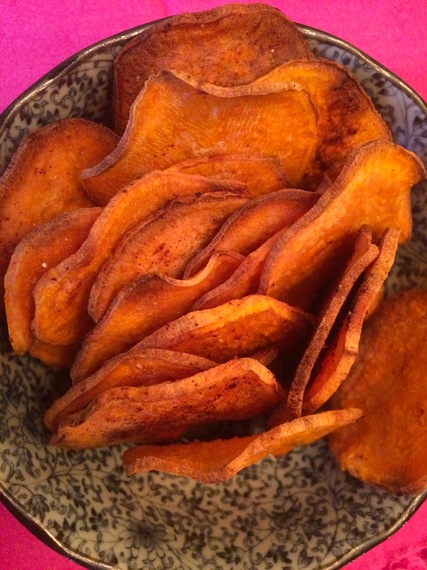 1 large sweet potato (about 1 pound), peeled and very thinly sliced (use a mandolin if you have one)
Organic olive oil cooking spray
Seasoning of choice, to taste (paprika, smoked paprika, cumin, cinnamon, teaspoon chili powder)
Sea salt
Set a rack in the middle of the oven and preheat the oven to 375° F.
Lightly spray two rimmed baking sheets with oil. Arrange the rounds in a single layer on the baking sheets (taking care not to crowd or overlap.) Spray the tops with a fine mist of oil and lightly sprinkle your spice of choice on each (do not salt yet as this releases moisture.)
Place one of the baking sheets on the middle rack and bake for 15 minutes. Flip the rounds, sprinkle additional spice on top, and rotate the pan in the oven. Bake until the rounds are lightly browned around the edges, and tender in the middle, an additional 7 to 10 minutes. Watch them closely in the last 5 minutes as they go from golden to burnt quickly. Remove any rounds from the baking sheet that have browned and place on a cooling rack to continue crisping. Return the rest to the oven to continue baking. Once the first batch is done season with salt to taste.
Repeat with the second baking sheet and serve.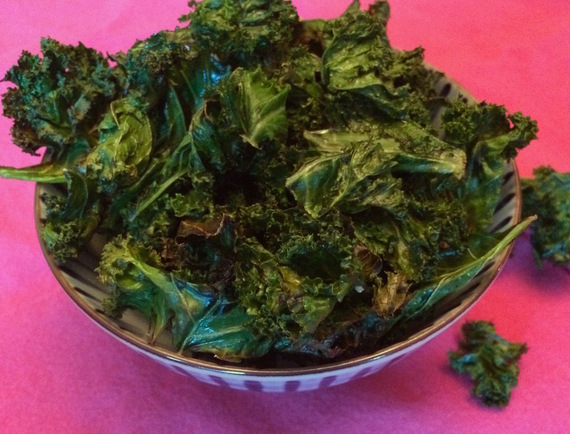 4 cups packed curly kale, completely dry, stemmed and torn into 2-inch pieces
1 tablespoon extra virgin olive oil
Sea salt
Preheat the oven to 400° F.
Line a rimmed baking sheet with parchment paper.
Add the kale and the olive oil to a large mixing bowl. Using your fingers massage the oil well into all the leaves (do not add salt before you cook. *)
Place the kale in a single layer on the baking sheet. Roast until browned and crisp, 10 to 12 minutes, flipping once halfway through. Season with salt to taste and serve.
*Salting before roasting will bring out the moisture in the kale leading to less crispy chips.
A Totally Unexpected Pasta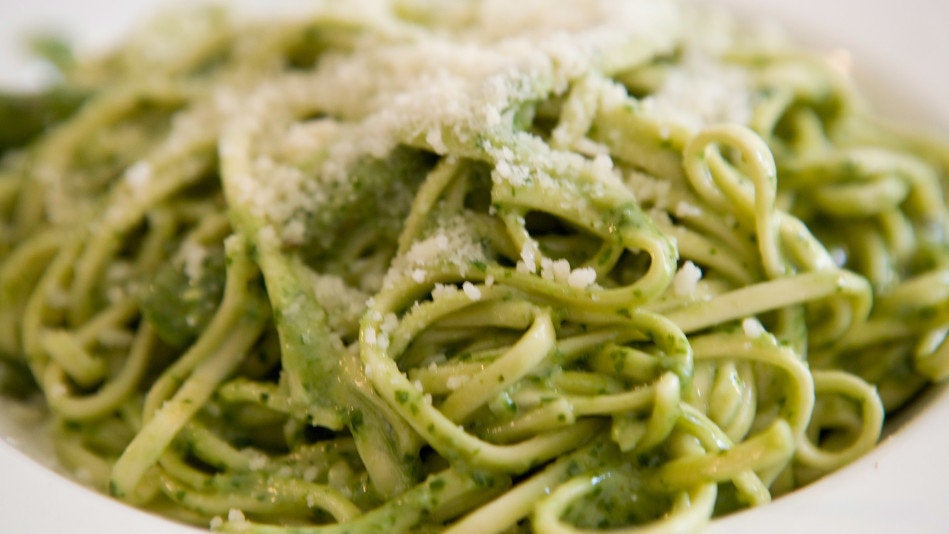 LCStock2015/iStock/Thinkstock
Mâche, Matchstick Beets and Red-Wine Vinaigrette Salad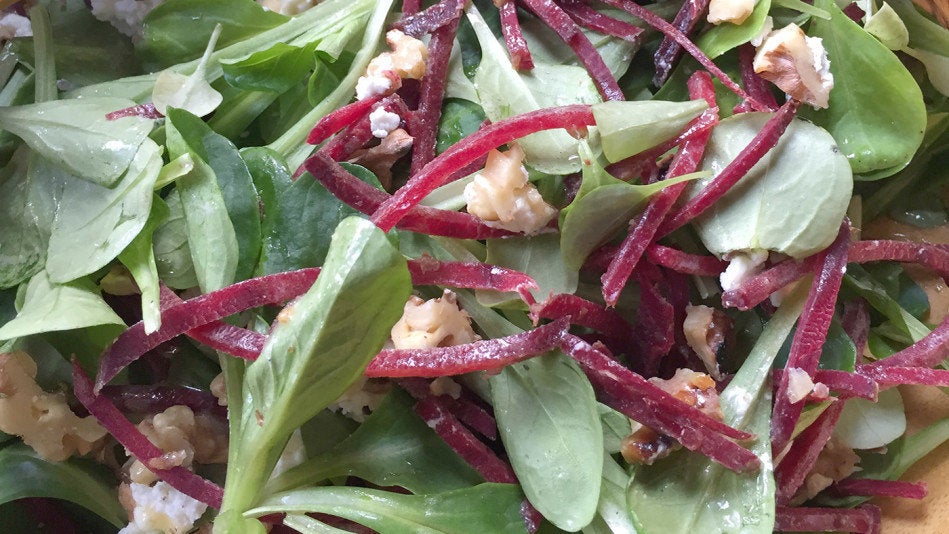 The Pollan Family Table
Proof That Simple Ingredients Can Still Wow Us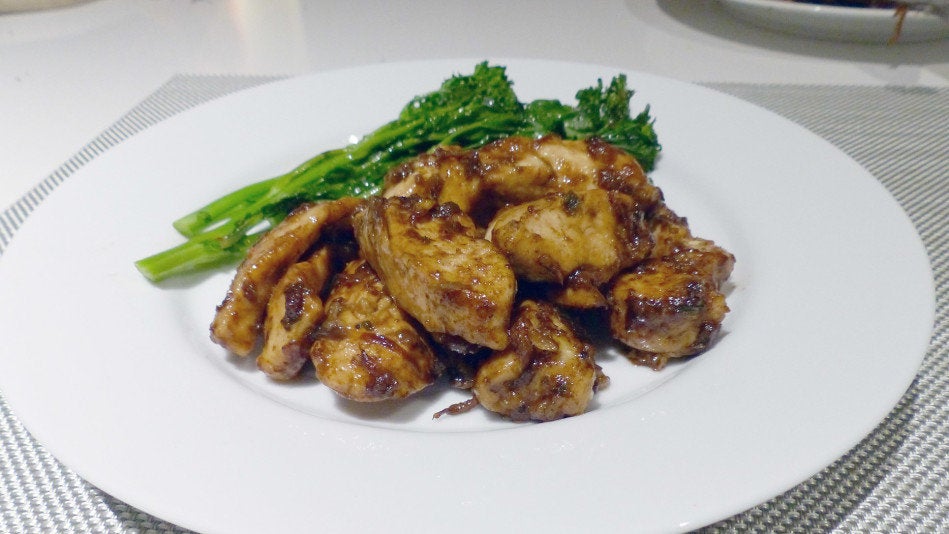 An Old-School Side with a Health-Conscious Makeover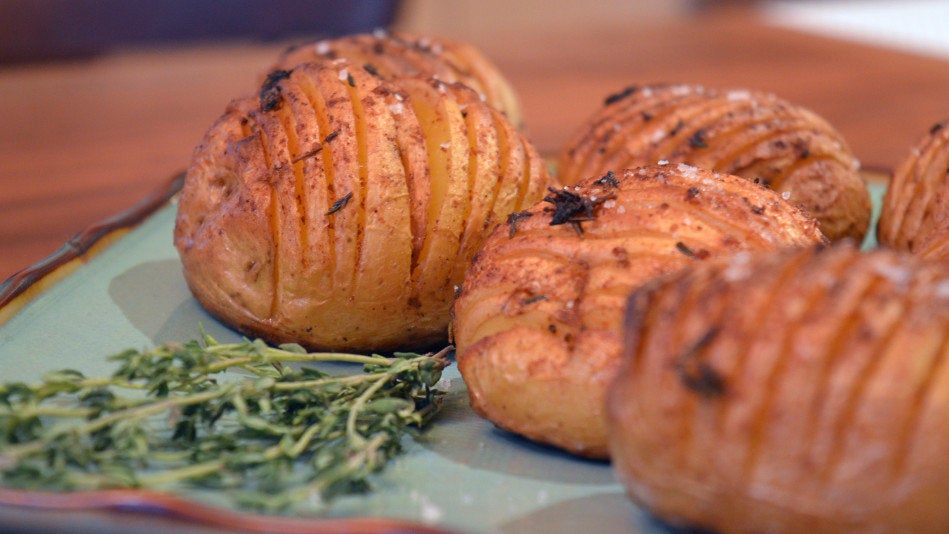 The Pollan Family Table
The Most Beautiful Veggie Side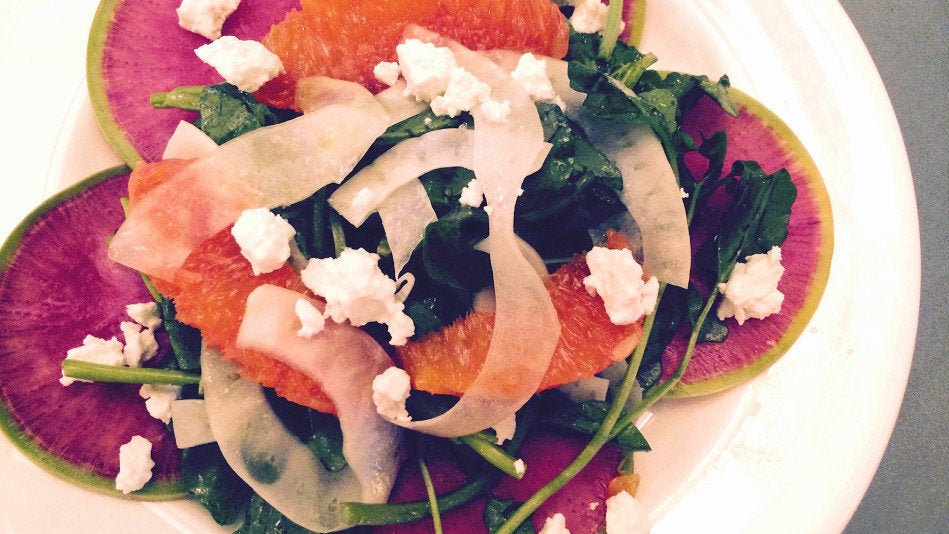 The Pollan Family Table
Support HuffPost
The Stakes Have Never Been Higher
Related
Popular in the Community