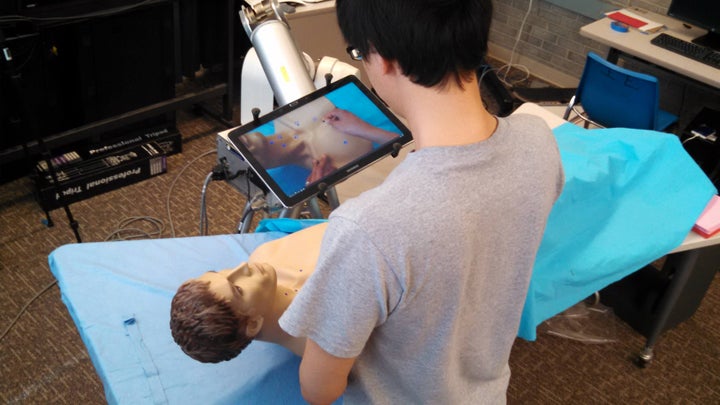 Tim Cook just called augmented reality a "core technology." These visionary companies are way ahead of him.
When Steve Jobs' successor calls a technology "profound," entrepreneurs, VCs and moguls take notice. The sharpest minds in tech are paying close attention to augmented reality (AR), technology that displays digital visuals and information over the physical world through wearable or portable devices, and for good reason.
Apple CEO Tim Cook told BuzzFeed this month that augmented reality is "profound," a "core technology" and will be bigger—far bigger—than virtual reality. According to BuzzFeed, Apple may even be laying the foundation for a massive AR play layered on top of its best-selling devices.
Apple isn't alone: Google is experimenting with AR. Snapchat's betting big on it. Facebook is working on augmented reality glasses. There is a reason tech visionaries are interested: AR could transform how we work and play—faster than you think. It's a foundational technology that enables thousands of new capabilities that many believe will fundamentally reinvent whole industries. In fact, Goldman Sachs expects the combined augmented and virtual reality market to total $35 billion annually by 2025.
Three startups are currently crushing it in AR, and might define the future before the tech giants do. One of these companies might just be the next unicorn.
1. Dotty Digital
Dotty Digital, one of the most exciting up-and-coming AR startups today, sees thousands of applications for its AR platforms, including industries as diverse as healthcare and customer service.
"In medicine, you can overlay an AR device on a patient. A specialist doctor thousands of miles away can virtually instruct the in-house doctor on the procedure, who can mimic his on-screen hand movements and follow his voice commands as though the specialist were actually there," explains Dotty Digital co-founder Wes McCombe.
Dotty's AR platforms help companies collaborate on 3D models, as well as integrate mobile devices and wearables into their operations using RFID-powered tech. This includes diverse and dynamic applications like the medical enhancements mentioned, as well as using collaborative 3D models in AR to supercharge customer service and engineering (other markets Dotty serves).
Between physical devices and digital displays, Dotty is dominating how businesses train staff, collaborate effectively and deliver value to customers. "AR is converging with the internet of things (IoT) to make everything in the world connect in a highly efficient way, which will result in humans having more time to do the things they love," says McCombe.
2. Meta
Revered tech influencer Robert Scoble said of Meta's augmented reality glasses, "I'm emotional because I've never seen a product like this since the Macintosh." The Meta 2 glasses display digital content over your view of the physical world. With hand gestures, users then manipulate the 3D content displayed by the glasses. It's a jaw-dropping experience you have to see to believe.
The company was born from a Kickstarter campaign launched by founder Meron Gribetz, who wanted to change the world through AR. Reviews indicate he's well on his way to succeeding; TechCrunch called the company's Meta 2 headset "mind-bending." Investors agree: Meta has $73 million in funding from venture luminaries like Y Combinator and Tim Draper.
3. Atheer
If you're looking for market validation, look no further than Atheer, a company that counts Fortune 1000 companies among customers for its AR glasses. Firms in industries as varied as engineering, insurance and healthcare use the Android-compatible wearable and complementary AiR cloud-based application to boost productivity, collaboration and output.
We're not just talking about open-minded startups that will try anything once; major firms like Dassault Systemes and Nvidia, who have billions in product on the line, use Atheer's technology. That's one of the reasons the company has over $23 million in funding.
Together, these three startups represent how dynamic the AR market is today. All three understand better than anyone AR's potential: when you create powerful, affordable AR platforms, you unlock the creativity of developers worldwide to build their dreams on those platforms. That, in turn, creates a world that becomes a marriage of physical and digital faster than you'd expect.