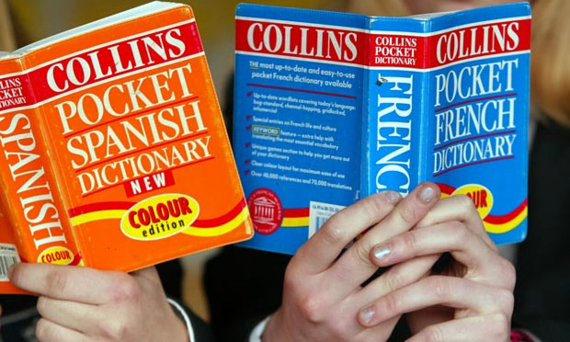 For those of you who are learning a new language, you may be filled with enthusiasm, determined to master what you know and conquer what you don't. You may spend your days studying flash cards, reciting new phrases (Comment allez-vous? ) or watching Telenovelas with English subtitles. Whatever you do to study, learning a new language is hard work. One can study reading, writing, speaking and listening for years and it still won't guarantee fluency.
The journey to language acquisition can be exhilarating and empowering, or frustrating and unsuccessful. As a student of foreign languages, I can say that the most cumbersome aspect of my journey has been my attitude towards learning.
I have found that the chances of committing errors while learning a language are heightened when there is perfectionism, timidity or laziness. Therefore, I will share with you some ways that I used (and you too can use) to overcome these bad habits.

1. Perfectionism: Get over it!
While being accurate is good, being a perfectionist is not. The reality is you will make mistakes because everyone does. No one is perfect. Thus, aiming for perfection makes learning frustrating and frankly, impossible.
Get use to corrections! Get comfortable with both being corrected by others and correcting yourself. Be okay with making mistakes and even more okay with fixing them. Most importantly, celebrate your accomplishments while aiming to improve your weaknesses.
With practice and patience, you will see results in no time.
2. Timidity: Get out of it!
Being shy is normal; especially, when you are speaking a new language. Yet, every day presents an opportunity to practice and improve.
So, get out your comfort zone. Speak and study with people who are as equally passionate about the language as you are. Do language exchange programs and/or study abroad! Search for opportunities that require you to use your target language--and apply for them!
If you trust both yourself and your skills, doors will open to you.
Learning a new language can be done in many ways: foreign language courses, self-study, immergence programs etc. However, mastery of that language does not come without self-motivation. Being self-motivated means that you have to discipline yourself, taking time to study and doing so thoroughly.
Get up! Take language courses, read books and articles in the language you're studying and travel the world.
Do not let a day go by being idle; do let an error go by without correcting it. Want and work to master your language.
"Half the battle is showing up." So, be there.
Most importantly, do not fret over "not being fluent". Fluency will come with practice. However, if you continue to spend each day as if it was your first, all the while breaking bad habits such as perfectionism, timidity and laziness, you will break the language barrier.
REAL LIFE. REAL NEWS. REAL VOICES.
Help us tell more of the stories that matter from voices that too often remain unheard.