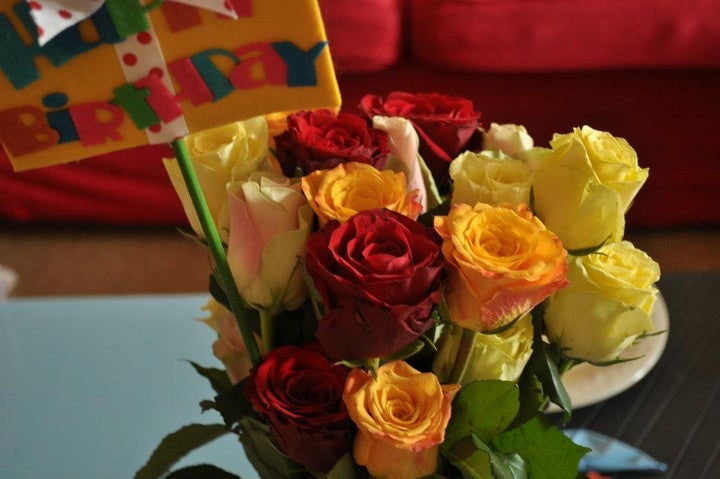 Birthdays are special reminders that we are alive and we have so much to look forward to. Irrespective of how good or bad one's year went about, a pleasant wish, a warm hug or a cute gift can make a significant difference in the mood of the person. A sweet wish on a person's birthday may also change the his or her perspective on life to a positive one and generate a trust that the remainder of that year could be wonderful. That's what celebrating a birthday or wishing your friend or loved one should be all about.
When I was a kid, I tried my best to stay awake until midnight to either call up my friends on their birthdays and/or surprise them at their home wishing, "Happppyyy Birthdayyy XYZ (name)". Yes, they did the same for my birthday. A surprise wish always stimulates a spark of happiness in all hearts involved in that celebration. It also makes the birthday boy or girl feel important and loved that so many of us remembered the day and stayed awake until midnight to wish him or her. Sometimes a small gesture can make a great impact.
Materialistic or not, a gift is a gift. If you choose to paint something on a hand-crafted paper, record a song or a video, take the birthday girl or boy to her or his favorite location or to do a special activity or just send flowers, it will make their day. In this busy world, where people cannot find time to meet old friends or even spend quality time with family members, any nice gesture including a warm hug means that the person is special and he or she deserves a special moment on a milestone day.
With the advent of social media platforms such as Email, Facebook, WhatsApp, Twitter and the like, communication happens at a faster pace. However, the question we must ask ourselves is, "How effective is a standard digital wish in comparison to a personalized one?" The best way to wish on birthdays using these platforms could be by sending e-greetings, a recorded message or posting their good-looking old pictures. As an intelligent species, we have come up with several creative ways of enriching long-distance relationships by using social media communication. If we have time to login, check social updates and post day-to-day happenings, we can certainly make time and avoid throwing shortcuts such as "HBD" or "Hapy B'day". Let us try not to override the nice and convenient Autocomplete.
For those of us who check social media a million times per day and yet, cannot find real time to correctly and satisfactorily wish a person, the good old saying needs to be remembered, "what goes around comes back around". While the world is running swiftly and where no one stops for anyone, it is important to pause for a moment to focus on simple and little things in life. I strongly opine that it is time that we reconnect with people that had always been there for us in the past, amend delicate relationships at present through a pleasant wish, a warm hug or a cute gift and make bonds long-lasting for our future.
Calling all HuffPost superfans!
Sign up for membership to become a founding member and help shape HuffPost's next chapter
BEFORE YOU GO
PHOTO GALLERY
This Kid Loves Target So Much He Had His Birthday Party There