President Barack Obama has said that a college degree "has never been more valuable." But if you borrow to finance your degree, the immediate returns are the lowest they've been in at least a generation, new data show.
Meanwhile, student debt burdens for the typical bachelor's degree recipient who borrowed for college have increased about 163.8 percent, according to Education Department data analyzed by Mark Kantrowitz, a financial aid expert; Brad Hershbein, an economist at the W.E. Upjohn Institute for Employment Research; and The Huffington Post.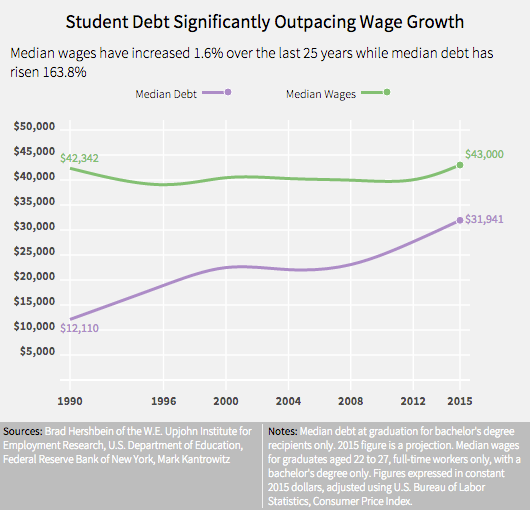 In 1990, the typical college student graduated with debt equivalent to 28.6 percent of her annual earnings. By 2015, that number had shot up to 74.3 percent, data show.
Student debt at graduation for the typical bachelor's degree recipient could exceed annual wages by 2023, if both figures continue to grow at the same annual rate of the last 25 years, according to a HuffPost analysis.
Roughly 42 million Americans collectively owe more than $1.3 trillion on their student loans, federal data show. Total student debt has doubled during the Obama administration. More than 90 percent of student debt is either owned or guaranteed by the U.S. Department of Education.
Stagnant wages and the jump in student debt levels has prompted growing concern among government policymakers and financial industry executives that student debt risks slowing U.S. economic growth as households reduce their spending to make their student loan payments.
About 7 of every 10 college graduates now borrows to pay for higher education, up from about half in the 1990s, data show.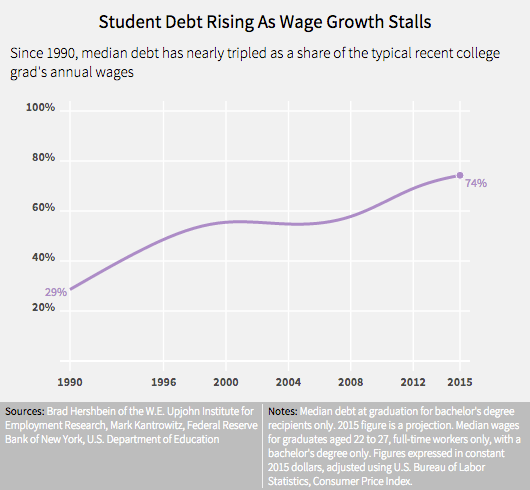 Surveys and academic research have suggested that student debtors are delaying home purchases, avoiding medical care and starting fewer small businesses. On Tuesday, a new report argued that student debt is hurting Americans' ability to save for retirement.
The increase in debt accompanied by no growth in earnings has pushed student debtors into distress. Nearly 11.6 percent of student loan balances are at least 90 days delinquent, almost double the level in 2003, data show.
The Consumer Financial Protection Bureau estimates that 1 in 4 student loan borrowers are either in default or struggling to stay current, even though virtually all borrowers with federal student loans are able to make monthly payments indexed to their earnings.
"With the tools we have in place, particularly income driven repayment plans, we should all be aiming at a zero default rate among student loan borrowers," Education Undersecretary Ted Mitchell said last year.
Many experts blame shoddy practices by the Education Department's loan contractors for borrowers' troubles.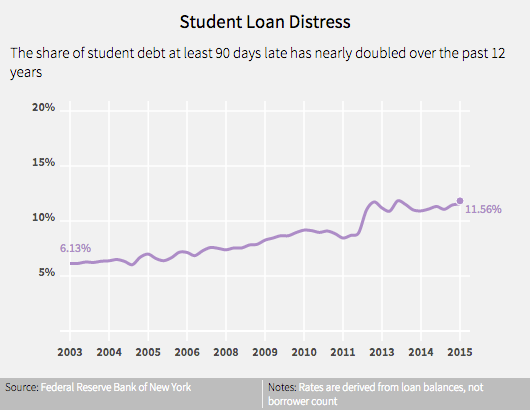 To be sure, unemployment rates for college grads are lower than those for high school graduates. And college graduates typically receive higher pay than Americans who didn't graduate with a college degree. Over a lifetime those extra earnings could add up to more than $1 million.
But as the cost of higher education rises and Americans flock to college campuses out of fear they'll be economically left behind, perhaps it's time for policymakers to stop declaring that college is worth it and instead redouble their efforts to ensure that student debt doesn't hold back the economy.
Related
Popular in the Community