I know what you're thinking, "Not another guide to content marketing best practices! I've got this down! Okay, maybe I could use a little help... but is there anything new to say about content strategy?" There's a lot, actually. And here's the thing: even if you are producing good content, all it takes is a few basic tweaks to make that content truly great. Even more important: avoiding the common content marketing pitfalls that plague brands and can derail an otherwise successful campaign.
As a digital marketer, I see first-hand the difference a successful content marketing campaign can make for lead generation, conversions and nurturing. I also frequently witness how a poorly defined or executed strategy will inevitably lead to more strike outs than home runs. In 2015, for example, only 38 percent of B2B companies rated their content marketing as effective; that's a drop from 2014, when 42 percent rated it effective, according to the Content Marketing Institute.
One of the main reasons companies fail to make the most out of their content is their inability to translate these content-efforts into conversions. They don't personalize their content effectively and their websites don't offer a personalized experience, which is crucial in the B2B space because of the various decision makers involved. Using personalized content recommendations, can change this.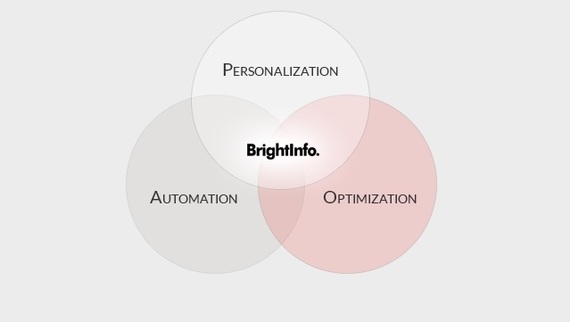 Image Source: Brightinfo

Are you suffering from a similar drop in performance? You may be making one of these four common mistakes. Here's how to fix them:
1. Failing to document a content marketing strategy
How can you quantify your content marketing success if you have no strategy for success in place? Start by writing down your goals and then outlining a plan to achieve them. The simple act of codifying your goals means you are five times more likely to achieve them, according to the Content Marketing Institute.
Unfortunately, only 35 percent of brands say that they have a documented content marketing strategy in place. 48 percent of brands say they have a strategy, but it's not documented. Worse, 56 percent of those without a documented strategy say they are creating more content than they did a year ago. That's like throwing a handful of darts blindfolded, being disappointed by the lack of success, and then trying again with another handful- all while keeping the blindfold on!
How to fix this: Having a verbal strategy or even a general plan in your head is a great first step. Take it a step further by documenting a clear plan that aligns your content creation with your marketing goals. Include how you will assess performance via analytics and then detail a feedback loop for performance enhancement.
2. Talking about your business non-stop
No one likes a know-it-all, especially when they talk about themselves non-stop! Are you doing the same? Effective content marketing does not blatantly promote a brand or service. Instead, great content offers valuable insights and information that resonate with your target audience. Answer someone's problem once, and they'll come back to your business again.
Take for example the fantastic free tax advice offered by the financial advisors at Raymond James Financial, Inc. Just in time for April 15, the financial advisor published important tips for confusing tax issues, including strategies for paying a higher than expected tax bill. Strive to provide a similar level of actionable and timely advice in your content.
How to fix this: Shameless self-promotion is a turn-off. Publishing a fluff piece is just as bad. Start with substance, address real problems, and provide actionable solutions.
3. Failing to establish credibility up front
Why should anyone care about what your brand has to say more than another brand's content? It all comes down to establishing credibility up front: when you build a strong business case that your company knows what it's talking about, people will listen to your future advice. Building this case without tooting your own horn can be a bit tricky.
You want to avoid the pitfalls of shameless self-promotion we discussed above. Your solution: prove your value with a case study. It's a strategy I recommend for all B2B businesses just entering the content marketing game.
How to fix this: Case studies are an important weapon in your content marketing arsenal. They give your business a vehicle for talking about your successes while avoiding the appearance of shameless self-promotion.
Bottom line
Don't overlook the importance of distribution for content marketing success, either! Expect to spend at least half your content marketing budget dedicated to distribution. If you're just getting started, consider investing in paid distribution to jumpstart engagement. Outbrain, for example, offers a pay-per-click model and social channels like LinkedIn and Twitter offer paid distribution opportunities. Don't let that fantastic content languish on your blog!
REAL LIFE. REAL NEWS. REAL VOICES.
Help us tell more of the stories that matter from voices that too often remain unheard.