Including a yummy superfood salad recipe!
By Tatiana Boncompagni, SELF

This article originally appeared in the January/February 2016 issue of SELF.

Breakfast may be the most important meal of the day, but a healthy lunch is also crucial for productivity. We asked Charlie Ayers, the former executive chef at Google who now feeds some of tech's top minds at his Palo Alto, California, hot spot, Calafia Café, about his food-as-fuel philosophy. "It's key to eat balanced meals that leave you stimulated and energized for hours," he says. So whether you need to be on for a big meeting or just plow through your workload, try one of his supersmart, nutrient-packed desk lunches.
1. Dress up your kale salad with superfoods.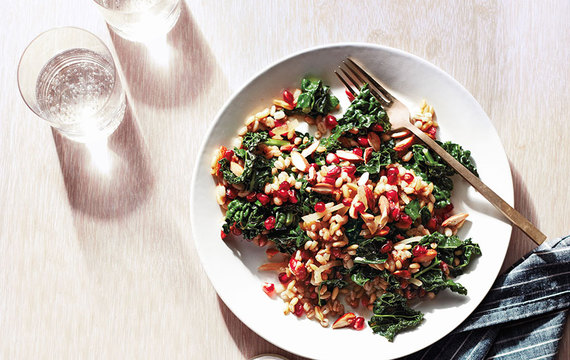 Serves 4
1 cup wheat berries
1/2 cup kamut
1/4 cup farro
1 head Tuscan kale, stemmed and coarsely shredded
1/2 cup sliced almonds, toasted
2 tbsp chopped candied ginger
4 tbsp pomegranate seeds
4 tbsp extra-virgin olive oil
1 tbsp white balsamic vinegar
1/2 tsp cinnamon
Kosher salt
In a large saucepan over high heat, bring 5 cups water to a boil; add wheat berries, kamut and farro. Reduce heat and simmer, covered, until grains are just tender, 15 to 20 minutes. Drain, rinse with cold water and drain again. In a large pot of boiling water, blanch kale 1 minute. Drain, rinse with cold water and drain again. In a bowl, combine cooked grains, kale, almonds, ginger and pomegranate. In another bowl, whisk together olive oil, vinegar, cinnamon, and salt and black pepper to taste. Pour dressing over salad and toss gently to combine.
Nutrition info 510 calories per serving, 22 g fat (3 g saturated), 74 g carbs, 13 g fiber, 16 g protein
2. Add protein to your pasta.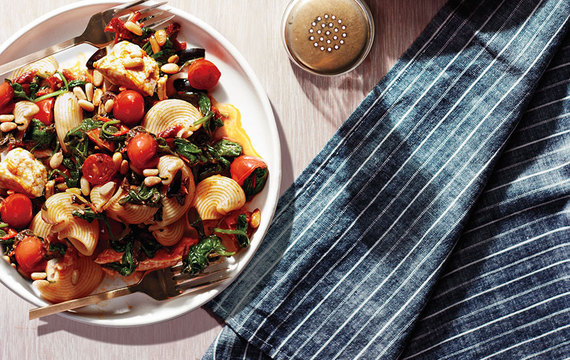 Serves 4
12 oz lumaconi pasta
2 tbsp olive oil, divided
1 garlic clove, chopped
2 tsp (or to taste) harissa
12 oz baby spinach
4 sun-dried tomatoes in olive oil, drained and chopped
12 cherry tomatoes, halved
1/2 cup chicken stock
4 boneless, skinless chicken breasts (about 4 oz each), cooked and shredded
1/3 cup sliced black olives
1 tbsp lemon juice
Kosher salt
1/2 cup toasted pine nuts
In a large pot of lightly salted boiling water, cook pasta until al dente, about 10 minutes. Drain and toss with 1 tbsp olive oil. In a large skillet over low heat, heat remaining 1 tbsp olive oil. Add garlic and harissa and cook until fragrant, about 1 minute. Add spinach and cook, stirring, about 1 minute. Add sun-dried tomatoes, cherry tomatoes, stock, chicken and olives and continue to cook until cherry tomatoes have softened, about 2 minutes. Add lemon juice and season with salt and black pepper to taste. Add pasta and toss to combine. Garnish with pine nuts.
Nutrition info 680 calories per serving, 25 g fat (3 g saturated), 74 g carbs, 6 g fiber, 42 g protein
3. Warm up with a healthy, hearty soup.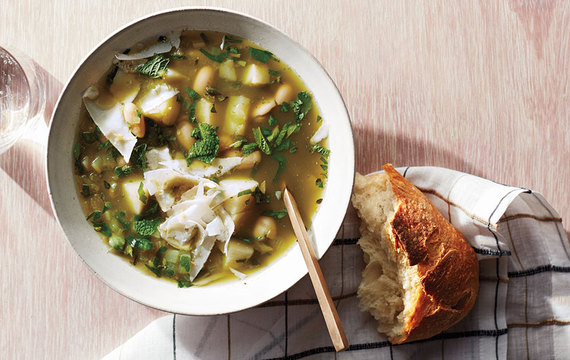 Serves 6
2 cups frozen English peas, defrosted and patted dry
4 cups chicken stock
1 can (15 oz) cannellini beans, rinsed and drained
1 tbsp lemon juice
1/2 cup finely chopped yellow onion
1/2 cup chopped celery
2-3 small white potatoes, peeled and cubed
1 garlic clove, chopped
2 cups wild arugula, roughly chopped
2 tbsp chopped fresh thyme
2 tbsp chopped fresh oregano
2 tbsp chopped fresh mint
2 tbsp chopped fresh parsley
1 tsp grated lemon zest
Kosher salt
1/2 cup grated Parmesan
1/4 cup extra-virgin olive oil
Heat oven to 350°. On a baking sheet, roast peas 5 to 10 minutes. In a medium pot over high heat, boil stock. Add beans, lemon juice, onion, celery, potatoes and garlic; cook 3 to 5 minutes. Reduce heat and add peas, arugula, thyme and oregano; simmer until vegetables are just tender, about 15 minutes. Add mint, parsley, lemon zest, and salt and black pepper to taste. Ladle into bowls, sprinkle with Parmesan cheese and drizzle with olive oil.
Nutrition info 337 calories per serving, 13 g fat (3 g saturated), 42 g carbs, 8 g fiber, 17 g protein