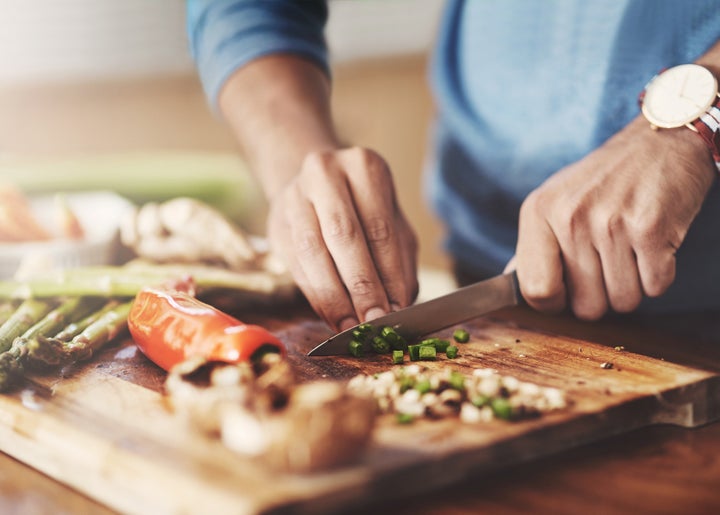 The popularity of plant-based diets has been growing over the past several years. Chefs, bloggers and home cooks have been turning to plant proteins as better-for-you alternatives to meat. So, what exactly is a plant-based diet, anyway? A plant-based diet promotes eating whole fruits and vegetables in addition to lentils, legumes, nuts and seeds and limiting the intake of animal products. Research has found that adopting a diet focused on plants may have benefits like lowering heart disease, lowering cholesterol and weight loss.
To help get you started, we partnered with Panera Bread to provide you with some easy plant-based recipes that you can add to your personal menu. Below, three cookbook authors offer some advice on plant-based eating for beginners, and share one of their favorite plant-based recipes with us.
Nzingah Oniwosan, a cookbook author and holistic life coach, transitioned to a plant-based diet 17 years ago, when she began dealing with several health problems. Faced with a benign brain tumor and an autoimmune disease, she changed her diet, which helped her manage these health-related issues. After seeing the positive results, she began working to inspire others to take charge of their health through their diets. She did this by hosting workshops, writing about wellness and featuring recipes on her blog.
"If you are already diagnosed with these things [high cholesterol, high blood pressure, Type 2 diabetes and heart disease], through a plant-based diet you may be able to lower your abnormal levels and possibly bring them back to normal," explained Oniwosan. "Many people report weight stabilization, increased energy and general sense of well-being."
Here is one of Oniwosan's favorite recipes for plant-based beginners:
Sweet And Sour Cauliflower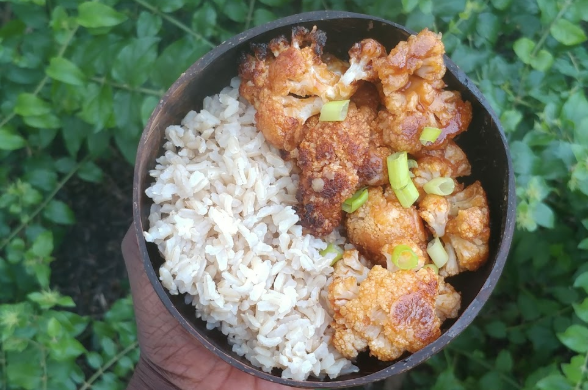 Here's what you'll need:
5 to 6 cups cauliflower florets
3 tablespoons vegetable oil
2 stalks green onions for garnish
Sauce:
1/2 cup apple cider vinegar
1 tablespoon cornstarch + 2 tablespoons cold water
Directions:
1. Preheat oven to 425 F and grease a baking sheet.
2. Combine the milk, flour and garlic powder in a bowl and stir until well combined.
3. Coat the cauliflower pieces with the flour mixture. Transfer coated cauliflower to greased pan.
4. Bake for 15 to 20 minutes until cauliflower starts to brown on the bottoms.
5. Switch oven to broil and cook on high for 3 to 4 minutes just until tops start to brown. (Watch carefully so the cauliflower doesn't burn!)
6. While cauliflower is cooking, prepare the sauce: Add sugar, vinegar, soy sauce, garlic powder, onion salt and ketchup to a medium saucepan. Stir and bring to a boil.
7. In a small bowl, whisk together the cornstarch and cold water until dissolved. Add to sauce pan and stir until thickened; then reduce to low heat.
8. In a large heat-safe bowl, combine roasted cauliflower and sauce.
9. Serve with steamed rice and top with sliced green onions.
Cookbook author and blogger Sandra Vungi transitioned to a plant-based diet 12 years ago. She documents all of her delicious and simple plant-based recipes on her blog, which is a great resource for those looking for some meatless meal inspiration.
"I was a meat eater for 17 years before I switched exclusively to plants," said Vungi. "If you think of a regular dinner plate, you picture some animal protein, some carbs and some veggies. And if you take the animal protein away, you might think that you pretty much have nothing left. Vegan food is not just eliminating the meat, but replacing it with plant protein."
Many plant-based recipes are packed with protein, whether it's from oats, seitan or legumes.
Here is one of Vungi's favorite recipes for plant-based beginners:
Easy Vegetable And Dumpling Soup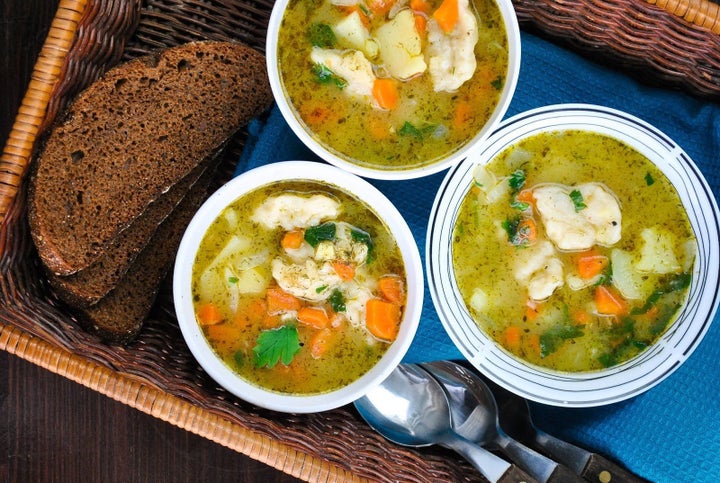 Here's what you'll need:
Dumplings:
5 large heaping tablespoons all-purpose flour (add a bit more if you want firmer dumplings)
1/2 teaspoon dried rosemary
Soup:
3 large carrots (about 10 1/2 ounces)
1/2 teaspoon ground black pepper
3 cloves of garlic + 1 clove for adding in the end
1 to 1 1/2 teaspoons salt
Note: You can also omit the salt and use vegetable bouillon cubes instead.
Directions:
1. We add the dumplings in the end, so it's best to start making the dumpling batter. It has to sit for some time to let the flour set a bit. To make the dumplings, combine flour with salt, add water and whisk. Add oil and whisk again. The dumpling batter should be a creamy mixture, almost like a thicker sour cream. Let the dumpling batter sit until you make the soup.
2. Heat up a thick-bottomed pot. Add oil and chopped onions. Cook for a minute or 2.
3. Add carrots (cut into little pieces), bay leaves, ground black pepper, 3 cloves of chopped garlic and dried dill. Stir and cook for a couple of minutes.
4. Add the boiling water and let the soup boil under a lid until the carrots are halfway cooked (about 10 minutes).
5. Add potato cubes and salt. Boil until the potatoes are almost soft.
6. Next, start adding the dumplings. Take a teaspoon of dumpling dough and carefully slide it into the boiling soup. Continue until you are out of the dough.
7. Once all the dumplings are added, cover the pot with a lid and let the soup boil on medium heat for 7 to 10 minutes.
8. Lastly, add chopped parsley, finely chopped garlic clove and salt to taste. Serve.
Chef Eva Cannon is a cookbook author and blogger who has worked all around Los Angeles serving up delicious plant-based dishes. She uses her culinary arts training from Le Cordon Bleu to put together hearty vegan and vegetarian recipes, which she publishes on her blog and dishes out of her new Lettuce Feast food truck.
Cannon made the switch to a plant-based diet two years ago, and has seen improvements in her health from losing weight to increasing energy levels. She is hoping more people will see the benefits of incorporating plant-based eating into their lives, as well.
"I would recommend adding a few vegetarian or vegan meals to your diet per week. Maybe start out with two or three days out of the week eating fully plant-based, and then keep adding more days as you start to feel more comfortable," said Cannon. "Honestly, any meal that can be made with meat can be made vegan or vegetarian and still be delicious. It just takes a little creativity and you can truly amaze yourself with the flavorful items you can make."
Here is one of Cannon's favorite recipes for beginners:
Thai Green Curry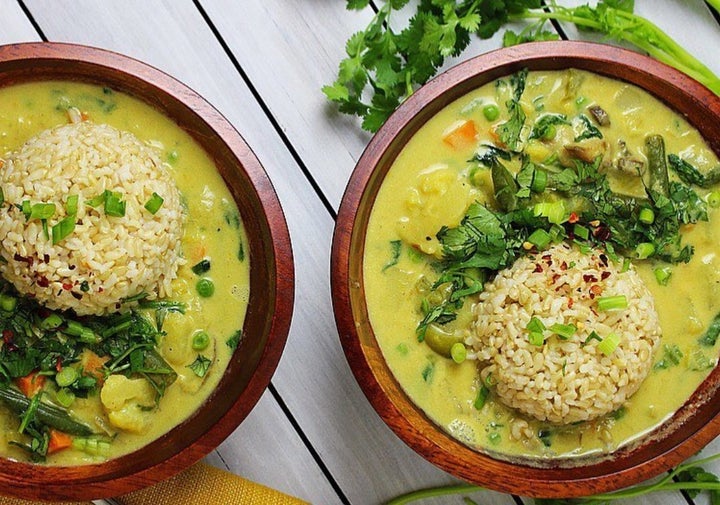 Here's what you'll need:
1 tablespoon Himalayan pink salt

1 can full-fat coconut milk

3 tablespoons green curry paste

2 cups spinach, roughly chopped

1 handful of green beans, cut into smaller pieces

1/4 head of cauliflower florets

8 baby bella mushrooms, sliced

2 potatoes, peeled and diced
1 teaspoon ginger, minced
1 teaspoon garlic, minced
8 grinds of fresh black pepper
Directions:
1. In a hot wok add about 2 tablespoons of oil. Then add your leek, onion, bell pepper and carrot. Cook for 3 to 4 minutes until the onions are almost translucent. Add your garlic and ginger and cook for an additional 2 to 3 minutes.
2. Add in your cauliflower florets, green beans, and mushrooms along with your curry paste and mix well until all the veggies are coated. Cook for 2 minutes and then add your can of coconut milk.

3. At this point, add in your potatoes, seasonings and water. Let the mixture cook over medium heat for 20 to 25 minutes or until the liquid has slightly reduced and has thickened. In the last 5 minutes of cooking, add in your peas and spinach.

4. Serve with brown rice and plenty of cilantro, green onions and limes to squeeze over the top!
To promote plant-based eating Panera Bread will be providing a meatless menu option every Monday. To see how others are improving the way we eat, check out Food Interrupted, a six-part series by Panera that sheds light on these hardworking chefs, tastemakers and community heroes who are helping to change America's food system.
Related