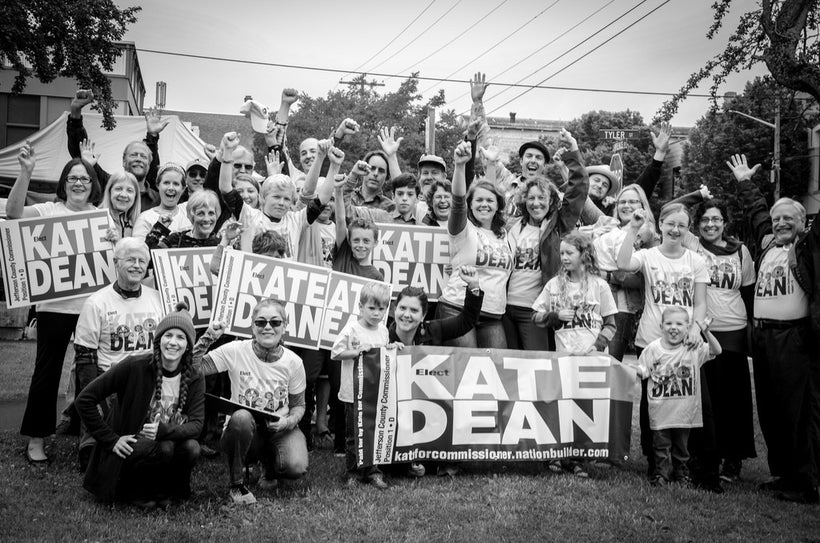 Seattleites often wince when they hear of our ventures to the hinterlands, where Trump signs abound. But my friend Julie and I just love to go exploring. Please don't tell my mother, but sometimes I even go alone. Lately, I've met quite a few strangers out in the forests where the Spotted Owl decision and the modernization of mills put thousands of loggers and mill workers out of jobs. Yes, at times it's scary. But I return bearing good news.
Folks out there just elected a top-notch peacemaker: a leader who tackles difficult issues by welcoming all to the table. Someone who listens, calms bitter enemies and helps them find common ground. Imagine that.
Our heroine has no time for pomp and glitz. She is a hard working single mom who, not only pays her taxes, she rides her bike to work. She was recently sworn into office as a Jefferson County Commissioner. Her name is Kate Dean.
Kate earned her peacemaking chops in her previous job with an economic development association that serves the entire north Olympic Peninsula. Poverty and unemployment plague this region. Public coffers are stretched thin, yet rising sea levels flood electrical boxes with increasing frequency. And this area, long known for its pristine rain forests, now suffers wildfire, drought and ocean acidification. Kate was assigned the job of compiling a community-driven plan to address the thorny matter of climate change.
Somehow, she gathered diehard climate change deniers and so- called "environmental puritans," at the same table, says Harry Bell, a veteran of the timber wars who joined the proceedings. A Port Angeles resident and self-proclaimed Libertarian, who's had a long career in the timber industry, he praises Kate's leadership.
All told, she convened nearly 200 strange bedfellows, including tribal nations, the timber and shellfish industries, a paper mill, environmentalists, farmers, and the Navy. They hunkered over the science and hammered out their concerns over a yearlong series of meetings. "Kate Dean was very pragmatic throughout, always looking for middle ground," says Bell. Together, under her guidance, they agreed on priorities and came up with a climate change preparedness plan. Now if Congress did something like that, the skies would part and the angels would sing.
Kate Dean might be God's gift to humanity. But she harbors no such notions. Like most women, she never dreamed of running for office. When a seat opened up on the county council in her relatively progressive slice of the Olympic Peninsula, local leaders begged her to run. She declined.
The defining moment arrived when the Chamber of Commerce asked her to present the climate report at a big luncheon. The room was packed with gray haired men. She feared they wouldn't take her seriously. The bellwether in the audience was a Big Oil executive from Houston, a powerful man who had retired, moved to Port Ludlow and long disagreed with Kate about global warming and most things political: Her very own father.
As he sat there watching his youngest daughter defuse hostile questions with grace and reason, Kate's dad opened up to a whole new world. Afterwards, he urged her to run for office. And so, with the support of family, friends and mentors who taught her the ropes of Campaigning-While-Female, Kate threw her hat in the ring. She won by a decisive margin.
Her story illustrates what research has long shown: most women, despite their qualifications, need special encouragement before they will consider running for public office. Research also indicates women will be crucial to our ability to fight a myriad of tough issues, such as climate change. When Kate learned of these trends, and the fact Washington state has fewer female legislators than it did 20 years ago, she issued this special message for women. If you know someone who would be a terrific public servant, check out She Should Run.
After all, if we want leaders who will build consensus, not walls, we must construct a pipeline of our own. We must:
3. Support and elect more women and men like Kate Dean to all levels of public office.
If we want problem solvers, not egomaniacs, at the helm, we've got to go out there and find them.
Roberta Riley is an accomplished advocate for women. She and her friend Julie Gonzales-Corbin share a love for adventure, storytelling and the Evergreen State. Their climate adventures videos can be found on YouTube.
REAL LIFE. REAL NEWS. REAL VOICES.
Help us tell more of the stories that matter from voices that too often remain unheard.
This post was published on the now-closed HuffPost Contributor platform. Contributors control their own work and posted freely to our site. If you need to flag this entry as abusive,
send us an email
.