As a business owner, it's important to reach out to potential customers on a personal and targeted basis to convert sales. Social media can help, but in order to really grow your business, you need to create and implement proper lead generation strategies. One particularly effective strategy is building your email list.
The buying decision process has evolved due to the abundance of information available online. As a business owner, you need to find effective ways to reach buyers and break through the noise. Aside from just focusing on being found through search, you must must also concentrate on building meaningful relationships with your visitors. Building a targeted email list should be your top priority when developing marketing campaigns.
Be Smart About Building Your Email List
Your email list is one of your most important business assets. It's important to focus on attracting people who are genuinely interested in your product or service. Stay away from buying email lists. Believe me, it's the people you've built trust and created relationships with that will most likely purchase your product.
Since the user voluntarily subscribes to your email list, your marketing messages can be more targeted. There's also a much better chance your subscribers will actually engage with your material and convert into paying customers. Here are some practical steps you can take to build you email list:
Make Your Sign Up Forms Available In Multiple Locations On Your Website
Good user experience means being able to easily navigate your site. This includes being able to find your email opt-in form without having to hunt for it. By placing sign up forms in multiple prominent areas on your site, it will make it more likely interested visitors will find your form and actually sign-up. Consider placing opt-in forms in the following areas:
Sidebar- Including a bunch of useless widgets and badges in your sidebar just distracts your readers and can discourage people from signing up for your email list. Place your opt-in form prominently at the top of your sidebar to make it easy to find and more likely your visitors will sign-up.
Footer - Readers who make it to the end of your article are already engaged and interested in your content. Take advantage of that by adding an opt-in form in the footer to make it easy for them to sign-up to receive more content from you. Instead of just showing them a selection of additional content to read, use this opportunity to get them to sign up for your email list.
About page - Visitors will most likely check out your about page to get to know more about you and your company before they purchase anything. If they like what they see, having an opt-in form available right on your about page will make it easy for them to subscribe and eventually become a paying customer.
Be Precise With Your Call To Action
The placement of your opt-in form is important, but crafting the right copy is critical to your success. Instead of being vague, you need to use a direct call to action. Let your visitors know exactly what they are signing up for. Let me show you some examples.
Highlight the main benefits you're offering your readers right in the headline. Understand what your audience is looking for and speak to that. Offer a desirable opt-in incentive. Use a button color that pops and is easy to see. Don't dilute the focus of your message by offering too many options. Focus on specific benefits, as shown here on the on the SteadyStrength opt-in form.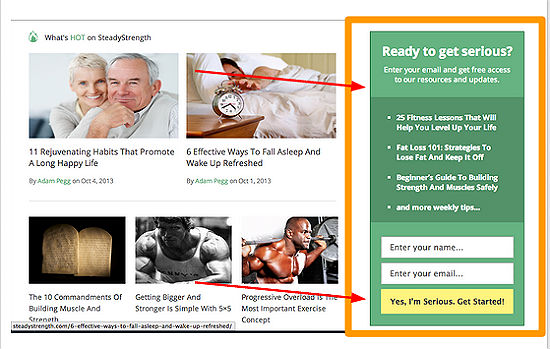 Include social proof. If you already have a significant number of subscribers, showcase that in your opt-in form copy. If you're just starting out, include a testimonial from an existing subscriber to encourage visitors to opt-in. Visitors like to see validation they are making the right choice to join your site. For example, over 130,000 people subscribe to WPBeginner's WordPress email updates. It makes sense for us to add that number to our opt-in form as validation to encourage sign-ups.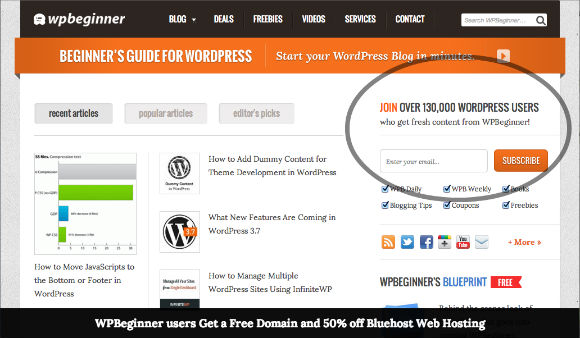 Another effective way to encourage your readers to opt-in is to offer something of value in return. Just like what CopyBlogger did on his site. The offer is very specific. You know exactly what you will receive if you register and share your email with him.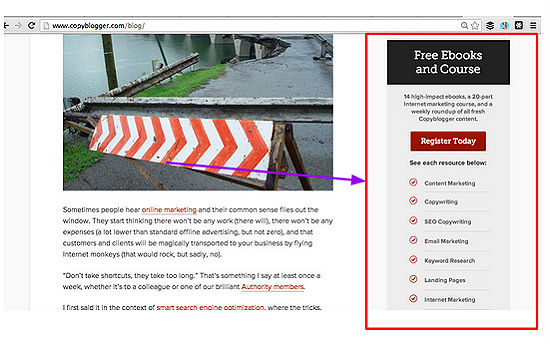 I'm a firm believer in testing and getting optimum results in everything I do. Email is personal. You need to understand what will get your visitors to give you their email addresses. The only way you can effectively accomplish this is by testing and testing some more. You need to eliminate the guess work. A/B split testing will help you determine what subscription forms and copy works best for you.
A split test (or A/B test) is when you run two versions of the same campaign to see which one performs the best. You'll need to test the copy, font size, color of your call to action button, image as well as any giveaway items to determine what changes or revisions may be needed to improve conversions.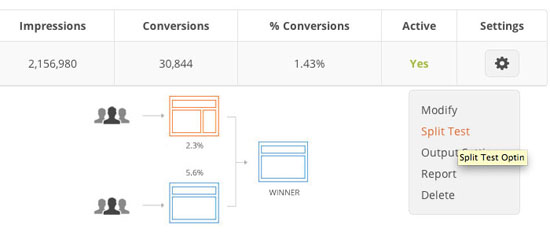 Use Available Technologies That Tracks User Behavior
Did you know more than 70 percent of visitors who abandon your website never return? If you're not able to convert your visitors to subscribers and customers, you're wasting valuable resources. For businesses, content marketing is effective only if you're able to generate leads and convert sales.
A strategy I use is to determine the exact point when users are about to leave my site and then offer them a targeted message via a pop-up opt-in form. This is known as exit-intent technology and it is a very effective method. I increased my subscriber rate by 600 percent. That's why tools like OptinMonster were built. Being able to accurately determine exit-intent by your visitors gives you an extra opportunity at exactly the right moment to turn your abandoning visitors into subscribers and customers.
A disadvantage of having people go through a double opt-in process means more steps for your visitors. You may even end up losing a few subscribers but that's okay. If they're not willing to take the extra step, they're probably not all that interested in your content anyway. Your priority should be building a list of people already engaged with your content. Those are the people who will support you over the long term. These will be your most loyal customers. Do you use email marketing as part of your communication and lead generation campaign? What challenges do you experience? Share your experience by leaving a comment.
Related
Popular in the Community