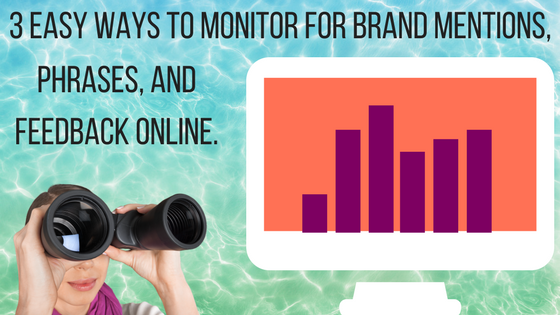 No one likes it when someone talks negatively behind their back. It's even worse now since it is so easy to trash talk someone or something on social media - and half the time the brands don't respond anyhow. According to a recent study by Sprout Social, only 1 in 10 brands respond to messages received via social media. Those numbers are way worse if the message was just a random comment thrown out onto the "interwebs."
Here are 3 easy ways to monitor for brand mentions, phrases, and feedback online.
Google Alerts: A popular free tool that is super easy to set up. Simply navigate to google.com/Alerts, from there you can choose to be alerted by email when certain words are mentioned online, or even certain phrases. Wouldn't it be great to be alerted daily whenever someone mentions your brand or industry? Did I mention this tool is FREE?
How you could benefit: Set an alert so you are notified whenever someone mentions your name, brand, or industry. Use those alerts for fresh content within your social media calendar and grow your presence as an industry leader by sharing content that is totally fresh.
A Social Management Tool: Using a tool like Sprout Social allows you to not only manage all your social media profiles in one place but it also allows you to monitor social media for mentions all from one easy dashboard. Google Alerts will limit you to what's being said on websites and within blogs, Sprout Social (or most other social media management tools) will display alerts from all your social networks also! With Sprout, you can even respond to people who didn't tag your brand (based on their privacy settings) but did mention you in a status, tweet, post etc.
How you could benefit: Think of a list of short phrases that may be buying signals that your community may say online or on Twitter. Add those phrases to your social media management tool and look for ways to add value - without being a pushy salesman.
For instance, one of our clients is a firearms manufacturer so instead of just depending on customers tagging us with their questions we are constantly monitoring for buying indications that don't even mention the client, such as "Looking for a new rifle." We also monitor our competitions mentions so we can look for ways to answer questions about their products - ultimately showcasing our expertise in the field and exposing us to new potential customers.
Buzzsumo: This website is an awesome tool for finding trending content and the most shared content across the web. You can sort by topic or search by phrase. The free version will limit you to about 10 searches a day but the paid version is unlimited and offers a plethora of additional tools to analyze your social media content, Facebook page performance, and even help you find influencers. Check it out at app.buzzsumo.com
How you could benefit: I have found the ability to see the most popular articles from around the world for the industries that my clients serve to be extremely helpful. Not only for the never ending search for curated content but also for my own blog idea inspiration. Try out the search tool and you'll have instant access to the trending and most shared articles around whatever phrase or word you want to search.
Knowing when someone is talking about you, your brand or your industry is extremely helpful when trying to grow your business and showcase your expertise. Give these tools a try and never miss a mention or news item again!
Check out the tools mentioned above by visiting:
David Pride is the owner of Social Impressions, a social media marketing agency that helps companies around the world create strategic and engaging content. He is frequently hired to speak at seminars and to provide one-on-one consulting with growing companies who are trying to figure out how best to utilize social media to grow their company or brand. David is also a Sprout Social Elite All Star, learn more about this program by visiting: Sprout Social All Stars
Calling all HuffPost superfans!
Sign up for membership to become a founding member and help shape HuffPost's next chapter
This post was published on the now-closed HuffPost Contributor platform. Contributors control their own work and posted freely to our site. If you need to flag this entry as abusive,
send us an email
.