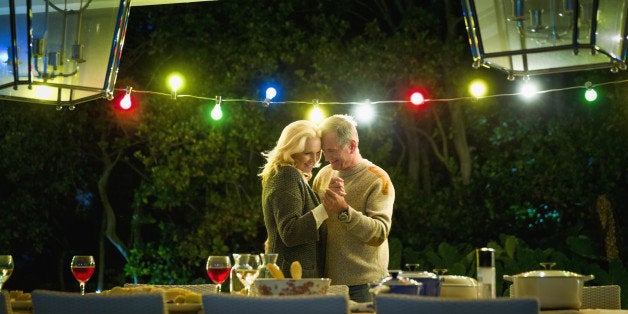 What ever happened to good, old-fashioned dates? In the majority of relationships, they're just a distant memory. Research shows that as many as 88 percent of couples don't have regular date nights. Between kids, jobs, and house chores, it's easy to understand why.
But most couples don't realize they can stay at home and have a sizzling date night whenever they want. Even the most routine at-home activities can transform into swoon-worthy dates with just a little planning. (And in the process, you'll strengthen your relationship for the long haul: More date nights could lower your chances of divorcing.)
The important thing is to prioritize alone-time with the person you love. In fact, couples who spend just one night a week alone together say they're more committed than those who don't. They're also three times more likely to be satisfied with their sex lives.
Convinced? Good. Now it's time to inject your normal routine with a bit of extra effort -- and a huge dose of romance. Just by planning as if you have a night out, here are three ways to turn any night into a date night at home:
1. Make a "restaurant" reservation. To turn any dinnertime into date night, act like you're on the way to your favorite restaurant. Set a reservation time for the meal, pick a theme for cuisine, and choose a recipe. Then light some candles and break out a bottle of fine wine. The simple act of planning ahead and making a romantic dinner can turn a humdrum Wednesday meal into a thrilling date night: Research shows that cooking together is an intimate, multi-sensory experience akin to foreplay. Try one of these romantic recipes, ideal for cooks at any level.
2. Dress like you're on the town. Sometimes a little effort goes a very long way. Dressing up is the perfect example. A few strategic pieces of clothing can transform a regular night at home into a sizzling date night. After all, dressing up has been shown to increase confidence, feelings of happiness, and overall good mood for both men and women. Even if you're planning a low-key night doing laundry with your partner, get ready like it's a first date. Wear your favorite going-out clothes, and spend time on your hair. (Ladies, break out the jewelry and make up!) You'll spark physical attraction at home like never before.
3. Plan a true movie night. If your nightly routine includes Netflix, you've got a prime opportunity for romance. The next time you tune in for a movie, don't just plop in front of the TV in your sweats. Instead, plan ahead by setting a "show time" for the movie, put out some popcorn, and decide on the film beforehand. Next, ditch the pajamas for a sexy outfit and commit to uninterrupted movie-watching -- no pausing allowed. These simple steps will take your weeknight Netflix experience from routine to romantic. (Not to mention, certain movies actually increase women's desire for sex.) Settle in to watch one of the most romantic movies of all time with your one-and-only for an unforgettable night at home.
What's your favorite way to turn routine nights into romantic dates? Tell us all about it in the comments below!
Calling all HuffPost superfans!
Sign up for membership to become a founding member and help shape HuffPost's next chapter