These three delicious eggcentric dishes are protein rich, chock full of veggies, and super satisfying. What's more, eggs are a powerhouse source of protein and they provide it at an exceptionally affordable price. For us at The Pollan Family Table, these egg recipes are a quick and easy way to bring scrumptious comfort food to the table.

Spanish Tortilla with Spinach and Manchego Cheese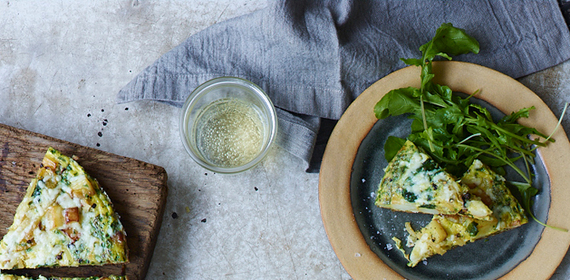 Sometimes we just don't have time to go to the market. Five o'clock rolls around and we open our refrigerator in a panic. Our old standby is often a Spanish tortilla. Guaranteed you will have the ingredients to whip up this easy dinner in no time. In this recipe we use spinach but you can just as easily use mushrooms, zucchini, or broccoli. This Spanish omelet is a great way to take familiar ingredients and turn them into something exotic and international. It's perfect for a weeknight meal served with warm corn tortillas and guacamole, or for entertaining, cut into wedges and offered as tapas with a selection of Mediterranean olives.
(4 servings)
1¼ cups peeled and diced Yukon gold potatoes, cut into ½-inch cubes
2 or 3 tablespoons unsalted butter
8 large eggs
Kosher salt
Freshly ground black pepper
1 tablespoon finely chopped Italian (flat-leaf) parsley
1 teaspoon chopped fresh thyme leaves
1 medium white onion, halved lengthwise and thinly sliced crosswise (1 1/4 cups)
1 packed cup of baby spinach leaves
1/2 cup shredded Manchego cheese
Line a plate with paper towels.Place the potatoes in a medium microwave-safe bowl with a lid, and add 1 tablespoon of the butter. Cover the bowl and microwave on high for 3½ minutes. Remove the bowl (it will be hot) and shake to loosen the potatoes. Return the bowl to the microwave and cook until tender, about 3½ minutes more. Set aside.
If you don't want to use a microwave, place the potatoes in a small saucepan and add cold water to cover. Bring the water to a boil and cook partially covered for 5 to 7 minutes, until the potatoes are fork-tender. Remove from the heat, drain well, and return to the dry saucepan. Set aside. (You need only 2 tablespoons of butter in total if using this non-microwave method.)
In a mixing bowl, combine the eggs with 1 teaspoon of salt, 1/8 teaspoon of pepper, the parsley, and thyme; whisk to blend.
Place a medium ovenproof, nonstick skillet with a broiler-safe handle over medium heat. Add 2 tablespoons of butter. When it melts and starts to sizzle, add the potatoes in a single flat layer and cook undisturbed for 5 minutes. Flip the potatoes with a spatula and cook for an additional 3 to 5 minutes, stirring occasionally, until lightly browned. Transfer the potatoes with a slotted spoon to the paper-towel lined plate, leaving the remaining butter in the skillet.
Set a rack in the upper third of the oven and turn the oven on to broil.
Add the onion to the butter and sauté over medium heat until golden brown and tender, 4 to 6 minutes. Add the spinach and sauté for an additional 2 minutes, until wilted. Return the potatoes to the pan and pour the egg mixture over the vegetables. Stir quickly to mix all the ingredients together. Cook undisturbed until the edges begin to set, 4 to 5 minutes.
Run a rubber or silicone spatular around the rim of the pan to loosen the sides. Sprinkle the top of the tortilla with the cheese and place the pan under broiler until the cheese is lightly browned, about 2 1/2 minutes. Remove the pan from the oven. Slide the tortilla onto a platter, browned side up. Let it cool for 5 minutes, then slice into wedges and serve.
Zucchini, Mushroom, Pepper, and Gruyere Frittata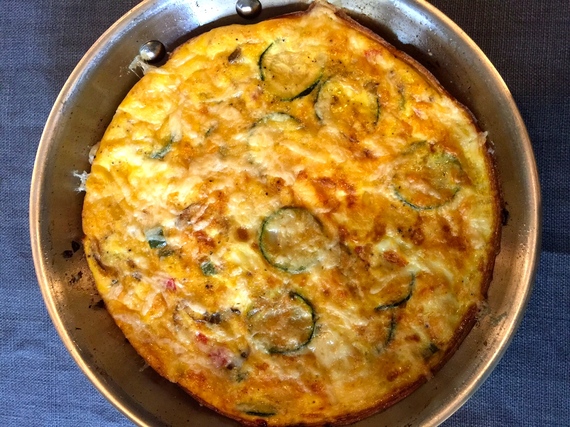 Until recently eggs have at times gotten a bad rap. Research now suggests however, that eggs are in fact healthy for us and they are packed with vitamins and minerals. Frittatas are one of those dishes that are perfect for any meal--we make them for breakfast, lunch, and dinner, or serve them as an appetizer when entertaining. They taste just as good cold, room temperature, or hot out of the oven and they are easy to prepare--you need just one skillet and the filling options are endless. We chose mushrooms, peppers, onions, and zucchini, but if you have other vegetables in your fridge you want to use up--go for it. Most important tip; for the filling, stick to ingredients that are already cooked--too much moisture dilutes the eggs.
(4 servings)
1 tablespoon plus 1 teaspoon extra virgin olive oil
1 cup finely chopped yellow onions
1 cup stemmed and thinly sliced cremini mushrooms
½ cup diced red peppers, cut into ½ inch cubes
½ cup diced green peppers, cut into ½ inch cubes
1 cup sliced zucchini, cut into ¼ inch rounds
Kosher salt
Freshly ground black pepper
8 large eggs
1/3 cup whole milk
¾ cup shredded Gruyere cheese
Preheat the oven to 350°F.
Heat the oil in a 10-inch ovenproof skillet over medium-low heat. When shimmering, add the onions and sauté until translucent, about 4 minutes. Add the mushrooms and cook until softened and most of their liquid is released, about 3 minutes. Stir in the peppers, and after one minute add the zucchini. Cook for an additional 3 minutes, or until the zucchini begins to soften. Add ¼ teaspoon of salt and 1/8 teaspoon of pepper and mix.
Meanwhile, whisk the eggs, just enough to combine the whites and yolks (over-beating will cause the frittata to fall). Add ½ teaspoon of kosher salt and ¼ teaspoon of pepper. Add the milk and ½ cup of the cheese and gently mix.
Pour the egg mixture over the vegetables in the skillet covering them evenly. Cook the frittata, without stirring, until it's edges start to set and curl away from the pan, about 5 minutes.
Place the skillet in the oven and cook for about 18 minutes or until puffed and set (be careful not too overcook). Remove from the oven, sprinkle the remaining ¼ cup of cheese over the top and bake in the oven for an additional 2 minutes. Turn the oven on to broil, and cook for 1 to 2 minutes or until the cheese on the top is lightly golden.
Slice the frittata into wedges and serve.
Crispy Kale, Potato, and Mushroom Hash with Fried Eggs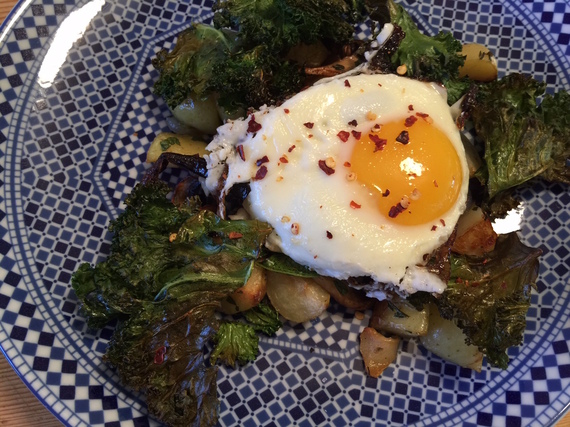 Sometimes the perfect comfort food is a meal of potato hash and eggs. In this recipe we elevate the dish many notches by adding roasted garlic, onions, kale, and mushrooms. The result--a healthy, light, and delicious hash that is comfort food at it's best.
(4 servings)
1 1/2 pounds small potatoes sliced into 3/4 inch pieces
1 tablespoon white or cider vinegar
1 medium yellow onion, cut in half, then thinly sliced in half moons
8 ounces white button mushrooms, thinly sliced
3 cloves garlic, thinly sliced
1 teaspoon chopped fresh thyme, plus 3 to 4 sprigs
2 tablespoons chopped flat-leaf (Italian) parsley
Sea salt
Freshly ground black pepper
3 tablespoons extra virgin olive oil
4 cups packed kale, completely dry, stemmed and torn into 2-inch pieces
1 to 2 tablespoons unsalted butter (or substitute extra virgin olive oil)
4 to 8 large organic eggs
Crushed red pepper flakes (optional)
Preheat the oven to 425° F.
Line two rimmed baking sheets with parchment paper.
Place the potatoes in a medium size pot and add enough water to cover. Add the vinegar (this helps the potato pieces keep their shape.) Set over high heat, cover the pot, and bring to a boil. Reduce the heat to medium-high and cook, partially covered, until just fork-tender, about 5 minutes. Drain well.
In a large mixing bowl, combine the cooked potatoes, onions, mushrooms, and garlic. Add the chopped thyme, parsley, 1 1/2 teaspoons of salt, 1/4 teaspoon of black pepper and 2 tablespoons of the olive oil. Toss to coat completely.
Arrange the vegetables in a single layer on one of the baking sheets. Roast undisturbed until the bottoms of the vegetables are golden brown, 20 to 25 minutes. Flip and roast on the other side, 20 minutes more.
Meanwhile, place the kale in a large mixing bowl and add 1 tablespoon of olive oil. Using your fingers massage the oil well into all the leaves (do not add salt at this stage*.)
*Salting before roasting will bring out the moisture leading to less crispy kale.
Place the kale in a single layer on the other baking sheet. Roast until browned and crisp, 12 to 14 minutes, flipping once halfway through. Season with salt to taste. Set aside.
Melt 1 to 2 tablespoons of butter (use 2 if making 8 eggs) in a large non-stick skillet over medium heat (you can substitute olive oil.) One at a time, crack each egg into a sieve or fine mesh strainer to remove the excess watery part of the egg white. (You can skip this stage if desired.) Gently pour the egg into the skillet and repeat with the remaining eggs. Cook until the whites set and the yoke is at your desired runniness, 4 to 5 minutes.
Spoon a generous serving of the potato and mushroom hash onto individual serving plates, top with 1/4 of the roasted kale, and finish with 1 or 2 fried eggs. Sprinkle with red pepper flakes as desired, and serve.
Calling all HuffPost superfans!
Sign up for membership to become a founding member and help shape HuffPost's next chapter