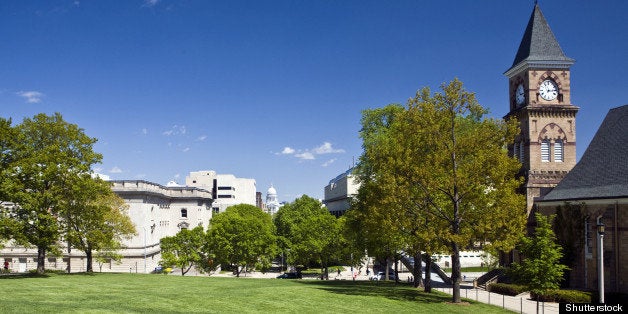 Applying to college is a tricky, time-consuming, and at times frustrating process. There are so many decisions to make all at once, it's difficult to keep your head on straight. From considering your major to figuring out if you'd prefer a small school or a big school, your brain gets quite the workout.
Among the biggest worries for incoming freshmen is the cost of college. With college tuition steadily on the rise, it's becoming more of a struggle for students to find affordable, quality education. The Cooper Union for the Advancement of Science and Art in New York City made headlines at the end of April when it announced that the institution would start charging for undergraduate admission, something that has not been done there for more than a century. While it is shocking to process after such a long history of full-tuition scholarships, it's not the end of free education. If you'd prefer a college without a price tag attached, here are three colleges worth investigating.
1. Berea College: Berea, Kentuck
Berea College was founded in 1855 by abolitionists and is known for being the first interracial and coeducational institution in the South. Founded on firm Christian values that still guide the institution, Berea works toward its vision of the world by fostering an environment that values hard work, academic excellence, and an understanding and supportive community.
The campus is rural, allowing students to appreciate and learn from the natural beauty of the area. With an enrollment of approximately 1600 students, attendees benefit from small class sizes and individualized attention, keeping the focus on active learning, a standard that the college strives for. There are a variety of academic majors to choose from, including performing arts, languages, the sciences, mathematics, business, and philosophy.
When students aren't studying, they participate in Berea's unique Labor Program. All full-time students are required to work in one of the college's labor departments, which are assigned during a student's freshman year with the help of a student questionnaire. After that first year a student can interview for a placement in a different department, and there are over one hundred departments to choose from. Some options include admissions, the science library, nursing, the internship office, and campus life. The student minimum for Labor Program work is ten hours per week, though the student average is closer to 13. Additionally, students are compensated for the work they complete with hourly wages. This money can help to defray the costs of some non-academic fees of college life, including housing, meals, and textbooks. Berea is also highly selective, admitting around twelve percent of its applicants every year.
Students say that the experience at Berea is difficult to describe, because it's so different from anything else they have been exposed to. The work ethic is certainly something to be admired, and students feel that the people they meet and the experiences they have really help to prepare them for the real world. In addition to working, students can also participate in numerous clubs and organizations or study abroad, which the college encourages students to explore.
2. Webb Institute: Glen Cove, New York
Calling all engineers! If a major in Naval Architecture and Marine Engineering sounds interesting, and a 100% job placement rate sounds appealing, Webb Institute is your educational paradise.
Webb enrolls fewer than one hundred students and demands the very best from them. Webb acknowledges that students will need to put in hours of effort to succeed, and their rigorous curriculum attests to that fact. Coursework is comprehensive, challenging, and rewarding. Classes include ship design, thermodynamics, physics, material science, and marine transportation. Fortunately for students, Webb is situated right on the water, so they have access to a private beach, boats, and a 26-acre campus to explore when they're not hitting the books.
Calling all HuffPost superfans!
Sign up for membership to become a founding member and help shape HuffPost's next chapter
BEFORE YOU GO
PHOTO GALLERY
20 Things Not To Worry About Before You Turn 20