This year's theme for National Nutrition Month®, set by the Academy of Nutrition and Dietetics, is "Put Your Best Fork Forward," placing an emphasis on making small, incremental changes to improve diet and overall health. Habits matter, and with limited time, prioritizing healthy choices is something to intentionally work toward for ourselves, families and communities. Here are just a few fun, simple and affordable ideas you can incorporate into your routine to support long-lasting healthy habits.
1. Make a Game out of Your Daily Fruits & Veggies
The USDA's MyPlate and the Common Threads Chef's Plate both recommend that half of a nutritious diet be made up of fruits and vegetables, or about 5-8 servings every day. Painting your plate with color at every meal is a major part of Common Threads' food philosophy, and there are many fun exercises to incorporate more of those colorful fruits and veggies into your diet.
"Use your kids' competitive spirit to your advantage and tell them to see who can eat the most colors during mealtime," said Frances Largeman-Roth, registered dietitian nutritionist (RDN), nutrition expert and author of Eating in Color. "Kids eat with their eyes just like we do. This little game definitely got my picky oldest kid to eat more variety—she wanted to beat her brother!"
Make a bingo board of fruits and veggies and cross one off each time someone tries a new one and see who can fill up their board first! Or bring them to the store and race to see who can collect the most PLU stickers off of fruits and vegetables and track them on this chart. Prepare healthy rewards for the winners to maintain their interest in eating their fruits and vegetables such as letting them pick the dinner menu for a few days.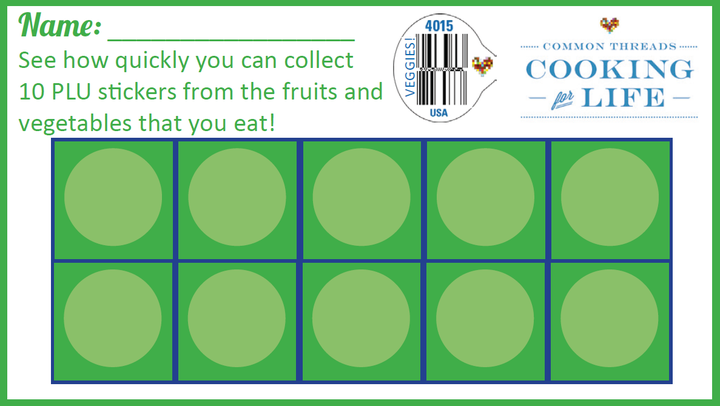 "Take your kids shopping with you," said Douglas Lammie, an RDN and the Health Education Coordinator at UIC's Chicago Partnership for Health Promotion. "Assign them a color and make them pick out a new fruit or vegetable they want to try. Studies show kids are more likely to eat the food when they pick it out."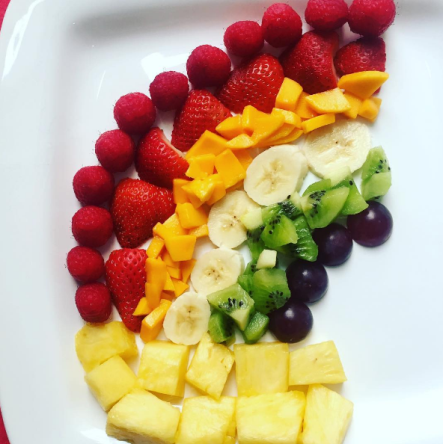 Pay a visit to a local orchard or farmer's market if there is one nearby, and spend some quality time outdoors while picking ripe, fresh fruits and veggies. Shopping with the growing seasons can help you bring the tastiest healthy ingredients into your home for the most affordable prices. In-season fruits and veggies, picked when they are the ripest and freshest on the vine, on the tree or in the ground, taste delicious and retain the essential nutrients we need for long lasting health benefits. Shopping for in-season produce doesn't have to be hard: farmers grow and sell more of these items during that particular season, meaning more products on the shelves, which translates to more affordable prices for shoppers.

2. Don't Stop Eating Your Favorite Food!
Try as we might to eat healthy, there always seems to be that one guilty pleasure food we can't stop craving. Rather than feeling like we have to cut family favorites out of the dinner rotation entirely, we can make some simple tweaks to add more nutrition to those tasty treats.
"Homemade is pretty much always healthier, so if there's something your family really loves, try making it at home," Largeman-Roth said.
Being able to control the ingredients used and the amount of each will make it much easier to enjoy nutritious dinners that the family will still love. For instance, on pizza, try using a whole wheat crust, cutting back slightly on the amount of cheese, or replacing high-fat meat toppings with healthier fresh veggies such as spinach, onions, fresh tomatoes and peppers.
"Make your own pizza sauce, and blend in other vegetables like carrots and squash. It's a great way to boost vitamins and minerals while reducing added sugar," Lammie said.

As the warm weather returns in the spring, seize these opportunities to grill outside during family parties instead of relying on fried meats. Many of my busy foodie friends like Tamron Hall and Chefs Bill Kim and Govind Armstrong rely on grilling for easy healthy meals. Marinating lean proteins and veggies in citrus, vinegar and spices and then grilling them packs serious flavor and satisfaction, like the lemon Dijon marinade used in this grilled chicken recipe from Skinnytaste. For burgers, use turkey or lean ground beef, which are still high in protein but have less fat and salt than regular ground beef. Or use a smaller amount of meat and mix in mushrooms (like in this recipe from Cooking Light) to fill out the patty for a great source of fiber, vitamins and minerals that will add an earthy flavor to your burger.
3. Make SMART Changes to Your Grocery List
"Changing eating habits is hard, and doing too many at once is even harder," said Lammie. "Make Small, Measureable, Attainable and Realistic Goals over a period of Time. For example, switching from whole milk to skim milk is one simple choice that can save hundreds or thousands of calories over time."
Not only will it be harder to eat healthier if you try to overhaul your diet all at once, but your family will certainly take notice when all their favorite foods or snack items are suddenly missing from the fridge and pantry. We often fall back on chips, cookies and crackers because they are convenient and typically inexpensive, but all the added salt, sugar and fat of those snack foods add up if consumed too often. In my house, I try to cut up veggies on the weekend and place them into easy-to-spy clear Tupperware or glass containers in the fridge, which makes the healthy choice easier when we need something crunchy.
Homemade nut blends, trail-mix and air-popped popcorn jazzed up with lemon and parmesan are healthier replacements for snack attack times. We also have a rule in our house not to buy cookies. If we are going to eat dessert, we make it ourselves and savor the flavors, then talk about what we would do next time to make it better. It's a favorite and special time.
Another sneaky snack habit is drinking soda and fruit drinks that are often loaded with added sugars. Instead try more natural juices or flavored waters. You can add some kick to your regular tap water as well by adding simple slices of lemon, cucumber or orange.
"I like to let my kids choose recipes and help me with the easy steps—if they've had a hand in making the food, they're much more likely to try it and like it," said Largeman-Roth.
Families who cook together bond over shared experiences, discover culinary interests and create new traditions. Make meal time a family affair: the planning, the prep, the clean-up, and certainly the time together sharing the table. The pay-off is priceless, and it creates a warm, supportive environment to help make the healthy choice the easy one for you and your family. Here's to "putting your best fork forward!"
Related
Popular in the Community