"The region is superlative in its scenic beauty and measures up fully and beyond the requirements for its establishment as National Monument and later a National Park. It is my personal view that from the standpoint of scenic beauty, it is the finest region in Alaska. I have traveled through Switzerland extensively, have flown over the Andes, and am familiar with the Valley of Mexico and with other parts of Alaska. It is my unqualified view that this is the finest scenery that I have ever been privileged to see."
-- Ernest Gruening, Director of U.S. Territories/Governor of Alaska/United States Senator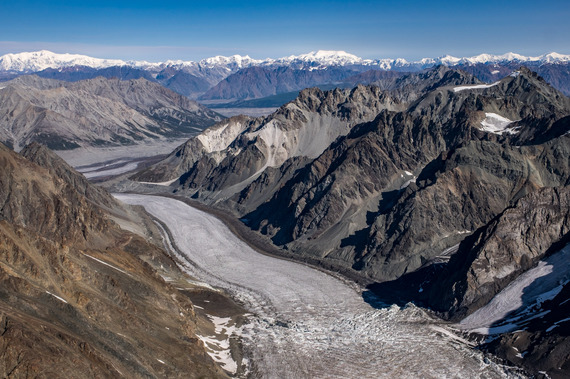 Wrangell St. Elias National Park and Preserve in Alaska from the air, shows the variety of distinct geological features that comprise this amazing region in southeast Alaska--glaciers, ice fields, alpine mountains, moraine, tundra...and that's just what you can see in this photo! Photo credit: Jonathan Irish
Everything about the terrain of Wrangell St. Elias National Park is menacing, from the drive in on McCarthy or Nebesna roads, to the rocky moraine, glaciers, and dense tundra that covers the landscape--you won't have a flat foot for the whole of your stay, if you do it right. It's not easy to explore a park as large as Wrangell St. Elias. It is the largest national park in the entire system--more than 13 million acres--larger than each of the nine smallest states combined and the size of six Yellowstones. It contains nine of the 16 highest peaks in the United States and is home to 60% of the glacier ice in all of America. Fewer than 250 visitors visit the park on average per day (for context, Grand Canyon National Park might have one million visitors at any given time.) It's the remotest of the remote. We could probably write this entire article using superlatives, but we'll stop there and venture off instead into the topic of how much there is to do in this wild mountain utopia.
The rugged high-country is covered year round with snow, a most enticing feature to mountaineers, glacier explorers, ice climbers, and skiers. Where glaciers meet land, the water flows into braided rivers that weave throughout a tundra for people to paddle on and where backpacking is king. Trails are few, allowing experienced hikers freedom to blaze their own trails in backcountry. The diverse range of environments that trickle down from the high mountains opens up a world of hunting, fishing, and paddling opportunities for land-and-water loving adventurers. Cultural explorers get their fill in the historic town of Kennecott, the most accessible area in the park, where a turn-of-the-century copper mine that was all but abandoned in 1938 provides a glimpse into the history of the area and how communities of people came to live there. And to see a vast wilderness that is guaranteed to take your breath away, there are experienced bush pilots operating in the region to soar with you above it all.
For this article, we wanted to outline three awesome adventures in a park that gave us one of our favorite experiences of the year and our lives. We've also included some general info including how to get there. Support in Wrangell, as it is causally called, is days away once you are in the backcountry so it is vital to map a solid plan in advance of your visit. Park rangers and local guide outfits are on location to help you craft a great adventure. Because of its remoteness and challenging terrain, we recommend a guided adventure--which is what we did--to get the most out of your experience in Wrangell St. Elias National Park (check out McCarthy-based St. Elias Guides, the leaders of guided exploration in the area.) With that, a closer look at three awesome adventures!
It is estimated that there are more than 150 glaciers in Wrangell St. Elias National Park, so it is not surprising that glacier exploration is a huge draw to the area. Some like to repel downward into crevasses and moulins, others like to get vertical height by scaling walls made of ice--we opted to do the latter. Ice climbing is very similar to rock climbing but it is done on a glacial ice face. Wearing crampons, a helmet, and armed with an ice axe, you will start from the foot of a wall and work your way upward with the support of a guide or a climbing partner who will handle the belay from below (a belay is a term for a rope support; belaying the act of operating it--a safety net if you fall while climbing the ice.) The nature of this sport is such that it is of moderate difficulty as you will be pulling the whole of your body weight on a vertical wall. We are a testament that with the help of knowledgeable climbing guides, anyone can learn and practice the basics of ice climbing in only one day, which by the end of you will be waving to your posse down below with a huge sense of accomplishment (while cashing in on some killer photo ops for Instagram!)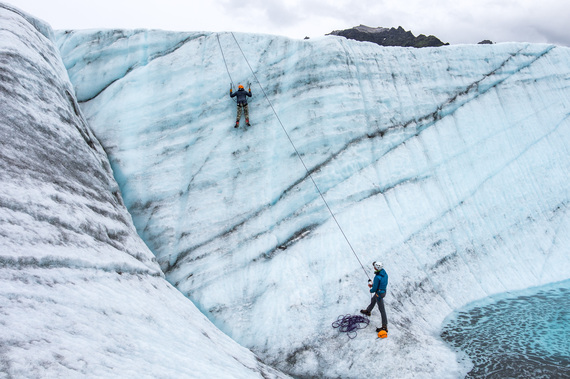 Stef learns to ice climb with her belay support standing below, a technical guide from St. Elias Guides named Kelly, an all-star climber and our backpacking guide through the park. Photo credit Jonathan Irish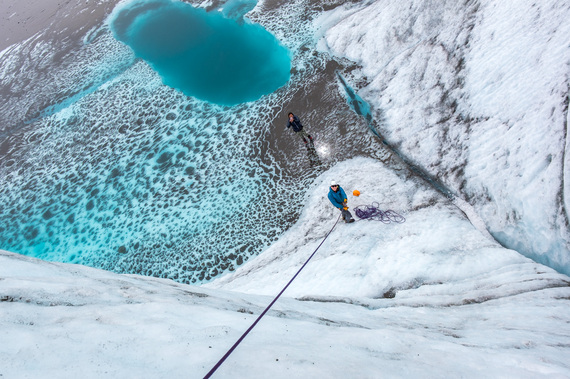 Jonathan's view from the top of a 70-foot glacier wall he just climbed. Photo credit: Jonathan Irish
There are no developed campgrounds in Wrangell St. Elias National Park, so if you want to camp, you'll be heading into backcountry--a most remarkable way to dive headfirst into a remote wilderness experience in this region. Depending on how your backpacking trip is designed, you will face a whole set of different kinds of terrain--thrashing through dense alder brush, challenging rocky moraines for traction, and walking on crispy glacial ice--it's like walking on a different planet. Our 5-day glacier/tundra backpacking adventure unexpectedly turned into a technical backpack as we had to incorporate ice-climbing techniques using crampons, an ice axe, and climbing rope to bypass unexpected obstacles (vertical glacier walls) while route finding our way across the Kennicott Glacier. It's a good thing we learned some ice-climbing basics on day one. Yeehaw Alaska! There was no shortage of spills, cuts, bruises, blisters, headaches, lost and broken gear, lessons learned, and friendships formed along our journey--it was a most glorious foray into the Wrangell backcountry, a place that rightfully draws outdoorsman from all over the world.
A flightseeing tour over Wrangell St. Elias will immediately open your eyes to how rough, wild, and vast America's largest national park really is (and how tiny you are in comparison.) From this aerial vantage point you will see glacier after glacier, sharp mountain peaks, braided rivers, tundra landscape, and wildlife peaking out from its depths. One great reason to hop on a bush flight is to see the Bagley Ice Field, the largest sub-polar glacier in North America. It is among the most impressive features in the park, geographically speaking, one that you otherwise probably wouldn't see unless viewing it from the air. Talk about lending context to the experience of exploring the park on foot.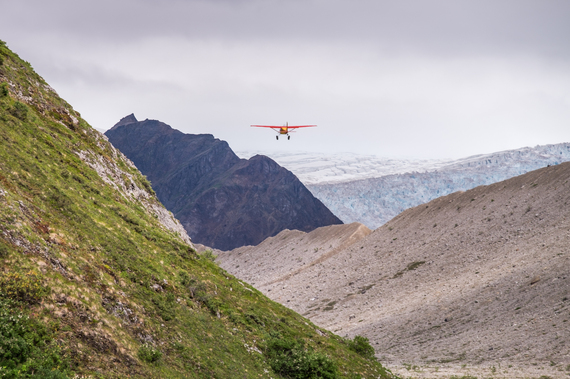 Flightseeing in Wrangell St. Elias National Park with Wrangell Mountain Air. Photo credit: Stefanie Payne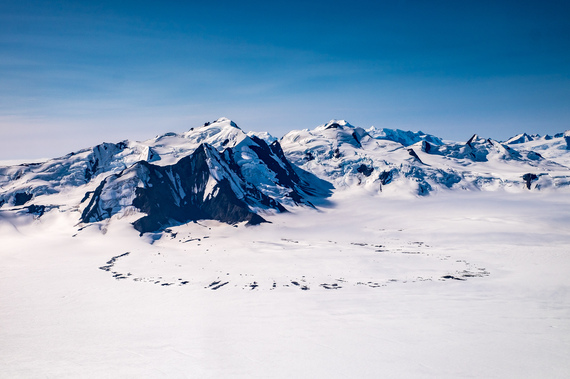 From the vantage point of the air, you start to get a sense of the massive scale, and just how rugged and remote this area of the Alaskan wilderness really is. Pictured here, the Bagley Ice Field. Photo credit: Jonathan Irish
How to get there: Wrangell St. Elias National Park & Preserve is one of only three national parks in Alaska (there are eight in total) that is accessible by private vehicle, though it is not always an easy road to get there. The central landing spot in the park is in the town of Kennecott, where you will find the park visitor center that resides in the relics of more than 40 restored abandoned mine sites (where the National Park Service offices are also located.) Kennecott is located just a couple of miles from the start of the Root Glacier and will be the jumping off point for most of your backcountry- and glacier-based adventures. To get there, you will need to either fly in from adjacent towns or drive in on one of two primitive roads--Nebesna and McCarthy roads. Both are rough and tumble, both are an experience in and of themselves, and both are managed by the state of Alaska rather than the park service--though do check in with the park service in advance to get a status of driving conditions, recommendations for RV's and travel trailers, and always carry a spare! Nebesna Road is 41 miles of gravel road starting in northern town of Slana. McCarthy Road is 61-miles long starting in the western town of Chitina. It is potholed, pockmarked, washboard, and is not regularly maintained. We took a leap of faith and drove the road with Wally the Airstream in tow--it is where he endured his first flat tire of the year!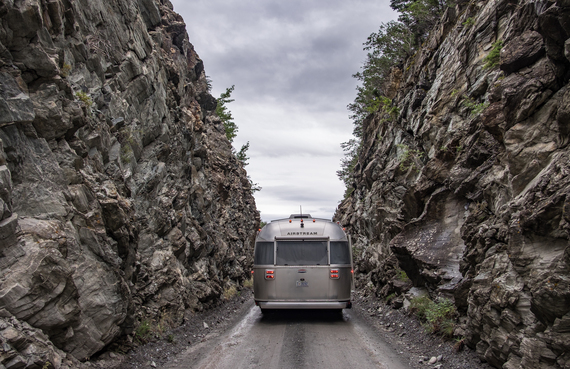 Starting the long, brain-shaking drive down McCarthy Road into the heart of Wrangell St. Elias National Park with Wally the Airstream in tow. Photo credit: Stefanie Payne
Happy trails and safe travels everyone!