Cranberry cocktails, pumpkin-spiced martinis...'tis the time of year when the party invitations are flowing! With that, there's the potential to need several dresses and shoe pairings within a week for different soirées -- the annual work event, the family gathering, the cocktail party and more.
Enter three remarkably versatile dress styles that widely flatter a range of women's body types. At zulily, we delight in helping you discover unique and unexpected items that celebrate your personal style. You'll be amazed how these gowns really look fabulous on nearly everyone as I recently showcased on the Rachael Ray Show. We tried the same three dresses on three different models: hourglass, boyish, full figure.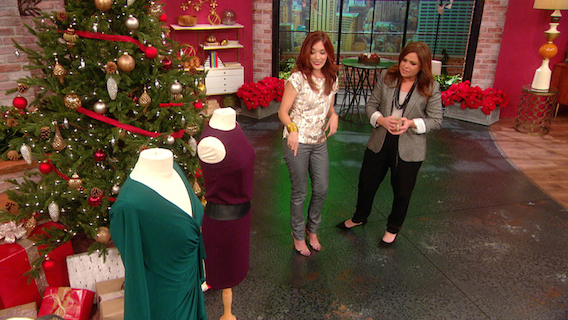 The women and the audience simply couldn't believe the results! Read on to see how this was possible, and why you're likely to find that these general styles will work for you too.
FIT-AND-FLARE DRESS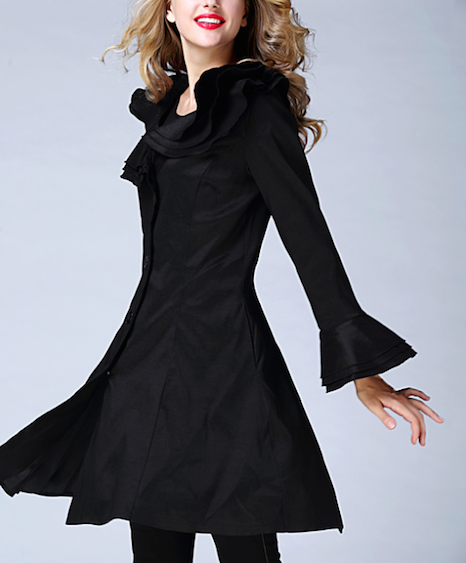 As it sounds, this dress is fitted on top and flared on the bottom and is great for work parties as you don't have to worry about pulling up the neckline or tugging down the hem to be appropriate; you'll be stylish and professionally attired in front of your boss and co-workers.
Boyish: This worked on our boyish figure Claire by adding curvature and femininity to the lower half of her straight, up-and-down body. Furthermore because of the fitted top, it defined her waist. Claire added she loves the ease of being able to throw on such a put-together, tailored look that didn't need anything else.
Hourglass: For Angela who has beautiful curves, this dress simply emphasized them even further because it highlighted her waist, while the structure of the boat-neck neckline drew in her upper half, thus keeping things in balance.
Full Figure: In Kylan's case, the first thing I saw was the vertical pattern, which works in tandem with the box pleats that lie flat to elongate and lengthen her look. Always look to see how a pattern can further emphasize the cut of a dress to work in your favor.
RUCHED DRESS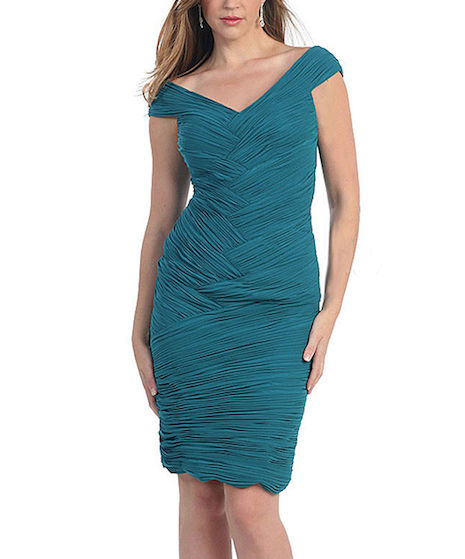 Ruching is a technique of sewing gathers and folds into fabric that serves magically to add volume where you need it and subtract where you don't, all while camouflaging that which you wish to hide. This is a lovely option for family gatherings because if your family parties resemble mine they center around food, and with ruching the creases and folds expand with me while I eat!
Full Figure: The ruching of the dress starts right at Kylan's breastbone, and thus creates this gorgeous high-waisted Empire that showcases her long legs -- this line further emphasized by an asymmetrical, vertical ruffle. The ruching is like a secret slimming weapon because it sucks you in, thus smoothing out her stomach. Because of the fabric as Rachael pointed out, you can easily travel with the dress because it never wrinkles (or as Kylan added, her kids can tug on her and everything will snap back into place!).
Boyish: Here the folds of the ruching adds volume and thus the curves we need for Claire's figure in addition to a touch of softness to her angular frame.
Hourglass: Angela's chest gets a huge lift from this gown, so her hourglass shape is hugely celebrated. Also the longer hemline and three-quarter-length sleeves make her appear taller.
The blouson is fitted on the bottom and blousy on top, so nearly the opposite of the fit-and-flare. An adjustable waistline means you can accommodate for short or long-waisted body types. This on-trend style is great for cocktail parties and its shorter hemline is perfect for evening.
Hourglass: Angela's naturally short waist can be adjusted in this blouson gown by pulling down the waistline and giving her better balance, suggesting a longer and leaner look that opens up her torso. Angela proclaimed she adores this dress and says it makes her feel sexy!
Boyish: For Claire, the bottom is fitted and the top has the blouson blouse effect, thus adding a soft, flowy feeling to her upper body.
Full Figure: Kylan doesn't have a defined waist, but the black, faux leather panel that is built into this dress accents her waistline perfectly.