Leafy greens are lovely year-round, but in the colder months we crave more from our salads -- hearty vegetables and winter fruits. These three cold-weather favorites satisfy those cravings while also offering lively flavors and crunch.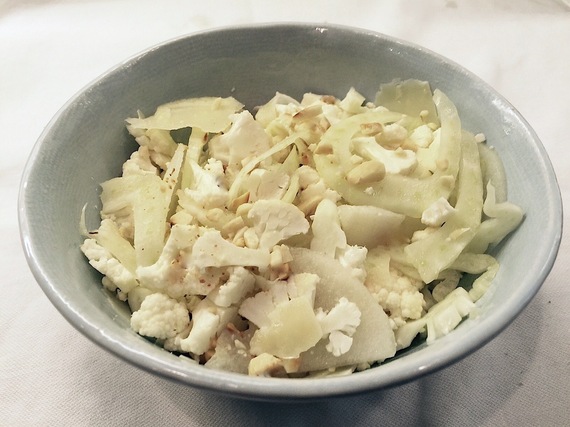 Cauliflower is having its moment right now, but we were introduced to shaved cauliflower salads a couple of years ago by Serge Madikians of Serevan (our favorite Dutchess County restaurant), and we immediately fell in love. This salad is fresh and light, a wondrous blend of anise flavored fennel, crunchy Asian pear, and nutty-fruity Parmesan cheese. Just forget the rule that deep-colored vegetables are the healthiest -- cauliflower rivals kale in health benefits.
(4 servings)
1/3 cup slivered almonds
4 tablespoons white balsamic or Champagne vinegar
1 1/2 teaspoons Dijon mustard
4 tablespoons walnut oil (or grapeseed oil)
Kosher Salt
White pepper (or freshly ground black pepper)
4 cups shaved cauliflower (very thinly sliced with a mandoline or a knife)
1/2 cup shaved fennel (very thinly sliced with a mandoline or a knife)
1/2 Asian pear, peeled and cut into thin slices
1/3 cup shaved Parmesan cheese
Place the almonds in a small dry skillet over medium heat. Cook until they just begin to brown, shaking the pan and stirring so they do not burn, 4 to 5 minutes. Transfer the nuts to a plate to cool. Chop roughly and set aside.
In a small mixing bowl, or a jar with a tight lid, combine the vinegar, mustard, oil, 1/4 teaspoon of kosher salt, and 1/8 teaspoon of pepper. Whisk or shake vigorously until emulsified.
In a salad bowl, combine the cauliflower and fennel. Add some of the dressing and toss gently. Add the toasted almonds, Asian pear, Parmesan cheese, and more dressing to taste, and toss once more. Season with salt and pepper and serve.
Mesclun Greens with Persimmons, Pistachios, and Manchego Cheese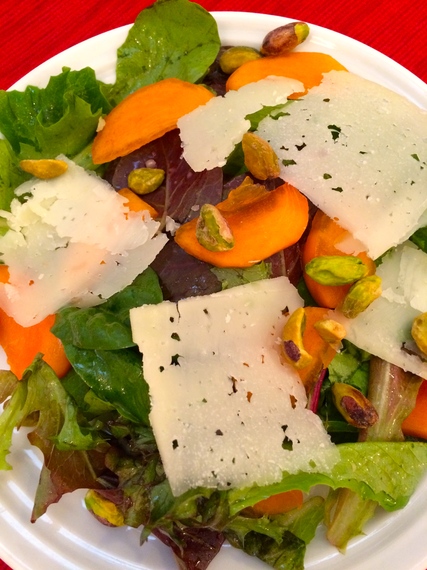 We love adding fruit to our greens and we're thrilled that it's Persimmon season once again. Referred to as "the fruit of the gods," persimmons are deliciously sweet with a delicate, honey-like flavor.
For years, persimmons were not a fruit our family was familiar with. It was that exotic one that would turn up in a fruit basket and we weren't exactly sure how to eat it -- how do you know when it's ripe, do you eat it whole, does it need to be peeled? After some experimentation, we determined the Fuyo persimmons (as opposed to the Hachiya) would work best in a salad. Paired with the toasted pistachios, and the rich and slightly salty Manchego cheese, the combination of these flavors together are scrumptious.
(4 servings)
3 tablespoons shelled pistachio nuts
Sea salt
1 tablespoon Champagne vinegar
2 teaspoons very finely chopped shallots
1/2 teaspoon Dijon mustard
3 tablespoons extra virgin olive oil
Freshly ground black pepper
5 ounces mesclun greens
1/2 cup shaved Manchego cheese
2 firm but ripe Fuyo persimmons, peeled, halved, and sliced into thin wedges
Preheat the oven to 350° F.
Spread the pistachio nuts on a baking sheet in a single layer. Bake until fragrant, about 7 minutes. Transfer to a plate to cool.
In a small bowl add 1/8 teaspoon of sea salt, the vinegar, and shallots and mix well.
Add the mustard, olive oil, and black pepper to taste. Whisk until emulsified.
Place the mesclun greens in a large salad bowl. Add half of the persimmon slices. Pour half of the dressing over the greens and persimmons and toss. Add more dressing to taste and toss again.
Place the dressed greens on individual salad plates. Arrange the remaining persimmon slices on each salad, sprinkle with pistachio nuts, top with the Manchego cheese, and serve.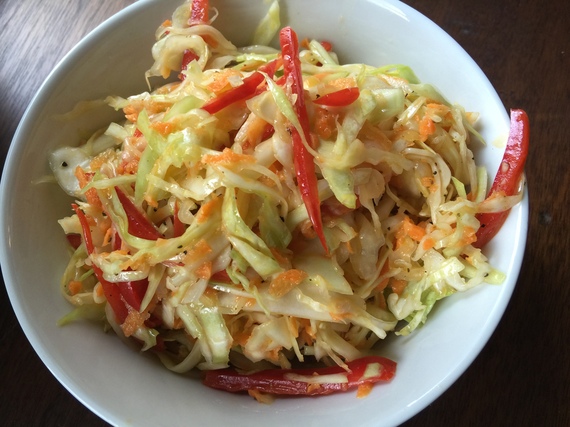 In this wonderful era of uncommon salads, cabbage slaw is often overlooked -- and it shouldn't be. This is a delicious, light, and healthy coleslaw you can feel guiltless about eating and serving. We love it paired with a whole host of different dishes and cuisines--from barbecue, to Mexican dishes, to veggie burgers, to pulled pork. And of course it stands alone as a terrific salad. What we like even more -- this is a terrific recipe to make ahead because it tastes just as good, or even better, the next day. This is a great side dish to add to your repertoire.
For the Dressing
1/2 cup apple cider vinegar
3 tablespoons white balsamic vinegar
1/4 cup extra virgin olive oil
1/2 teaspoon celery seed
2 teaspoons Dijon mustard
1 teaspoon raw cane sugar (or granulated sugar)
1 teaspoon sea salt
Freshly ground black pepper
For the Slaw
6 cups shredded green cabbage
1 cup shredded carrot
1/2 cup julienned red pepper, 1 1/2- to 2- inch slices
For the Dressing
In a glass jar with a lid or in a small mixing bowl, combine all the dressing ingredients. Shake the jar vigorously or whisk in the bowl to emulsify.
For the Slaw
In a large mixing bowl, combine the cabbage, carrot, and red pepper. Add 1/2 cup of the dressing and toss well. Add more dressing, as needed, to taste. Season with additional salt and pepper and serve.
Calling all HuffPost superfans!
Sign up for membership to become a founding member and help shape HuffPost's next chapter