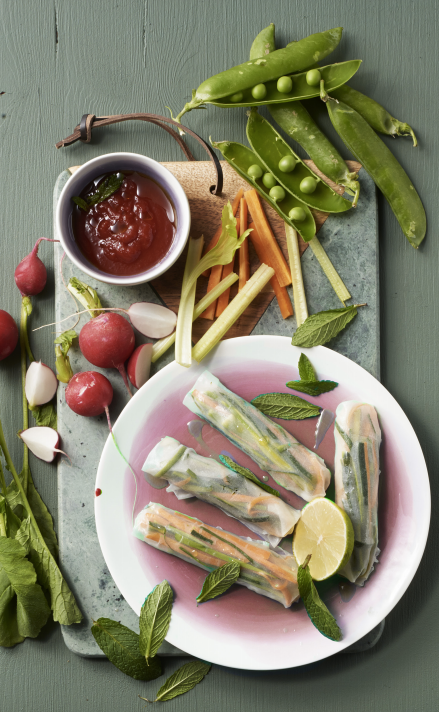 In the plethora of diets out there, no nutritionist has ever said that veggies are bad for you. Eat seasonal ones that are perfectly ripe, full of flavor and not too watery.
VIETNAMESE ROLLS (Serves 4)
8 sheets of rice paper (about 20 cm/8" in diameter)
100 g (3.5 oz) mixed sprouts (alfalfa and radish)
1 tsp grated fresh ginger
1 small chopped spring onion
2 tbsp extra virgin olive oil
For the sauce, blend all the ingredients until smooth and refrigerate. Trim and julienne the vegetables; grate the daikon. Place in a bowl, add the sprouts, and toss with oil and salt. Set aside. For the rolls: soak the rice sheets one at a time in hot water until soft. Transfer to a work surface and fill with the vegetables. Gently fold the edges towards the inside and roll up to close. Serve with the sauce and other raw vegetables.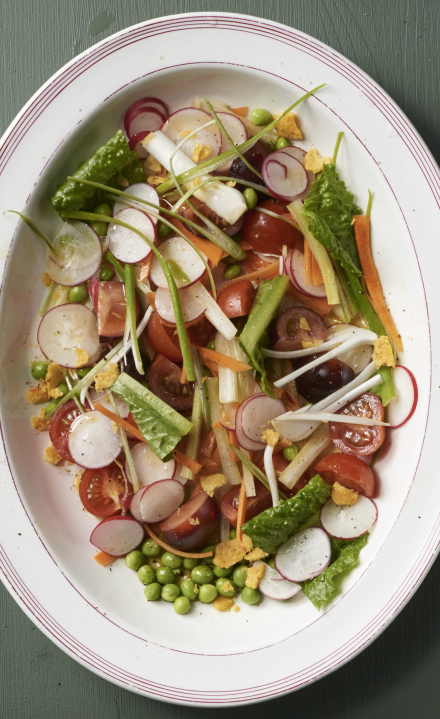 250 g (9 oz) cherry tomatoes
50 g (1.75 oz) corn chips
For the citronette: 4 tbsp extra virgin olive oil 1 tbsp soy sauce 1 tbsp sugar juice of 1 lemon 1 small piece grated ginger salt and pepper Shell the peas and cook for 1 minute in boiling water (they should be crunchy). Drain and set aside to cool. Prepare the citronette: put all the ingredients in a jar with a screw top and shake to blend. Trim the vegetables, slice and arrange on a platter. Add the peas, the chopped basil and mint, and dress with the citronette. Crush the corn chips, sprinkle over the top and serve.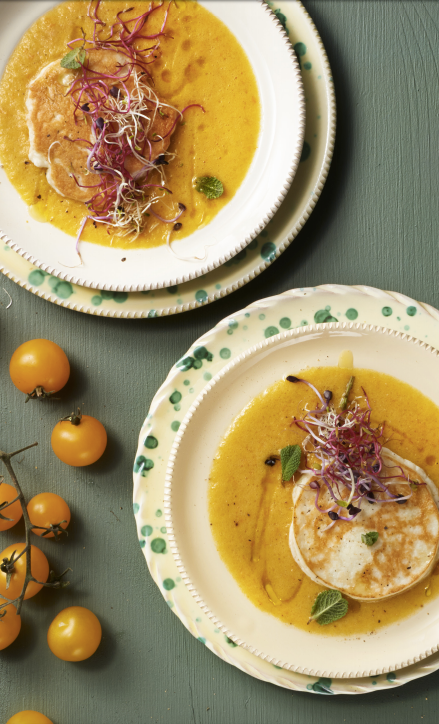 YELLOW TOMATO GAZPACHO (Serves 4)
500 g (17 oz) yellow cherry tomatoes
20 g (0.7 oz) toasted almonds
100 g (3.5 oz) grated Grana and Pecorino cheese
2 tbsp extra virgin olive oil
Peel and coarsely chop the vegetables. Place in a blender. Add the almonds, water, sugar, oil, vinegar and a teaspoon of salt and blend until smooth. Refrigerate for 30 minutes. In a bowl, beat the egg white and blend in the grated cheese. The mixture should be moist and well blended. Roll the mixture into four balls. Heat a nonstick pan, press the egg-white balls and add to the pan. Cook on both sides for a few minutes until brown. Serve the gazpacho with the hot cheese balls, sprouts and a little freshly ground pepper.