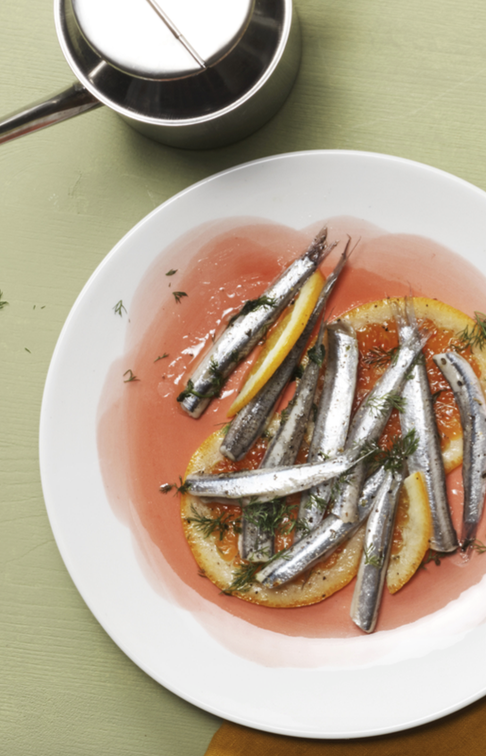 Between cooked and raw, there's marinating, an age-old technique that's also healthy. It gives food flavor and makes it digestible and healthy, without any condiments—with the exception of extra virgin olive oil. Sometimes meat and fish get marinated before cooking to tenderize them and add flavor. But acidic substances— generally vinegar, rice wine, and lemon or lime juice—also "cook" the food, so they can be eaten without further ado. There's just one proviso: the meat and fish have to be super-fresh. And be sure not to marinate them in metal bowls, as acids react with metal and release harmful substances. Use glass or glazed porcelain bowls and, to stir, wooden spoons.
ANCHOVIES MARINATED WITH FENNEL FRONDS (Serves 4)
500 g (17 oz) fresh anchovies 3 lemons
1 clove garlic
a sprig of fennel fronds 1 tsp oregano
extra virgin olive oil
salt and pepper
Clean the anchovies, and then rinse and dry them. Put them on a plate large enough to hold a single layer. Pour the lemon juice over them and let them marinate for an hour in a cool place. Drain and pour plenty of olive oil over the top. Add salt, pepper, chopped fennel fronds, oregano and garlic (if desired). Set aside for 30 minutes before serving.
For a less spicy marinade, remove the spices after one hour. Serve with meat or cheese kebabs.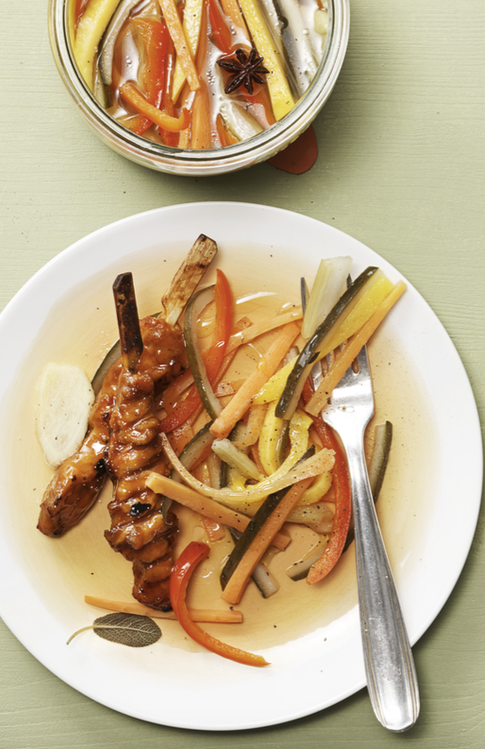 ACHAR (BRINED VEGETABLES AND FRUIT) Serves 4/6
2 peeled carrots
1 seeded cucumber
1 trimmed and seeded red bell pepper
1 peeled shallot
1 mango
1 green apple
350 ml (12 fl oz) white wine vinegar
125 g (5/8 cup) sugar
2 star anise pods
1 stick cinnamon
6 slices fresh ginger
4 cardamom pods
Julienne the carrots, cucumber and pepper. Peel the mango and the apple, and slice. Cut the scallion into thin slices and arrange all the fruit and vegetables in a bowl. Toss and set aside. Put the spices in gauze, and place them in a pan with the vinegar, sugar and a pinch of salt. Simmer for a few minutes. Pour the hot marinade over the fruit and vegetables, and refrigerate for one day, stirring occasionally.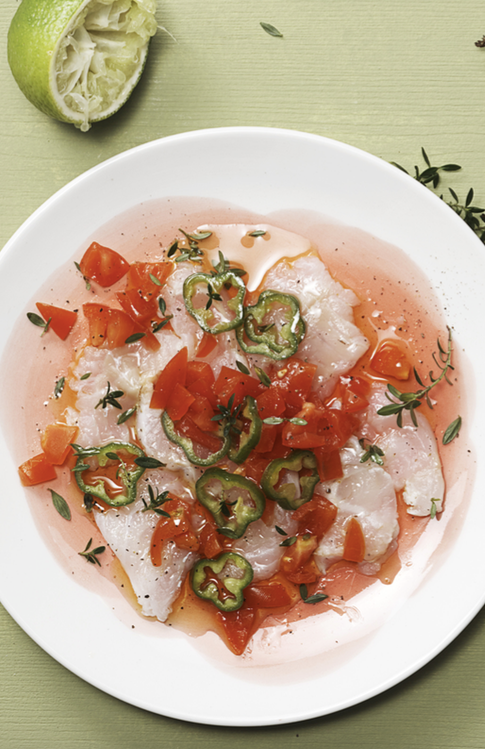 CEVICHE (Serves 4)
400 g (14 oz) fish
juice of 1 lemon or lime
grated lime zest
1 small onion
1 sprig parsley and cilantro
1 small chili pepper
1/2 tsp brown sugar
100 g (3.5 oz) cherry tomatoes extra virgin olive oil
salt and pepper
For the marinade, place the lime and lemon juice, sugar, some of the chopped herbs, the chopped onions and the sliced chili pepper in a bowl. Slice the fish, arrange it on a plate and pour the marinade over the top. Refrigerate for 3 hours. Cut up the tomatoes and remove the seeds. Serve the ceviche with the chopped cherry tomatoes, the remaining chopped herbs, the lime zest and a little salt and pepper.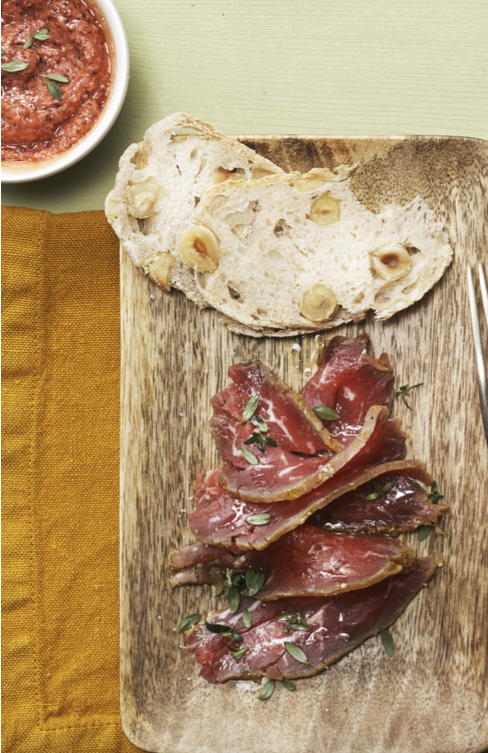 FILET WITH AROMATIC SALT (Serves four)
1 beef filet weighing 500 g (17.5 oz)
chopped aromatic herbs (rosemary, sage and thyme)
2 tsp ground spices (nutmeg, cinnamon, cumin, cloves)
1 box coarse salt
3 tbsp brown sugar extra virgin olive oil
Rub the spices into the filet, covering it evenly. Mix the coarse salt, herbs and sugar in a bowl (this will keep the meat moist, as only salt would dry it out), and then place a handful of the mixture in a casserole dish. Place the meat in it and cover with the rest of the aromatic salt. Cover with aluminum foil and refrigerate for 24 hours. Scrape off the excess salt with a fork. Slice the beef, drizzle olive oil over the top, and serve with a selection of sweet and spicy sauces.