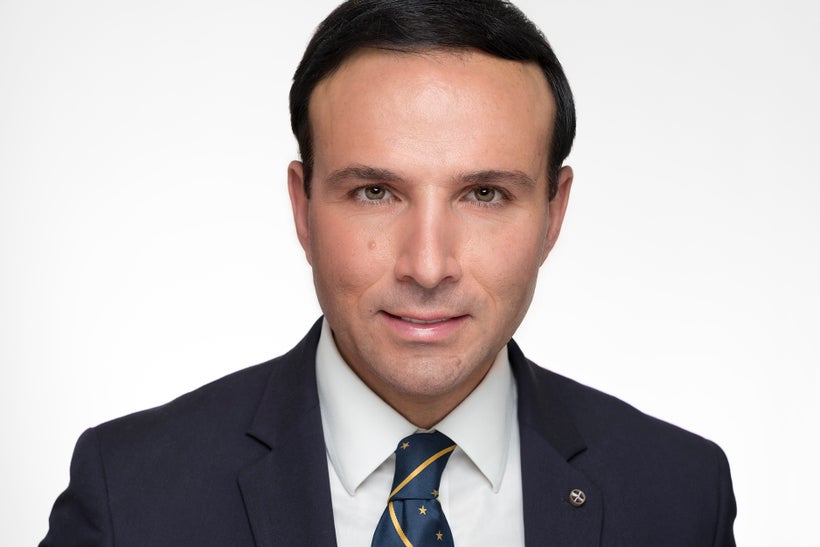 Welcome to Ideagen Radio! I am thrilled to welcome back George Sifakis, former Assistant to the President and Director of the Office of Public Liaison. George, welcome back to Ideagen as Global Chairman CEO. It's incredibly exciting to have you back here at Ideagen and taking the helm. I know there's tremendous excitement both from our team and across the planet with Ideagen members.
Well thank you so much, Leif. It really is an exciting moment in time and so excited to be back and taking the helm as Global Chairman and CEO of Ideagen beginning today! It's a very exciting moment!
It is indeed. What inspired you to create Ideagen so many years ago George?
Well, years ago, Leif, we sat down with our board in Washington ... brilliant minds, like former Congressman Louis Stokes, former United States Surgeon General Ken Moritsugu, former Verizon Foundation President Patrick Gaston, and others ... and having built countless strategic partnerships across sectors, really since 2004, we sat down and said, "How can we create something that can create systemic change to address many of the world's most vexing issues?" And out of that resulted Ideagen.
That is absolutely inspirational. How did your role as Assistant to the President of the United States and Director of Public Liaison continue to inspire you as you worked to engage the incredible range of individuals and organizations engaging with the White House.
You know, it's always an incredible privilege to work in government and especially in the White House. This second time around for me, having worked in a previous Administration, and having done it again ... it's an incredible honor, always, to serve your nation. And the ability to have and understand the importance of engaging across sectors and helping connect the dots is really important. And recognizing that no one entity can do it on its own to address many of the nation's issues and/or concerns, so it's a critical role and one that I enjoyed. And really found to be rewarding on many different levels, engaging with incredible individuals across the country.
That indeed sounds like a critical role. What would be the key lessons and vantage points will help you successfully carry out your new role at Ideagen?
Well as I look at my new role at Ideagen globally, and stepping in as Global Chairman and CEO, I think it's important to recognize that no one entity, whether it's a major company or the government, or an NGO, can do it alone. No one can do it alone, and I think what is amazing is that I think folks are recognizing from across sectors that collaboration is absolutely vital to addressing many of the world's most vexing issues and I think the whole embedded nature of cross-sector collaboration in Ideagen ... it's what really excites me to be back. I think it's an incredible moment in time, and I think that there are so many issues facing the planet that it's going to be an amazing moment in time as we prepare now for the upcoming Annual Global Innovation 2030 Summit in San Francisco. We'll be looking at innovation ranging across the board leading into 2030, and I think we can project out and look at what types of solutions organizations can bring in, and then help to systemically catalyze those from a cross-sector vantage point.
Speaking on innovation, how do you see Ideagen effectively innovating and possibly affecting the world?
Well, that's a great question. And I think for Ideagen, the whole role of Ideagen as I see it moving forward is to bring together the world's leading CEOs, companies, NGOs, public sector brands, and really catalyzing around solutions to major issues. And/or issues that others from across the sectors can help to address to make the world a better place. So as we look at the innovation that Ideagen will bring forth, what excites me most is the ability to bring the world's most brilliant minds together to help address many of the world's most vexing issues as I've stated.
Looking at the future, how is Ideagen taking approach to address the world's most vexing issues to create those solutions?
Well, what Ideagen will do in the future is ask organizations to bring forth whatever solutions they are seeing, working on, pursuing, demonstrated, etc. and then help to catalyze those across other members and sectors so that there can be a systemic impact. And so that catalytic element that Ideagen will bring to the table, I think it's one of the most innovative, and one of the most impactful elements that we'll be working on in the future. Our goal is simply for Ideagen to be the world's number one convening destination for the world's leading CEO's, companies, NGO's and Public Sector leaders to innovate and collaborate.
And the impactful elements, what areas do you see Ideagen pursuing to really focus on that around the world for the change we are looking for?
As we're looking at 2018, we're looking at innovation, we're looking at leadership, the second summit in the series will be Global Leadership 2030, and looking at what types of leadership will be necessary to drive forth solutions to the world's most vexing issues. Leaders lead and setting the tone for where the solutions lie will really be the most important and most critical element of what Ideagen can help bring forth vis a vis the companies, NGOs, and public sector organizations that are actually working on these issues on a day to day basis.
Speaking of those critical elements, why is cross-sector collaboration and innovation so vital to helping to solve many of the world's most vexing issues, and to go further, how will you and Ideagen infuse that into your daily mission to successfully achieve these goals?
Well, we've had the opportunity when I was last at Ideagen and now, thankfully, to be back, to see the catalytic impact of bringing together folks from across sectors that typically would not be sitting next to each other. And I think and believe based on what I've seen and what I believe to be the future for Ideagen is that when you bring folks together that normally wouldn't be sitting together in a room where they can share solution sets and discuss areas for collaboration, from a cross-sector viewpoint, I think incredible impact takes place. And you can only do that by bringing together folks from across sectors because it brings together folks that would normally not be sitting next to each other in a room to help address many of the world's most vexing issues, so it's a vital element and another critical important role embedded in Ideagen in the future as I see it.
And what are the three key lessons that you've learned that have the potential to change the world?
Well that's a great, great question, and one that I used to ask folks on interviews just like this. One of the three key lessons I've learned is a term we coined years ago referred to as "zero degree," so, meeting in person, that zero-degree connectivity of organizations from across sectors is vital to help build trust and a common language. I think that is one absolutely critical role and element.
Another one is that, and this is a personal one, but for me, what I've learned is that, and again looking at it from a perspective of what we try to teach our kids, is that work is a privilege. And if you approach that every day, it's amazing what can take place, that every single thing you do, no matter what it is, is a privilege. And today, as I step into the Global Chairman and CEO role of Ideagen, I view it as an incredible privilege, so this is an incredible moment in time.
And the third is, again, to reiterate the importance ... what I've learned is the importance of cross-sector collaboration is vital. It's vital in any industry to look at others, to look at other industries, to not think that you can do it alone because there again is now a recognition that you cannot. And that power of that collaboration piece, especially when you're looking at it from a collaborative solution set, is absolutely vital. So those are the three key lessons I would say I have learned throughout my lifetime.
Three very powerful lessons. And so what is up next for you and Ideagen?
Well, Ideagen will be focused beginning today on highlighting and addressing solutions to many of the world's most vexing issues as we convene again the world's leading CEO's, brands, companies, NGOs, public sector organizations, cross-sector, with a cross-sector focus, across the country and across the world, to make the world a better place.
And how can folks find out more information about Ideagen?
Very simple, it's www.idea-gen.com.
George, thank you very much for taking the time for this interview. I look forward to your new role and leadership as Global Chairman CEO of Ideagen.
Leif, thank you so much. I look forward to working with you and the amazing Ideagen team to address many of the world's most vexing issues. It's an honor and a privilege.
All right, thank you very much, George, likewise.
Calling all HuffPost superfans!
Sign up for membership to become a founding member and help shape HuffPost's next chapter
This post was published on the now-closed HuffPost Contributor platform. Contributors control their own work and posted freely to our site. If you need to flag this entry as abusive,
send us an email
.