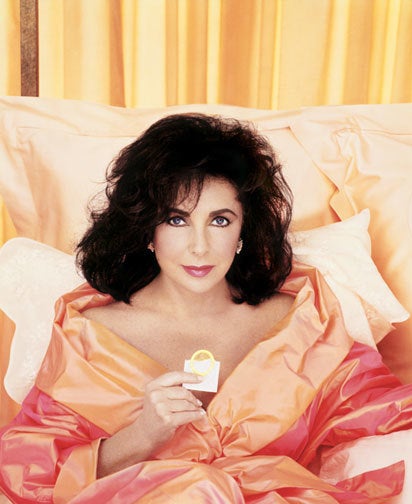 I always knew that I had one thing in common with the legendary Elizabeth Taylor. Our extraordinary love for exotic stones. While she chose to wear hers, I marveled in designing mine. What I didn't know at the time was that I actually had two things in common with her – stones and the innate desire to mentor.
In my twenties, I left Boston behind to start a new journey in Hollywood. I had no clue how to go about pursuing my dream of running my own management firm. It wasn't until I snagged a role at Levine and Schneider, one of the most prestigious publicity firms in Los Angeles that I truly began to learn the industry soaking everything in.
Oftentimes, a man with one of the most exotic names that I have ever heard, Firooz Zahedi, would call the office. His name was magical; I used to sing his name under my breath, making it twelve times longer than it was – and so did the marvelous Elizabeth Taylor - Faaaaroooooozz Zaaaaaahhhhhiiiidddiiiii.
Firooz, one of most talented photographers in the celebrity market, recently held a book signing at one a charming bookstore on the Sunset Strip in Los Angeles called Book Soup. His book, My Elizabeth, reminds me of Elizabeth's beautiful mentoring story.
In his book, Firooz credits his success to his mentor, Elizabeth.
"I realize that in telling the story of our friendship, I am also shedding light on the story of my own life and career as a photographer, which Elizabeth helped cultivate. It is the story of how one of the world's most famous and beautiful women befriended an insecure young man, helped him overcome his fear, and encouraged him to pursue his childhood dreams. Elizabeth Taylor shaped my destiny in myriad ways and became a combination fairy godmother, mentor, and dear friend" - Firooz Zahedi
Elizabeth embodied mentoring despite all the physical issues she had. She dedicated her life to saving others, giving back, and encouraging everyone else to do the same. In the world of mentoring, we can learn from Elizabeth in three key ways:
A mentor and role model on many levels, Elizabeth became the first celebrity to openly discuss her drug addiction and courageously allowed herself to slip into rehab. Elizabeth wasn't scared to talk about things that everyone else avoided. She openly discussed her addictions. She also broke the silence on HIV and AIDS through mentoring in the early days of the AIDS epidemic and her work with The Elizabeth Taylor AIDS Foundation.
In 1984, it was the death of her close friend, Rock Hudson, that showed the world what a powerful and gracious humanitarian looks like. When Rock died from an AIDS related illness, Elizabeth was appalled at how taboo and unsympathetic many were to this ghastly disease. Elizabeth connected with Doctor Mathilde Krim, and together, they sought out to mentor people. They joined forces with a prestigious group of people to form The American Foundation for AIDS Research (amfAR). This organization is now the leading international non-profit that supports HIV and AIDS research.
2. Lead Groups, but also Focus on Mentoring Individuals
In 1991, Elizabeth started her non-profit, the Elizabeth Taylor AIDS Foundation. In her work with this foundation, she was able to eradicate much of the fear and isolation around HIV and AIDS by filming public service announcements, as well as attending and speaking at the United Nations. While Elizabeth mentored the public in a grand way in terms of AIDS awareness, it was her mission to help guide individuals in her life as well.
In his book, Firooz opens up about how Elizabeth changed his life. She was a woman who was very down to earth –humble with a contagious generosity. When Firooz was confronted by his parents for breaking away from the plans they had for him to follow his passion for the arts, Elizabeth stepped in to offer him an opportunity to photograph her in Vienna.
Firooz writes, "Now all I had to do was convince my father to give me the money to buy a ticket to Vienna. After some hesitation, he gave me the money and I will always be grateful that he loved me enough to be supportive even when my plans didn't match the ones he had in mind for me."
After arriving to Vienna, Firooz felt a bit unprepared for the job that his famous friend had just assigned to him. He was terrified of letting her down.
"I was feeling a little insecure, but took heart from Elizabeth's faith in me. I took a deep breath, ready for a challenge" he writes.
Today, Firooz is wildly successful because of the impact Elizabeth had in his life and the guidance she provided.
Elizabeth took many risks, from hiring Firooz as a photographer, opening up about addiction, and taking a stand on AIDS and HIV awareness.
In 1992, Firooz photographed Elizabeth for Vanity Fair magazine holding a condom (pictured above); as Firooz explains, "she wasn't warning against sex, she was just making sure one went about it in a safe way." Elizabeth pushed boundaries to create more awareness of HIV and AIDS, and she also visited areas of the world not commonly traveled.
With Firooz, Elizabeth traveled to Iran, she shopped in the bazaars, drank tea in the tea rooms, had a run at the hookah bar, and even saw the ruins of Persepolis. Persepolis, lies at the foot of the Kuh-e-Rahmat (Mountain of Mercy) in South-Western Iran, one of the greatest archaeological sites in the world. Being a great mentor, like Elizabeth, involves taking some risks and she sure wasn't afraid to do that.
As we celebrate The Elizabeth Taylor Foundation's 25th anniversary, it's important to recognize that as a result of Elizabeth, her foundation, and those she mentored, the foundation has "granted $17 million to more than 675 organizations in 44 countries and 42 states in the U.S."
Just as Elizabeth guided those around her and spread awareness about AIDS and HIV, we should aim to do the same with mentoring. These acts of courage, friendship, and risk-taking inspire me every day.
Remember, mentoring is simple. You just have to be willing to listen, inject a few ideas, and extend a few opportunities. Channel your inner Elizabeth Taylor.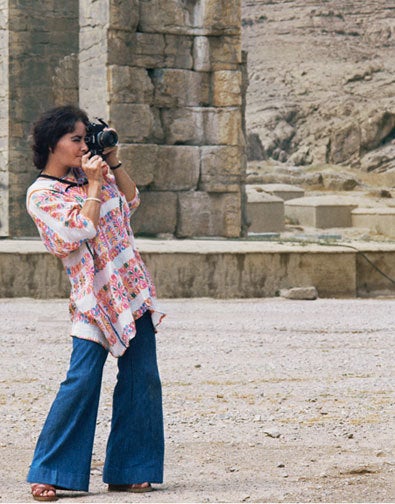 REAL LIFE. REAL NEWS. REAL VOICES.
Help us tell more of the stories that matter from voices that too often remain unheard.
This post was published on the now-closed HuffPost Contributor platform. Contributors control their own work and posted freely to our site. If you need to flag this entry as abusive,
send us an email
.