Keeping children safe online is a lot more challenging today than it was just a few years ago. New social media sites spring up almost daily, which means the safety net must be broad. While adults have their own issues with social media behavior, keeping teens and children safe online is a must.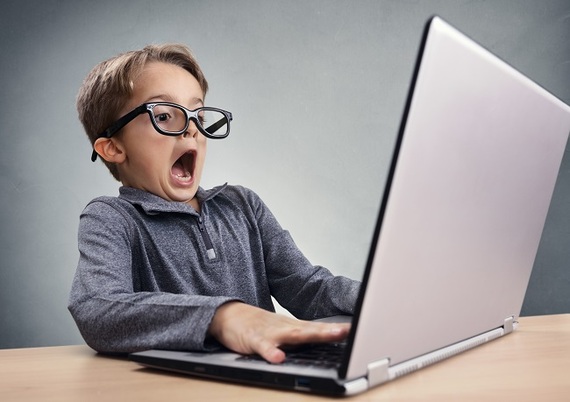 The latest numbers from Internet Safety 101 reveal that 82% of the people who commit sex crimes against minors use information they obtain about them online to facilitate their relationship with the victim.
Most U.S. and U.K. children have cell phones before they are 7 years old. Several surveys have revealed similar statistics. Parents are supplying their children cell phones, tablets, video gaming systems and other web-enabled devices at increasingly younger ages. From both parent and child perspective, it makes sense. Kids can report in when they reach a destination, let parents know if a bus is late or a class is canceled, and use apps and videos to stay occupied when they have to wait out a shopping trip.
On the darker side of the coin, lonely, vulnerable children with access to the web are a boon for predators. And child predators are not the only issue. Children (and, let's face it, adults) tend to overshare. Where and when they are going, how long they will be gone...how long your home will be empty.
The key is parental guidance, and the sad truth is that most parents instinctively trust their children...and have no idea whether their kids are following the rules they set for internet use.
Keeping your kids safe online is the new reality of being a parent in the digital age. Several new Kickstarter campaigns are in the works to help you monitor your kids' activities and help ensure their safety.
Web Safety. Known mostly for developing tools that allow parents to monitor and manage their children's online access, WebSafety launched a campaign to help them complete their new Parent App. The new product will provide parents with real-time notifications on their mobile device, as well as a full user dashboard interface, for complete user control. Responsive design makes the application functional and efficient.
With the new app, parents will be able to see what apps their kids use, what websites they visit, monitor social media posts, and impose a curfew on phone use. Kickstarter funding will cover new features and updates for both Android and Apple platforms.
Rated 4 Kids. Known mostly for their software designed to preserve children's innocence, Rated 4 Kids has a kickstarter campaign to further their efforts. The goal is to raise funds for a system that would allow parents to collaborate on the cloud to create a safer online space for children. This will dovetail beautifully with their current product, a monitoring device. It plugs into a router and gives parent the ability to monitor and control internet usage by setting restrictions and specific access times for use. It is also device specific, so parents can set different parameters for mobile devices like phones, tablets and e-readers. The goal is to eventually have all of the content on the internet rated, so parents can make informed decisions concerning their children's online habits.
Torch. Echoing the simple marketing design of Apple products, Torch is a revolutionary router parents can use to help keep their children's online activities safe. It works a little differently than traditional products in the same venue. Most of them are aimed at monitoring or restricting access. Torch does that, but with a twist. It allows parents full internet access even with restrictions in place for children. It also gives parents a complete browsing history for each device. If you find something you don't approve in your child's browsing history, you can permanently ban the site.
As internet usage grows, and mobile devices continue to evolve, internet safety will continue to be a concern for kids. We all have to worry about personal information being stolen, and parents have the additional worry about children being targeted.
As the online world gets bigger, the digital spaces in between get smaller. It's up to adults to keep distance between children and criminal activity in those very public spaces.