Certain dishes are more "kid-friendly" than others, but they are often not the most nutritious. We at the Pollan Family Table took some of our kids' all-time favorites; fried mozzarella sticks, nachos, and fried rice, and upped the health factor. The result: they are happy and so are we!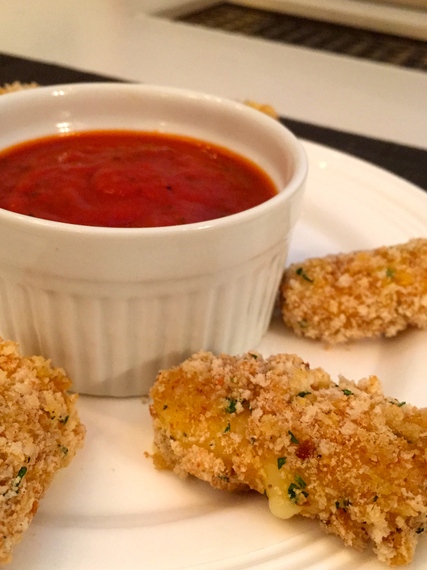 These mozzarella sticks are ideal as a meal for young kids, or as a finger food or appetizer for adults. They are baked -- not fried -- and have a crispy, golden coating outside while the inside is soft and gooey. They are especially good dipped in marinara sauce. And the best part--they can be made in advance and stored in the freezer -- perfect if you are limited for time. Bake them in the oven for about ten minutes and they are ready to serve.
(4 to 6 servings, makes 24 sticks)
12 sticks organic low moisture, part-skim mozzarella string cheese, each cut in half
1/4 cup all-purpose flour
3 large eggs
½ cup plus 2 tablespoons panko breadcrumbs
½ cup plus 2 tablespoons plain breadcrumbs
2 ¼ teaspoons freshly grated Parmesan cheese
1 tablespoon finely chopped Italian (flat-leaf) parsley
1 clove garlic, minced
Freshly ground black pepper
Organic olive oil cooking spray
1 cup homemade or favorite store bought marinara sauce
Place the flour in a wide, shallow dish. Place the eggs in a second wide, shallow dish and beat until blended. In a third dish, combine the breadcrumbs, Parmesan cheese, parsley, and garlic, and season with pepper to taste. Mix well.
Line a large tray or container with wax or parchment paper. One at a time, lightly dip the cheese sticks in the flour on both sides (shaking off any excess), then in the egg, and next the seasoned breadcrumbs. Then re-dip each stick in just the egg, and the breadcrumb mixture and place on the lined tray or container in a single layer. Freeze until hard, about 30 minutes. This will keep the cheese from melting too fast while the coating gets crispy. (You can also keep them frozen until you're ready to bake them.)
When ready to bake, place a rack in the bottom third of the oven. Preheat the oven to 400°F.
Line a rimmed baking sheet with foil and lightly spray the bottom with the olive oil cooking spray. Place the cheese sticks on the sheet in a single layer and lightly spray the tops with oil. Bake for 4 to 5 minutes, turn the sticks over, and cook an additional 4 to 5 minutes, or until the breadcrumbs are golden and the cheese is soft, watching closely so they don't melt.
Meanwhile, heat the marinara sauce in a small saucepan.
Arrange the mozzarella sticks on a plate, and serve with marinara sauce on the side.
Nachos with Vegetarian Refried Beans and Cheese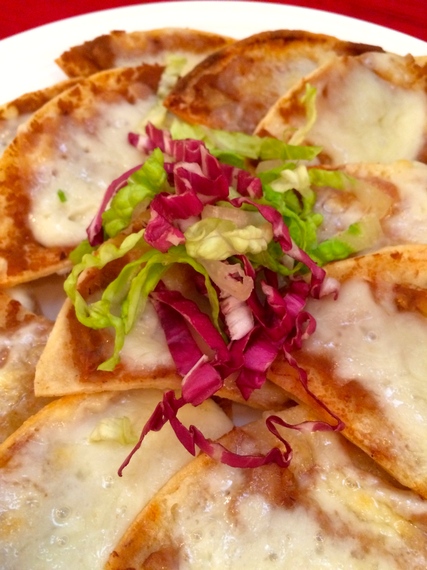 When our kids were young, a number of them were picky eaters. We would constantly brainstorm -- trying to come up with new ideas of what to cook for dinner. It was out of these brainstorming sessions that our nachos recipe was born! So simple, they require just a handful of ingredients -- deliciously crunchy homemade tortilla chips spread with refried beans and topped with melted, mild, Monterey Jack cheese. Now that most of our formerly finicky eaters are teenagers, or in their twenties, they still ask for these nachos when they are home. They are crispy, cheesy, and pleasingly addictive.
(4 to 6 servings)
Vegetable oil for frying
9 corn tortillas each cut into 4 wedges
8 ounces organic vegetarian refried beans (about ½ of a can)
2 cups shredded Monterey Jack cheese
½ cup shredded romaine lettuce (optional)
½ cup shredded radicchio (optional)
½ cup homemade or favorite store bought salsa
1 ripe avocado, sliced
Line 2 large plates with paper towels.
Set a rack in the top third of the oven.
Heat 2-inches oil over medium-high heat in a large skillet. (To test if the oil is hot, place a small piece of tortilla in the oil and if it sizzles it's hot enough). Add a handful of the tortilla wedges into the skillet, being careful not to overcrowd and fry them for about 1½ minutes. Using tongs, flip the tortillas and fry for an additional 1½ to 2 minutes or until the tortillas are crisp. Remove them from the oil and place the tortillas on the paper towel-lined plate. Cover the wedges with a paper towel and pat lightly to absorb any additional oil.
Repeat with the remaining tortilla wedges.
Place the tortilla chips in a single layer on 2 rimmed baking sheets. Spread a thin layer of the beans on each, then sprinkle on the cheese, covering each nacho.
Turn the oven on to broil.
Put one of the baking sheets in the oven and broil for about 2 ½ minutes, until the cheese melts and bubbles and the tortillas are lightly browned. Rotate the baking sheet midway so all the nachos cook evenly watching closely so they do not burn. Remove the pan and repeat with the second baking sheet.
Place the nachos on a platter, top with a handful of the romaine and radicchio and serve. Pass salsa and sliced avocado separately.

Quick and Easy Vegetable Fried Rice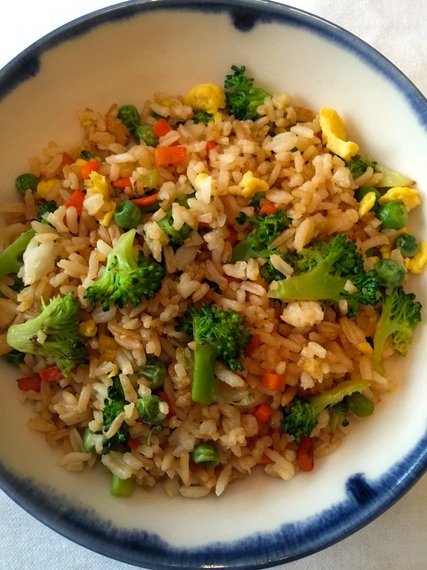 This is a super quick and easy recipe that appeals to adults and kids alike. It's perfect to serve as a side with a stir-fry, or as a whole meal by itself for young kids. It's a great dish to make if you have leftover rice in your fridge -- and what we love is that the vegetables can be easily substituted. We discovered that adding the sesame oil and soy sauce to the egg before cooking gives this fried rice a savory flavor.
(4 servings)
1 large egg
2 tablespoons plus 2 teaspoons low-sodium soy sauce, plus 3 drops
½ teaspoon sesame oil, plus 3 drops
1 tablespoon plus 1 teaspoon vegetable oil
½ cup finely chopped carrots
2 cups very small broccoli florets (1/2 inch)
½ cup frozen peas, thawed
3 scallions, thinly sliced, white and light green parts only
4 cups cooked white or brown rice, cold or room temperature
In a small bowl add the egg and beat lightly. Stir in 3 drops of soy sauce and 3 drops of sesame oil. Mix well.
In a large nonstick skillet, over medium heat, add ½ teaspoon of the oil to the center of the skillet. When shimmering, add the egg to the oil and scramble the egg until it sets. Remove from the heat, chop the egg into small pieces and set aside.
Wipe the skillet clean, and over medium-high heat, add the remaining tablespoon of oil. When shimmering add the carrots, stirring frequently, and cook for about a minute. Add the broccoli and cook an additional 3 ½ minutes -- until the broccoli is fork tender. Mix in the peas and scallions, cook for 1 minute, and add the rice. Mix well to incorporate the rice with the vegetables. Add 2 tablespoons plus 2 teaspoons of the soy sauce, ½ teaspoon of the sesame oil and mix well. Stir in the egg.
Spoon into individual bowls and serve.
Calling all HuffPost superfans!
Sign up for membership to become a founding member and help shape HuffPost's next chapter