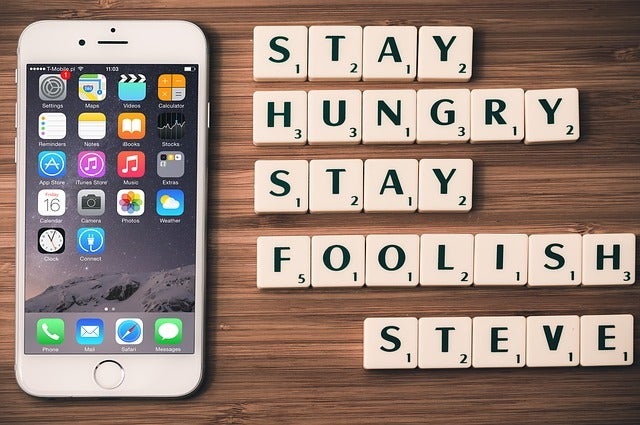 Steve Jobs believed that the people you choose to surround yourself with affect the whole ecosystem of your business. The group should always be greater than the sum of its parts.
I was lucky enough to work with Steve and other members of Apple's elite leadership team early in my career and even luckier to count him as a personal mentor over many years. His insights — and the opportunity to observe him in action — formed the makeup of my leadership DNA.
Even five years after we lost Steve, his leadership tactics inform my everyday interactions as a leader and as a member of a team.
1. Get on the Same Level
Great leaders and team members can — and should — meet on the same level as those they lead and work with. Being genuinely curious as to what drives team members individually can help you create a mutual trust.
To get on the same level, leaders and team members must step outside the confines of the office and share personal experiences to develop deeper connections, uncover motivators, and instill trust.
One of the things Steve got me and others hooked on was the notion of "walk and talk" meetings. He felt that you could think more creatively and fluidly to solve problems by talking person to person, without the hierarchical status, walking side by side out in the fresh air.
Steve and I would often talk about growing up in Cupertino and how much we both cherished that period when it was all orchards. Those discussions of our shared, personal experience served as catalysts; for example, they are a big part of why Apple is re-planting the apricot orchard in the new campus.
I still prefer that "walk and talk" approach when I'm dealing with challenging issues. Somehow, it levels the playing field. Viewing each other as peers not only forges stronger bonds, but it also frees up creative energy to help you come up with fresh ideas and solutions.
2. Stay Focused: It's Easy to Add, But It's Hard to Edit
Apple CEO Tim Cook once said, "It's hard to edit. It's hard to stay focused. And yet, we know we'll only do our best work if we stay focused."
This philosophy can be traced directly back to Steve. Shortly before he returned to Apple, the company was on the brink of bankruptcy. When he returned, he did away with many of the different divisions — including mine, which was music and entertainment.
To get Apple fit again, he chopped its focus areas down to just two markets: publishing and education. And it stayed that way for a while: iTunes didn't launch until a good five years after that. Steve needed a healthy company before he could expand those focus areas and divisions again.
Keeping teams focused means honing in on what's most important. When Steve came back, it was vital for Apple to turn a profit again, which meant narrowing the focus and enhancing the products and divisions where Apple already excelled.
To achieve this level of excellence, have your teams focus on reaching three (or fewer) well-defined, critical objectives, as opposed to working on 10 somewhat important goals. And remember, those few goals must be explicitly linked to your company's overall strategy.
3. Let Passion Lead You to Your Tribe
Be discerning and deliberate in choosing who you want to work with, play with, and serve. Remember, it's always a choice. The simple rule? Choose passion.
Steve's vision and ideology crafted and molded the culture at Apple. He used nonverbal cues to identify people whose passions aligned with his own. After showing a new technology he was working on to partners, team members, and prospective employees, he'd watch their eyes. If they lit up, he knew they likely shared his vision and would help bring it to fruition.
Consider this: If those around you make you miserable, it's not their fault — you drew them to you and chose to engage with them. Hardworking people want to work with hardworking people. Exceptional employees want to work with exceptional bosses.
To follow Steve's model as you build and curate the circle of people within and around your business, infuse passion into everything you do. You'll attract more and more people who are inspired by and share that passion, and they will help bring your ideas to life.
When you live out those passions with your colleagues, this collective, collaborative energy can positively affect the world. Eventually, you will create a natural, harmonious interplay among your team members that translates into an effortless flow of pioneering innovation.
A highly sought-after consultant, super-connector, trusted advisor, celebrity wrangler, and thought leader, Kelli Richards is the CEO of The All Access Group. She facilitates strategic business opportunities in digital distribution among innovative technology companies, talent and media companies, and brands to foster new revenue streams and deliver compelling consumer experiences. As a trusted advisor, she transforms the quality of people's lives. Kelli is also the author of a bestselling e-book, "The Magic and Moxie of Apple: An Insider's View."
Ellevate Network is a global women's network: the essential resource for professional women who create, inspire and lead. Together, we #InvestInWomen.
Related
Popular in the Community