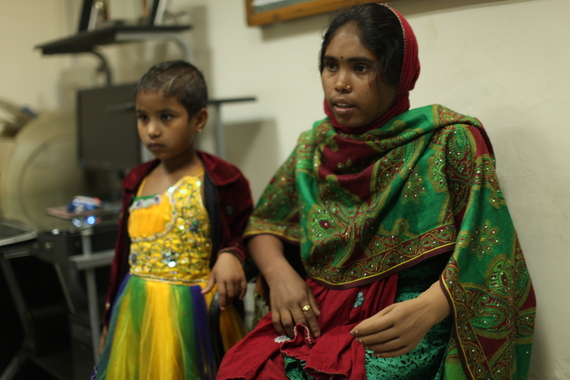 Last April, Bangladesh -- my homeland -- experienced one of the worst industrial disasters in history: the collapse of an eight-story garment factory filled with workers. More than a thousand people died; many more were badly injured. At Jolkona -- the nonprofit organization I founded 6 years go -- we immediately ran a campaign providing artificial limbs to the survivors who were handicapped in the accident, raising over $25,000 in five days.
A few months ago, I visited Bangladesh and met with two of the women who had benefited from our campaign. One of them was trapped for three days under the rubble, ultimately cutting off her own arm to free herself. She was just 21 years old. While she is still struggling to overcome her physical and psychological trauma, our partner organization BRAC has ensured that she and other survivors are getting the artificial limbs, monthly allowances, and resources they need to start new businesses. Here is a short video of two of the women we supported.
It was quite amazing and inspiring to see that our resources were being mobilized and allocated correctly. This doesn't solve the problem of what caused the building collapse; however, it does show that we can address a problem effectively if resources are mobilized correctly.
There are the three components to this success:
Strong Partners: BRAC is one of the largest NGOs in the world and one of Jolkona's founding partners. Over the years we have developed a very deep relationship with BRAC, allowing us to partner with them and respond quickly to the factory disaster.
Direct Feedback: Jolkona always prioritized feedback to each donor. Fortunately, our partner was committed to that level of transparency as well. We were able to promise donors that we would share the stories of the people who were helped by their contributions, which led to a high volume of donations. In return, our donors received feedback over the last year about the progress of the project.
True Impact: BRAC worked with other organizations on the ground to quickly assess the situation and effectively support the survivors. It wasn't just about providing limbs. The holistic solution included therapy, counseling, and additional financial resources for these people who lost their source of income.
Disasters -- man-made or natural -- happen frequently. It is important that we figure out effective ways to engage the donor community, beyond just a mass media appeal. We were able to respond well to the garment factory accident in Bangladesh by focusing on a specific problem, worked with partners to reach everyone affected by the problem, asked donors to help specific people, and gave them feedback on their specific donation.
I believe this model can be adopted for other types of social work, not just disaster response. What do you think?
Calling all HuffPost superfans!
Sign up for membership to become a founding member and help shape HuffPost's next chapter