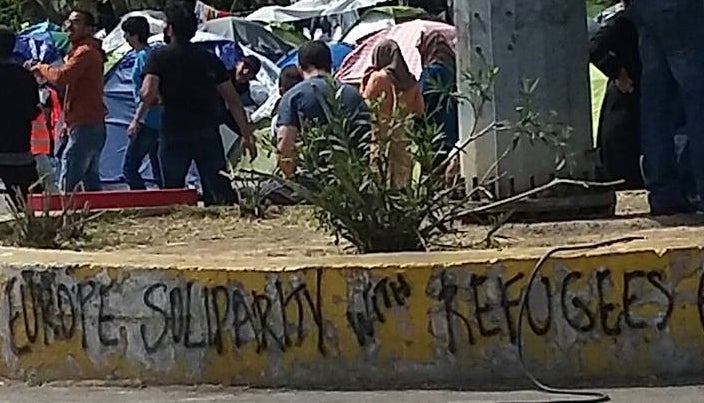 My recent aid trip to Greece opened my eyes.
Working with refugees who had no idea where they'd go next, I learned things I would have no way of knowing unless I went there and experienced it myself. I went in thinking I'd do a bit of translation, distribute some food and water, and I'd come back with a broken heart that I couldn't do more. Until you speak to them directly though, in their language, and hear the grief and fear in their voices, you won't get the full picture.
While most Greeks I encountered were supportive and understanding, I spoke to some locals who wondered if they were manipulating the system, said they were ungrateful, that they were troublemakers.
After being around, interacting with and observing the thousands in the camps, this was far from the truth. I wanted to share those lessons I learned about what the refugees really want, and how we can use that information to welcome and support them in their plight:
1. There's a gap between what we think they need versus what they actually need. Trucks filled to the brim showed up everyday with items from around the world. One of the warehouses I frequented was the old Olympic Stadium. You can imagine the sheer enormity of such a building. Every room filled with aid: Clothing, diapers, shoes, canned and dry foods, baby carriers...All needed, yes. All will be put to good use, yes...eventually. The warehouse was full of winter clothing, short skirts and tank tops for the women who were unaccustomed to dressing that way outside of their home. There were mountains of items to sort through. Some useful, some not. We think that if we give our old things to people in need, they'll gladly take it. My experience showed me that they would only take what was useable to them. They would return what they didn't need or they'd share with their neighbours. It would be wonderful if we were more conscientious of what we donate. Regardless of the situation, no one wants clothing with holes or stains on it, broken toys or random junk. And it makes the volunteers' job that much more difficult to have to sort through it all. Some of the things that were lacking but were asked for consistently were things like headscarves, long skirts, clean underwear, nail clippers, hair brushes and hair ties, sunscreen, baby wipes, playing cards to pass the time, backpacks or purses to hold their personal belongings. Hear them out. Listen to their needs. It really was the simple things.
2. They want information and hope more than 'stuff' It's sad to see people who have no control over their destiny. They are essentially waiting for some unknown power to shape their future. They wanted information. They wanted to know everything was going to be ok. That they would one day soon be able to reunite with their families already in Germany and other European countries. The amount of misinformation in the camps was rampant. It took minutes for a rumor to spread through the camp. Because of this, I made it my mission to speak with the lawyers stationed in one of the camps, in order to get all the information I needed and to come back and translate, so they could make the best choice for themselves and their families. As a helper, it is not your job to suggest or recommend what they do, but that you only relay the facts about the process. Things change quickly in Greece with the huge influx of refugees, so it's important to get up-to-date information to relay to the families. These are life-changing decisions they are having to make. You need to be mindful and not give them hope where there may be none.
3. They just want a normal life They really, really do. They want to feel heard. They want to laugh. They want to work. They want to feel connected. And they set out to create a sense of community for themselves. Help them to do that. You'll notice they will invite each other over to their 'home.' They will ask you to visit them and tell you their 'address.' They will offer you whatever juice or water or biscuits they saved from the last distribution. I was sure some of the women there were related because of how close they were. Yet they would tell me they just met for the first time here in the camp. You could never tell, based on the level of care and concern they had for one another. Disciplining and looking out for each other's children, discussing which aid items they'd get so that they could share with their neighbours. Men playing backgammon or cards or basketball. Women knitting and chatting. Children blowing bubbles by the port. Clowns that would come visit periodically, putting on shows for the kids. Volunteers who would create makeshift 'schools' to keep the children occupied. Refugees who showed up everyday to volunteer to distribute aid. Yes, it was heartbreaking, but it was also heartwarming to see them making the best of the situation. These people showed me that what we consider basic needs, like food and water, also needs to include love, connection, and acknowledgement. Without these, life in the camp is a hopeless place. But with these basic human needs met, you see communities that want to thrive, that care for one another, and everyday, no matter how hard it is, you see smiles behind the tears.
Calling all HuffPost superfans!
Sign up for membership to become a founding member and help shape HuffPost's next chapter
BEFORE YOU GO