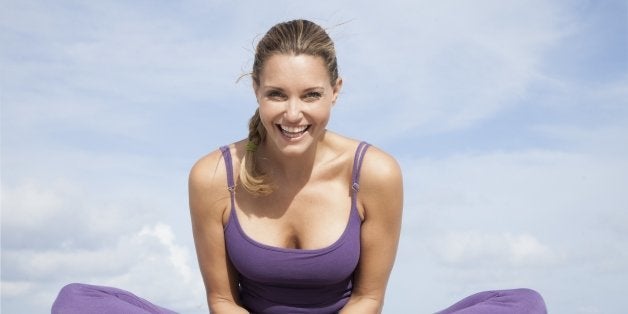 As a Libra, people often say that I must be so well balanced. The truth is that I sometimes fall into the land of extremes and can find myself in a place of all or nothing. While this usually works fairly well, it can also lead to some extra worrying and stress.
I've noticed that this is ringing true for so many of us. We're obsessing over our food being organic, jumping hoops to avoid gluten, and constantly asking, "Is there sugar in that?" All of which are indeed pieces of a healthy diet, but at what point are we taking it too far?
Living a healthy lifestyle should bring about happiness, inner strength, and a more relaxed mindset. When we find ourselves stressed out from trying to make it all work all the time, it might be a sign that it's time to take a step back.
There will always be situations where we don't have the best options to choose from or where we slip up. Setting up a lifestyle friendly foundation of radiant health will keep you more grounded and balanced. Striving for better health is a great thing and it's absolutely possible to do so in a way that enriches your livelihood.
Here are three key lifestyle friendly principles for better health:
1. Focus on creating healthy habits
The keyword here is habits. The more healthy habits you set yourself up with, the easier your health will be to maintain. Setting up a few habits throughout your day that are simple and attainable will be more beneficial than setting up extreme goals such as: never eating sugar again.
A great alternative to that example would be to enjoy a sweet herbal tea or piece of highly quality dark chocolate a few times a week. That way you're keeping yourself in check and creating healthy habits, but still living your life in a positive way.
You will have good days and you will have bad days. The trick is to give yourself a clean slate to work with every single morning. You'll find yourself more motivated and excited to nail the day ahead of you instead of dwelling on the past.
The only way you'll figure out what doesn't work for you is by actually going through it. You need those moments of defeat in order to build yourself back up again. Don't get caught up in those moments, simply take the lessons learned with you.
3. Don't take it all too seriously
Yes, our health is a very important topic and there are some serious threats to it in the world. Keeping a positive mindset will be your greatest asset when it comes to gaining better health. We can't control every detail of what happens to us in our day-to-day lives but we can always control how we react.
So you ate a piece of cake that you really shouldn't have eaten. So what? It's really not the end of the world. Shake it off, laugh it out, and take a deep breath. Your health is a journey and if you're not having fun then you're missing the boat.
Remember, it's the moments not milestones that give you the power to succeed and discover your best health yet.