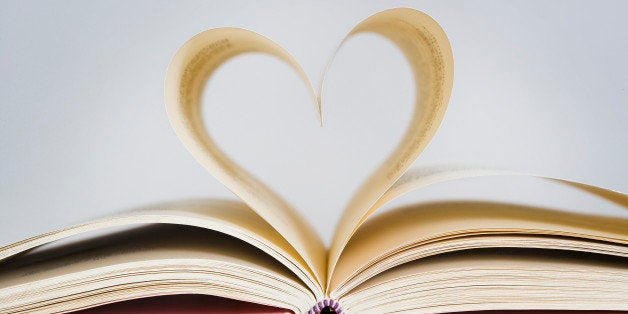 One day about a year ago now, my mom (with the help of my aunt) sent me my grandparent's love story. It was a short article written in their local Coral Springs, Florida newspaper for Valentine's Day. I was surprised after reading it because I learned things about my grandparents love story I never knew. Their first date was a swan lake performance. And my grandpa proposed to my grandma after only two weeks! But she said no the first time.
Unfortunately I couldn't ask them any more details about their love story because they had since passed away. That got me wondering why most people never share their love story. Do we take it for granted? We take photos to document our wedding day. But as for what got us walking down the aisle in the first place -- all the reasons we fell in love -- those words are no where to be found.
So I've uncovered several ways that you can share your love story as a tangible keepsake on your wedding day and beyond.
Write Your Love Story As Lyrics To A Song
I know, I know, you're not a songwriter. No worries. You just have to speak from the heart.
For an example, meet Haley and Michaels. The musical duo recently released their new single, "Giving It All (To You)," which was written as a representation of their love for each other. Shannon Haley even walked down the aisle to it in their May 9 wedding. They then performed it live on the Today show September 11.
When asked, "How did writing your own lyrics about your love story add meaning to your wedding day?" Haley responded:
"When we wrote these lyrics, we were imagining what our wedding day would feel like. But when it was actually happening and we were experiencing the words in real life, it was very surreal. We will never forget seeing each other at the top and the end of the aisle, and hearing our promises in our song at the same time. It ended up saying everything we wanted to say in that moment."
Pair Photos With Captions And Publish
Chances are you have a million photos from your history as a couple. Find the special ones that represent different moments of your relationship and write an Instagram-like caption that tells the story of that specific moment. Put together a timeline of photos and their captions and use any on-demand photo book service (think Snapfish, Blurb or Artisan Slate) to publish a book with the photos and words of your love story.
Capture It As A News Article
Not every couple is offered the opportunity to be interviewed for a magazine or newspaper article like in the case of my grandparents. But that doesn't have to stop you. Channel your inner journalist and write down all the reasons you fell in love as well as all the special occasions that define your relationship.
If writing doesn't come easy for you, professional writing services like Love Notery can help. A professional love storyteller will interview you about all the defining moments of your relationship. They'll ask you questions like "how did you meet?," "when did you say 'I love you?," "how did you propose?," "what are your most favorite moments as a couple?" And then they'll use their professional writing skills to capture the essence of your love story. Display the article at your wedding for all your guests to read and enjoy.
These are just three meaningful ways to capture your love story on your wedding day. But there are many more. Use your unique creativity to uncover the perfect way to share your love story with your wedding guests and with your family. You'll enhance the experience for your wedding guests because they'll become more familiar with you as a couple and create a lasting keepsake for you and your soon-to-be husband or wife to cherish forever.
Related