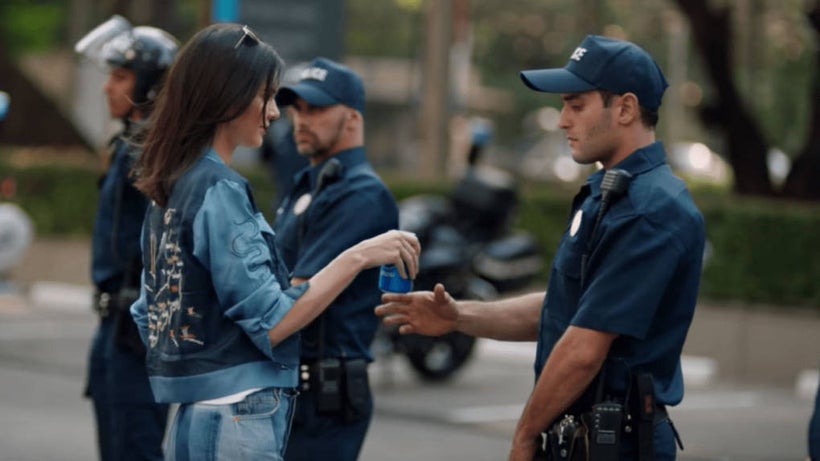 So everyone is talking about the Pepsi commercial (see above)….you know the one with Kendall Jenner. The commercial has a protest march happening in the streets as the backdrop of this commercial. Kendall is busy doing her Modeling thing, sporting a blonde wig and swanky look. She can't help but notice as the march gets closer and closer and eventually passing right in front of her. As the revolutionary icon that she is (that's sarcasm by the way in case you didn't recognize it), she rips off her blonde wig of bondage and wipes the lipstick of oppression from her lips and joins in the cause.
At the end of it in an act of bringing us all together Kendall offers one of the officers standing in front of the protest in barricade format that we've come to recognize a Pepsi. The officer accepts popping it open and the crowd breaks out in cheers. The cause has been WON!
Ummmmmmmmmm this is an example of when Brand Storytelling goes WRONG!
Let me first say Pepsi I see what you were TRYING to do! Unfortunately, whoever you have in charge of your Branding and Marketing led you astray. They don't have a clear understanding of how to incorporate pop culture, activism and advertising in an effective way. That's been made clear by the outcry by the over 1 million people that watched and took to social media to speak their disgust of the ad in general. The ad was pulled within hours with a brief apology for "missing the mark" and for "putting Kendall Jenner in that position". There was soooo many opportunities that this could have been good for Pepsi and their brand both before the commercial released and after. I wanted to write this article so that we can all learn from their mistakes.
Mistake #1: Not being in touch with Current Affairs and your Audience.
The insensitivity that Pepsi showed in their knowledge of the importance of the marches for #WomensRights and #BlackLivesMatter as well as #LGBTQRights was apparent in the way they actually watered those movements down within the commercial. They could have done a commercial showing actual footage from various marches and then span to their own version of it like they had in the original commercial. Or even showing shots of the leaders that have been instrumental in the movements. As a Brand Empire Builder you must in tune with current affairs especially if you plan to incorporate them into your marketing in any way. Same is true for how those current affairs affect your Audience. To not do so is irresponsible and could be detrimental to your brand.
Mistake #2: Not having Visuals that Aligned with the Story you're trying to tell.
What Pepsi was TRYING to do was promote the idea of everyone joining together to have a conversation of the state of world affairs. To foster communication that would lead to harmony and a better world. And that in and of itself is an AWESOME thing that Pepsi was trying to do. Who would be mad a message like that? No one that's in favor of more unity and positive impact in the world. However, where Pepsi faltered is the visual they created (the commercial) was not aligned with showing that message. Small tweaks would have made a HUGE difference. Like focusing more on the diverse group of people participating in the march sharing Pepsi's with one another as they linked arms in marching. Or even having the police officer approach them and join in or break the line and letting them pass. Even in your Brand think about the visuals you use (pictures and videos) are they really aligned with the story you are trying to share? If you had no words in your social media posts, blog posts, videos were on silent, would your message still be crystal clear to your intended audience? If not it's time to evaluate.
Mistake #3: When "missing the mark", not using the opportunity to reconnect with your Audience in an authentic way.
When Pepsi began to receive the backlash from social media on the commercial. They had a Golden Opportunity and they squandered it. In their apology they could have used that opportunity to connect their audience to the WHY of their concept and their brand. Invite the world in to see the heart behind the method. When you show people your heart they are often more forgiven of the misguided method. Also, acknowledging the wrong on a soul level and not a superficial one is KEY. By apologizing to the movements that they were trying to call attention to would have gone a LONG WAY!
So as Mission-Driven Entrepreneurs and those with a Message for the world learn from the mistakes of Pepsi not only in creating visual content but also in bouncing back when falling short. We all fall short times, no one is perfect, but it's how you handle those shortcomings that make or break a brand. Take the time to truly think things through in your branding, seek the help of a Branding Coach or Strategist, like myself to help guide you. Often we're too close to the idea we don't see how it could possibly go wrong. Kinda like proofreading your own writing and missing the misspelled word. You do that because you know what it's "supposed" to say so you read it that way. Same is true in these situations as well.
Soul-level Brand Strategy is KEY to the success of your business in this time in history. The world is paying attention and they're being vocal about what they're finding. Know you need help in this area? My Empire Brand Strategy Session may be what you're looking for .... check it out HERE!
Calling all HuffPost superfans!
Sign up for membership to become a founding member and help shape HuffPost's next chapter
This post was published on the now-closed HuffPost Contributor platform. Contributors control their own work and posted freely to our site. If you need to flag this entry as abusive,
send us an email
.