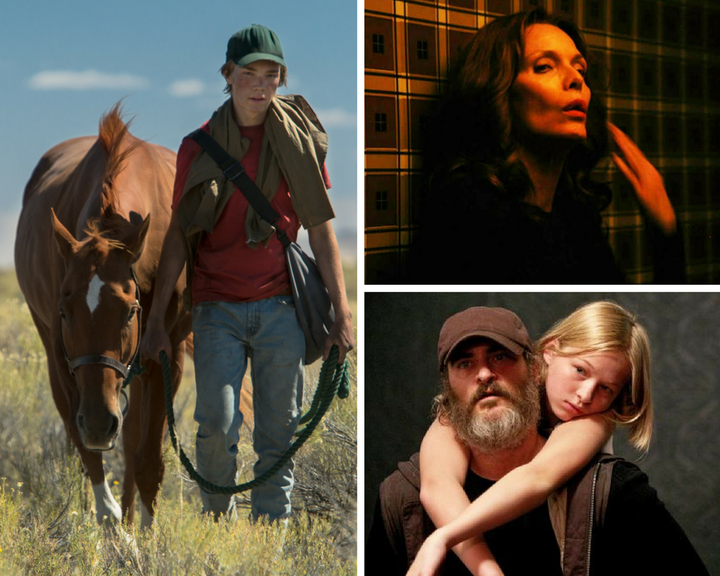 Now that blockbusters ― namely reboots and franchise fare ― have graduated from summer escapism to year-round fixtures, April is no longer a safe space at the multiplex. The month that once birthed "Field of Dreams," "The Matrix," "Election" and "Mean Girls" now belongs to the "Fast and the Furious" vehicles, Marvel and "Clash of the Titans." 
To see "A Quiet Place" rumble into theaters last weekend was to witness a small miracle. Heralding John Krasinski's directing talents and notching an august $50 million opening, the post-apocalyptic creature feature is the sort of studio product meant to warm jaded cinephiles' hearts: a high-concept crowd-pleaser that manages to be fresh and whip-smart ― an increasingly rare sight in the year of our big-budget Lord 2018. "A Quiet Place" boasts the highest-grossing April debut for an original film in history, as well as the heftiest intake for an original live-action release since "Happy Death Day" last October.
The rest of April's wide releases are, well, less thrilling. Oversized beasts are stampeding Dwayne Johnson and Naomie Harris, "Isle of Dogs" barks its way into more corners of the country, Shia LaBeouf flaunts short shorts in the otherwise staid "Borg vs McEnroe," Amy Schumer stars in a feminist "Shallow Hal," we finally get a sequel to ... "Super Troopers" (?), "Truth or Dare" turns its titular pastime into something deadly (Tyler Posey doesn't take his shirt off in the trailer; skip it), and the Avengers threaten to put more superheroes on one screen than a VH1 Divas telecast.
Those movies will flood multiplexes in the coming weeks, ushering us toward the blockbuster domination that is May, June and July. Meanwhile, three worthwhile underdogs opened opposite "A Quiet Place," shouldering the month's indie marketplace. "Lean on Pete," "Where Is Kyra?" and "You Were Never Really Here" are hardly light fare, but isn't there some adage about bleak movies being the perfect way to escape April showers? No? You'll want to invent one after seeing this trio.
We talked to the filmmakers responsible for these gems. If you don't live near a theater where the movies are playing, add them to a list of rainy-day streaming options for later in the year, when you find yourself wondering who among us requested yet another Robin Hood retelling. 
"Lean on Pete"
For fans of "Boyhood," "The 400 Blows" and "The Black Stallion"
Written and directed by Andrew Haigh
Starring Charlie Plummer, Steve Buscemi, Chloë Sevigny, Travis Fimmel, Amy Seimetz and Steve Zahn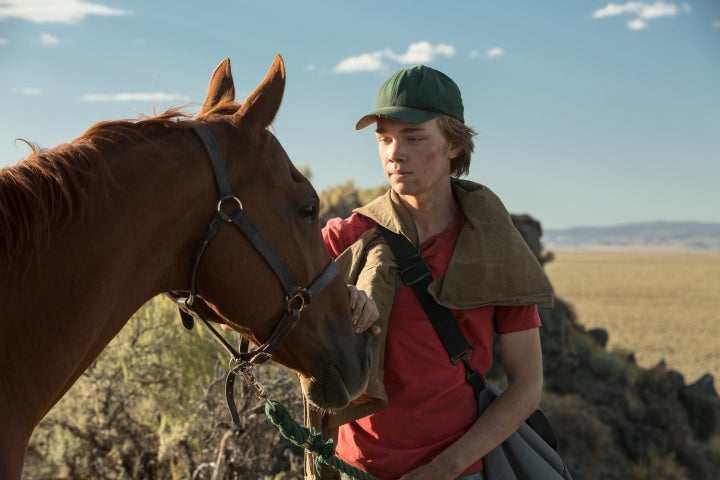 Lean on Pete is a racehorse whose cantankerous trainer (Steve Buscemi) describes him as a "piece of shit" ― catnip for our protagonist, Charley (Charlie Plummer), a motherless 15-year-old working the stables for $25 a day, partly as a respite from his aloneness and partly to gird his father's (Travis Fimmel) limited income. Gentle Charley can't stomach the thought of Pete being carted off to Mexico, where aged steeds are slaughtered once they are no longer moneymakers. So, in the dark of night, this spindly boy absconds with his beloved horse (an expert listener), trekking through the Oregon desert toward a broader horizon.
On paper, it's a quintessential coming-of-age tale. But in practice, writer and director Andrew Haigh sees "Lean on Pete" as the events that occur before Charley comes of age. And he's right: Charley doesn't yet have the means ― the familial support, the peers, the finances ― to determine his place in the world. The only thing that steadies him is a tender heart. "Until he finds somewhere to have a base, in order to grow, he can't even deal with ideas of identity or who he's going to be or what kind of man he wants to be," Haigh said. "And also, I suppose, in all of my films, I can't help but want to show a different version of masculinity."
Haigh is the master of compassionate relationship dramas, having explored a one-night stand in "Weekend," a long-term marriage in "45 Years," a group of gay friends on HBO's "Looking," and, now, a teenager and his equestrian companion in "Lean on Pete," based on the novel of the same name by Willy Vlautin. It's Charley's desperate need to be kind, and to receive kindness from others, that grounds this particular relationship and separates him from the average teen boy. Whereas most kids his age are striving to master schoolyard politics or sibling rivalry, Charley is trying to conquer the oppressive ugliness of the world around him, hoping that relatives in nearby Wyoming will provide the stability he lacks. 
"What do you do in your life if you don't have support from your loved ones?" Haigh said. "Or you don't have support from the society around you? It felt like it was something more important, almost, than just questions of identity. It was about something like, how do you survive in the world if you don't have a framework?"
Charley's journey makes for a magnificent travelogue in which none of the travel is glamorous. With a parting shot that evokes "The 400 Blows," this is one of the year's best movies to date. Another recent release, "Ready Player One," centered on an orphan in an ugly world, but its virtual-reality bedlam lacked humanity. "Lean on Pete" more than makes up for it, sending its hero ― Plummer's performance is a wonder; a true star is born ― on an expedition through the great Northwestern outdoors that ends with an introspective discovery. Bring tissues; you'll need a bunch.


"Where Is Kyra?"
For fans of "Klute," "99 Homes" and Gena Rowlands movies
Written by Darci Picoult • Directed by Andrew Dosunmu
Starring Michelle Pfeiffer, Kiefer Sutherland, Suzanne Shepherd and Sam Robards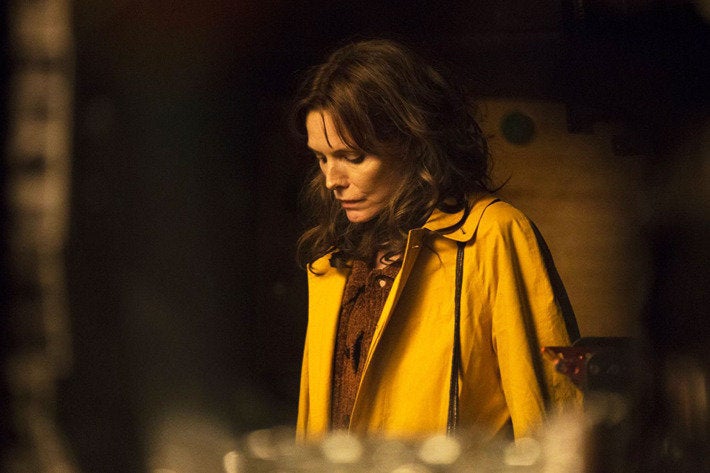 "Some people say it almost feels like a horror film," Darci Picoult, the writer of "Where Is Kyra?," said. "It becomes this terrorizing psychological deterioration." 
Those horror trappings are evident in Picoult's sparse script, but they're largely owed to Andrew Dosunmu's shadowy direction. Working with Oscar-nominated cinematographer Bradford Young ("Selma," "Arrival"), Dosunmu shades Michelle Pfeiffer's titular Brooklynite with fuzzy grays and anesthetized blues. Laid off from her job and cashing her late mother's pension checks for income, Kyra is often framed from a distance, the atrophy she's facing as she nears senior citizenship foregrounded to reveal a genre of poverty rarely explored in popular culture.
Picoult wrote "Where Is Kyra?" in 2013, surveying the aftereffects of the late 2000s' economic crisis. She first set the movie in Detroit, which filed for bankruptcy that same summer. But Picoult and Dosunmu, who also collaborated on the Nigerian drama "Mother of George," relocated the backdrop to New York, where the glaring disparity between haves and have-nots underscores everyday economic strife. What is a middle-aged woman to do when she finds herself unemployed and undesirable, reduced to placing advertisements on vehicles' windshields and being turned down for gigs at fast-food restaurants in favor of younger candidates? 
"I always envisioned Kyra being someone who, if you will, had a life that had promise, someone who believed things were going to work out," Picoult said. "And then, when they don't, it becomes even more disparaging because she's holding on, hoping for something better that doesn't happen."
Pfeiffer, who made something of a comeback last year with "mother!" and "Murder on the Orient Express," has found one of the richest roles of her career, looking more desperate with each rejection and more weathered with each dignity-shattering wakeup. Kyra's corner of the world struggles to blossom into anything sunnier; farther and farther she drifts down the rabbit hole of anguish, Pfeiffer's oceanic eyes absorbing every psychic bruise.


"You Were Never Really Here"
For fans of "Taxi Driver," "Good Time" and "Drive"
Written and directed by Lynne Ramsay
Starring Joaquin Phoenix, Judith Roberts, Frank Pando, Ekaterina Samsonov, Alessandro Nivola and Alex Manette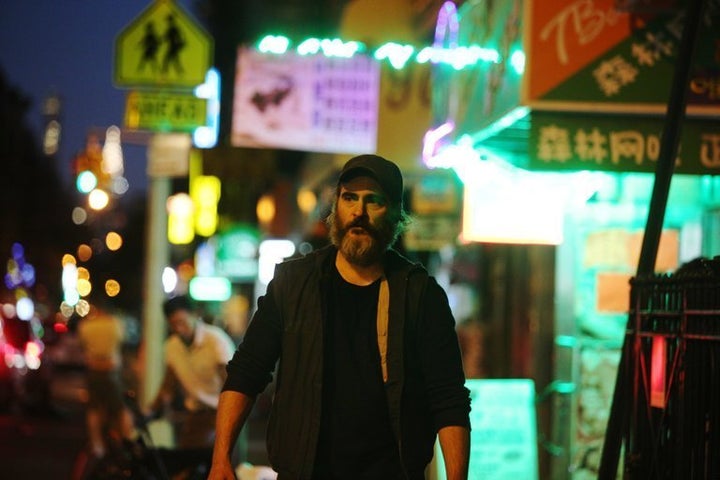 "You Were Never Really Here" demands to be seen twice: once to absorb its ethereal grime, and another to peek more clearly into its protagonist's fractured mind. As Joe, a contract killer (and PTSD-addled war veteran) paid to extricate young girls from corruption, Joaquin Phoenix dances with the camera, angling through the New York streets, slipping between past and present, reality and hallucination. Joe is purposefully elusive, a design that is at once frustrating and hypnotic. 
"I thought I was making an action movie, but it also became a character study," Scottish director Lynne Ramsay, who adapted Jonathan Ames' novella of the same name, said. "I think I just gravitated to the inner workings of the character." 
Those inner workings are bleak: At home, where he cares for his ailing mother (Judith Roberts), Joe sometimes covers his head with a plastic bag, wondering what would happen if he finally ended it all. Outside, he seems as likely to take a gun to his own head as he does to avenge the brutes holding innocent preteens hostage. But that's familiar territory for Ramsay, who treats grief and death as leitmotifs (her other credits include "We Need to Talk About Kevin," "Morvern Callar" and "Ratcatcher"). What makes "You Were Never Really Here" powerful is its ability to place us next to Joe, psychologically and physically, as he flits between avenger and avoider. Think Travis Bickle with a splash of the adrenaline-pumping "Good Time." The movie telegraphs a woozy paranoia, aided by another stirring score from Jonny Greenwood, who composed the music for "We Need to Talk About Kevin" and last year's "Phantom Thread." 
For Phoenix, the role encouraged a certain visceral improvisation. "We would make decisions in the moment, and sometimes there are things I'm reacting to in the moment," he said. "There are times when other actors didn't know what was going to happen because we didn't know what was going to happen in that moment. And I think I probably like that way of working in general, but I think it was probably really applicable to that character and this experience."
You won't find that in "Rampage."
Calling all HuffPost superfans!
Sign up for membership to become a founding member and help shape HuffPost's next chapter
BEFORE YOU GO