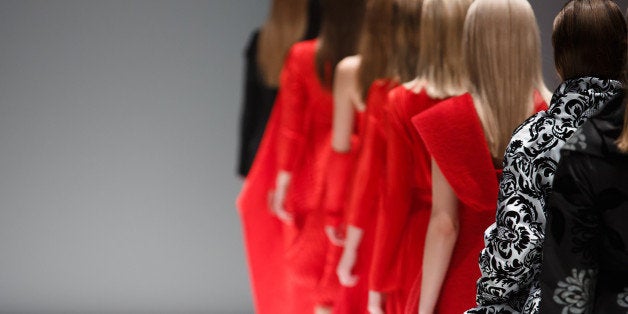 Not all members of the media and attendees and of New York Fashion Week strut from their trendy apartments in recently gentrified neighborhoods on Day 1 rearing to go. Some of us who cover fashion week actually come from far away lands like, in my case, the hippy hills of Fairfax, CA.
Exchanging my daily wardrobe of a hoodie and yoga pants for what's barely passable as fashionable (I try and go for the mostly black look to blend backstage with the often black-clad makeup artists and hair stylists) is just the first step. Once I get to my old stomping grounds of Manhattan (though I now live in Northern California, I lived in all over Brooklyn and downtown Manhattan for 16 years), I try and get myself physically and mentally ready for fashion week by partaking in a few vital beauty rituals:
1. Pay a visit to Joanna Vargas Skin Care. Countless actresses, models, and designers prepare for big events by visiting Joanna Vargas's iconic skin spa in midtown Manhattan. Why? Because all it takes is one of her famous Triple Crown Facials, featuring organic products and magic wands that literally give your face an instant lift. Don't believe me? Have the esthetician do half your face and give you a mirror - you will look like a Picasso. It's that dramatic. Seriously. Tip: Keep the magic going by investing in a NuFace, an at-home microcurrent device that can keep you lifted if you do it religiously. Think of it like Pilates for your face. Joanna Vargas Skincare, 501 5th Avenue, Manhattan. 212.949.2350 or www.joannavargas.com.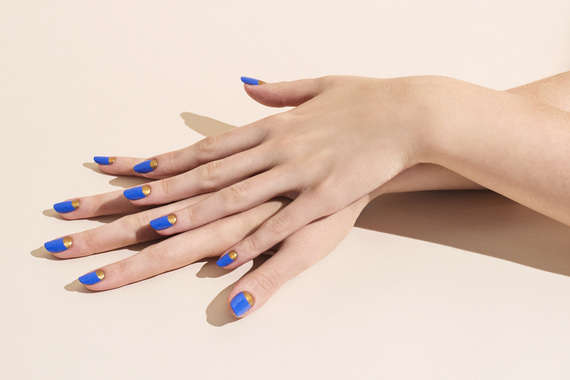 Photo Courtesy Paintbox
2. Get my nails done at Paintbox in the village. I will never forget the first time I heard about Paintbox. I was backstage at a show, and Rebecca Isa, the genius Creative Director of Zoya was explaining to a group of editors and writers her artistically crafted negative space nail design. After she showed us a model with the final look and I wiped the drool from my chin I casually asked the group, "Is there anywhere I could actually get a manicure like this?" The entire group (no lie) chanted together, "Paintbox!" Obviously I had been away too long. Started by former beauty editor Eleanor Langston with celebrity nail artist Julie Kandalec as Creative Director, Paintbox offers the latest runway-inspired nail designs (think ombre, geometric, marbled, negative space designs) while you sip bubbly and feel fabulous. Paintbox, 17 Crosby Street, Manhattan. 212.219.2412 or www.paint-box.com.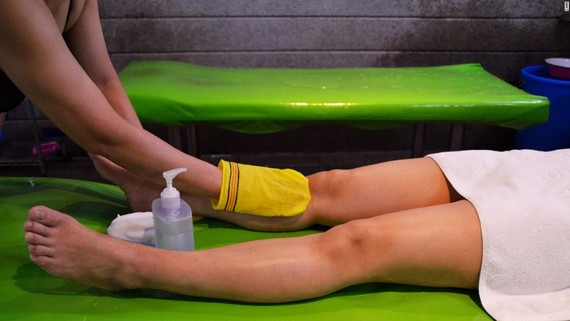 Photo Courtesy CNN.com
3. Get a Korean body scrub in Koreatown. A Korean Body Scrub is not for the faint or heart nor is it for the modest. You can opt for a higher end spa like Juvenex Spa where you can spend hours pre-treatment, soaking in healing "ponds" of sake and seaweed and visiting the various saunas... Or, choose a no-frills spa like Zen Spa & Sauna where the wet room looks straight out of a sanitarium prepped for a murder scene and they use Vaseline as the moisturizer of choice. Either way you can expect a little pain and lots of nudity. So why would I subject myself to such a scene? Because even though the woman scrubbing me is in a bra and granny panties and she's scouring me within an inch of my life, I can literally see rolls of grey dead skin flying from her scrub cloth. I assure you that even though you think you got a "fantastic scrub" at a luxury spa where you left smelling like sunshine, a traditional Korean scrub will literally bring out your baby skin and keep you super soft for weeks. Juvenex, 25 West 32nd Street, Manhattan. (646) 733-1330 or juvenexspanyc.com